MLK Weekend 2022 Things To Do in Connecticut: Diversity Celebration, Seals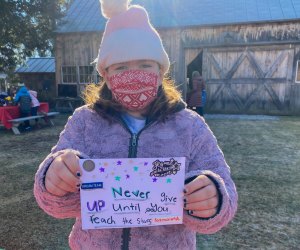 Looking for the best things to do in Connecticut Martin Luther King Jr. weekend? Here are some events and activities to add to your list for this holiday weekend.
Now that we have some snow on the ground, winter is in full swing this weekend. You can see if you have what it takes to make it through the season at Family Winter Survival in Canton, take a stroll through Ice in the Village in Mystic, or enjoy Snowshoe Sunday in Ansonia.
Of course, the main theme this weekend is honoring the legacy of Martin Luther King Jr. through the many programs taking place throughout the state, including MLK days of service in Greenwich and Weston.
If you want more ideas for playing in the cold this weekend, check out our list of 40 Outdoor Activities for Kids this Winter and our complete Connecticut Winter Activities Guide. Or if you want to stay warm at home, we've got hundreds of activities for kids in our At-Home Guide for Families.
To see what else is happening around the state, browse the Mommy Poppins Events Calendar. For the latest and best family-friendly activities, subscribe to our weekly newsletters and follow us on Facebook and Instagram.
More Things To Do in Connecticut this Week with Kids:
Note: Many locations in Connecticut are requiring that masks be worn indoors and some venues are requiring proof of vaccination, or a negative COVID-19 test, for entry. Check locations for specific details. Also, some events are getting canceled or postponed at the last minute due to the latest COVID surge.