Outdoor Camps for Houston Kids this Summer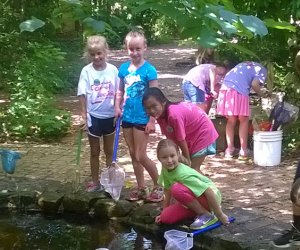 Looking for a dynamic, hands-on nature encounter at summer camp? Does your daughter want to learn how to sail? Is your son looking to step-up his tennis game? All these activities are available in the Houston area, and the guide below can help you narrow your choices for outdoor spring and summer camps.
For more summer and vacation camp ideas, check out our comprehensive camp guide and full directory of camp listings.
Ages: 5-13
Full or Half Day: Morning half day
Players of all abilities are welcome and will be divided based on ability into beginner, advanced, or intermediate groups. Camp takes place at the George R. Brown Tennis Center and includes fundamentals of forehand, backhand, serve, volley and overhead, and conditioning. Advanced groups can improve their skills with basic strokes, drills, and singles and doubles strategies.
Ages: 4-13
Full or Half Day: Morning half day or full day
On this 2,500-acre nature preserve in southeast Houston, kids can explore the wonders of our natural environment through outdoor activities, including canoeing, fishing, trail hikes, wildlife encounters, and indoor storytelling and crafts.
Ages: 5-10
Full or Half Day: Full day
Campers will explore Houston's wildlife and natural animal habitats at Bellaire's nonprofit nature center. Each week focuses on a different topic that mixes science and nature through hands-on activities, crafts, games, and more.
Ages: 8-14
Full or Half Day: Overnight
Blackwood offers week-long overnight nature camping experiences at their Educational Land Institute. In addition to outdoor activities, including nature crafts, adventure games, swimming, farming, nature journaling, and hiking, campers learn about the natural world from experts like fishermen and biologists.
Ages: Varies
Full or Half Day: Both
Venture to Baytown for the Wade Into Wetlands Summer Science Camp. This camp features weekly sessions that include outdoor activities and offsite fields combined with fun-filled indoor instruction at the base of the Goose Creek. Open for students in first through tenth grade.
Ages: 6-10
Full or Half Day: Morning half day
There is something for everyone at either the Edith L. Moore Nature Sanctuary or the Sims Bayou Urban Nature Center. Interesting themes range from We're All Animals, which showcases different native Texas animals, to Raptors Rock, which teaches children all about different birds of prey.
Ages: Varies
Full or Half Day: Full day
Break out the boat shoes for a plethora of water-based camps offered at the Houston Yacht Club in Shoreacres. Summer Fun Camps offer an introduction to sailing and water sports like paddle boarding, kayaking, and fishing. Novice sailors should look into Mini Ragnots or Opti Green Fleet camps, while more experience sailors can opt for Advanced Opti Camp.
Ages: 5-12
Full or Half Day: Varies based on age
Four-day sessions feature a variety of themed nature subjects and include ranger talks, guided nature walks through the forest, and visits to the ponds, swamps, and Spring Creek. Older campers will embark on canoe training and take a field trip.
Ages: 5+
Full or Half Day: Morning Half Day
Three-day camps are offered for any junior golfer and include all aspects of the game from chipping and putting to course management. More information should be available in late spring.
Originally posted in 2017 and updated annually