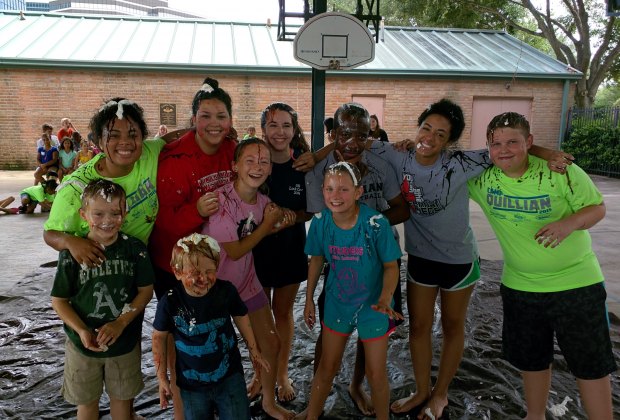 Free and Cheap Summer Camps Around Houston
It's hard to believe it, but it is already time to start making summer plans for your little ones, and one thing every kid looks forward to in the summer is going to camp! Summer camp is a chance for kids to have fun while learning new skills and making memories with new friends. From overnight camps, outdoor camps, science camps, dance camps, arts camps, and music and theater camps, Houston has so many different types of summer camps, including the following camps that won't break the budget.
To find a summer camp that your little one and your wallet will love, check out this list of inexpensive or cheaper Houston summer camps that we've rounded up, all of which cost around $100 - $150. Also, keep in mind that many camps offer early bird (get on it now!), multi-week, and sibling discounts, as well as discounts for members, and some even offer scholarships. And for more summer and vacation camp ideas, check out our comprehensive camp guide and full directory of camp listings.
Camp Hope at Messiah Lutheran Church - Cypress
Ages: 5-12
This three-week day camp is an adult-mentored, student-led ministry where campers are cared for in small groups by high school students with support from junior high students. Campers are led to become God's Agents of Hope through group worship, bible stories, and creative activities and games. Each week is independent of the others, children can attend one, two, or all three weeks. This is a full day camp with before camp care and after camp care is available for additional fees.
Blaffer Art Museum Summer Arts Workshops - University of Houston
Ages: 6-12
Children can attend one or both sessions of unique art-making classes with individual and group projects in two and three dimensions using batik, collage, photography, watercolor, clay, and more and museum tours that teach children about contemporary art. Discounts for museum members are available.
Lone Star College Discovery College - Multiple Locations
Ages: 6-17
Lone Star College offers a variety of camp options for kids including robotics, science, web page development, videography, photography, and other fun camp themes.
BakerRipley Youth Summer Camp - Multiple Locations
Ages: 4-13
Little Leaders camp offers fun-filled days of arts and crafts, STEM activities, arts and crafts, reading, play sports, field trips, and guest speakers. Each week has a theme and all meals are provided. The Young Leaders program is for youth ages 14-18 and gives teens the opportunity to have a productive summer learning about money management, visiting colleges, exploring career options, and participating in leadership training. Breakfast, lunch, and snacks are provided.
Destiny Sports Camp at StoneBridge Church - The Woodlands
Ages: 6-12
A four-day sports camp led by highly trained local professional coaches or collegiate athletes, Camp Destiny is geared toward teaching the fundamentals of the sports and benefits all skill levels. Children can choose from baseball, basketball, cheer, dance, football, golf, soccer, softball, tennis, and volleyball. The week culminates in a Family Awards Party with fun activities for kids of all ages, food, live music, and an awards presentation.
Quillian Center Summer Camp - Westchase District
Ages: 5-14
The Quillian Center summer camp is slightly above the budget for this particular list for the full day option, but the full day camp lasts from 7 a.m. to 7 p.m. and includes free breakfast and free lunch. Half day options are also available. Camp Quillian has many amenities, such as a gymnasium, two swimming pools, indoor climbing wall, games rooms, athletic fields, and a new playground for campers to enjoy each day.
MECA Sunburst Summer Arts Program - Fourth Ward
Ages: 5 and up
This is an intensive seven-week course that provides children with broad arts exposure through hands-on creative activities, field trips, and performances, which culminates with a public performance. Early drop off and late pick up are available for additional costs.
University Baptist Church Vacation Bible School - Clear Lake
Ages: 5-11
This FREE camp for children offers fun activities for kids including arts and crafts, STEAM learning, group games, and sing-a-longs. Ministry leaders and church volunteers lead campers grouped by age through activities to help encourage learning about God's goodness through Bible stories.
Houston Public Library Camp STREAM - Multiple Locations
Ages: 5-19
Campers will engage in activities such as video game design, LEGO robotics, and 3D printing during this FREE camp offered at several Houston Public Library branches. In addition to science, technology, engineering, arts, and math, this unique camp also focuses on the "R" component -- reading! This week-long camp rotates from branch to branch during different weeks throughout the summer.
City of Houston Summer Enrichment Camp - Multiple Locations
Ages: 6-13
The City of Houston hosts 10 week-long camps throughout the summer at 49 different local community centers. Kids will participate in sporting activities, swimming, nature exploration, recycling projects, arts and crafts, computer literacy, and more. Parents are required to attend an orientation prior to the beginning of camp.
Clear Lake Community Association Camp - Clear Lake
Ages: 6-12
Each week-long camp session through the Clear Lake Community Association features a unique theme with camp activities help each day from 9 a.m.- 4 p.m. Campers will enjoy games, crafts, art, science projects, singing, sports, and swimming. Parents must provide a lunch and drinks for their child each day, but the camp provides a small snack for each camper each afternoon. Early drop off and late pick up are available.
New Spring Center Passport To The World Art Camp - Spring Branch
Ages: 6 and up
Campers will experience the arts and culture of different regions around the world during each week-long session of this art camp at the New Spring Center. Special guests, education on traditional and modern works, different art techniques, and even regional cuisine will be incorporated into this program. Students who qualify for free or reduced lunch programs will receive discounts.
The Little Gym - Multiple Locations
Ages: 3-12
Your kids can enjoy the air-conditioned comforts of The Little Gym's indoor activity center when they enroll in their summer camp programs. If your kids enjoy plenty of activity, arts and crafts, games, and more, this is the camp for them. Each camp session boasts a different theme to cater to different interests such as yoga, tumbling, ninja warriors, space, pirates, cheerleading, and more.
San Jacinto College Camps - Multiple Locations
Ages: 6 and up
At each of the San Jacinto College campuses, campers can choose from a variety of topics to explore during summer camp including STEM, keyboarding, career development, and theater. Depending on the activity chosen, the camp costs vary, but several different camps and sessions are available FREE to a limited number of participants.
Photo courtesy of Camp Quillian
This post originally published in 2017.