Dance Camps for Your Houston Kid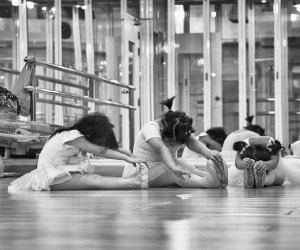 For your mini Misty Copelands or junior JTs, summer is the perfect opportunity for your kids to practice their routines or learn a new style of dance. From jetés to jazz hands, there is something for everyone on this curated list of dance camps happening this summer in Houston.
And for more summer and vacation camp ideas, check out our comprehensive camp guide and full directory of camp listings.
Hunter Dance Center
Ages: 5-8; 9-12; 11-15
Full or Half Day: Both
For the younger group, Hunter Dance Center Faculty will lead creative journeys using dance, music, creative drama, circus arts, and crafts. Themes, such as Where the Wild Things Are or Alice in Wonderland, change each session so that students may participate in multiple camps. The 9-12-year-olds can choose from aerial, ballet, and hip-hop camps. Each one-week session will culminate in an informal performance for family and friends on Fridays.
Houston Ballet Academy
Ages: 4-8 (girls and boys); 7-12 (boys)
Full or Half Day: Half Day
Week-long children's workshops are offered in the summer at the renowned HBA. Your prima ballerina need not have any prior experience nor is an audition necessary! Children are grouped by age, and a mini performance takes place on the last day. Bonus - tuition includes 2 tickets to an HBA performance. Be sure to note the dress code.
Dance Houston
Ages: 7 -17
Full or Half Day: Full
No need to choose between ballet and hip hop - at Dance Houston No Limits Dance Camp, campers immerse themselves in multiple styles of dance from around the world. Taught by professional choreographers, these intensive week-long camps are offered to kids ages 7-17, who are grouped based on skill level.
Houston Dance Centre
Ages:3-6
Full or Half Day: Half
Encompassed within the Houston Dance Center are two studios - Houston Dance Academy and West University Dance Centre. Both studios offer weekly, themed dance camps with instruction in ballet, tap, jazz, and creative movement. Rounding out the week is a performance for friends and family.

Adamson Ballet
Ages 4-7
Full or Half Day: Half
In addition to the daily ballet class, students will learn about classical ballet, music, and dance history through video and arts and crafts. Hip hop and drill team camps are also offered.
Claire School of Dance
Ages: 3-12
Full or Half Day: Half
A mommy and me Frozen-themed dance class. A Trolls-themed class complete with dancing, crafts, and a Troll Garden. And let's not forget Moana - story time, dance class, and island playground. Need we tell you more?
Kennedy Dance
Ages: 4-12
Full or Half Day: not indicated
This studio in the Clear Lake area has been teaching dance since the 70s. So the instructors know a thing or two about dance. The studio's summer line-up is chock-full of themed-classes for little ones to intensive workshops for the older ones.

Karen Stokes Dance
Ages: not indicated
Full or Half Day: not indicated
KSD is a contemporary dance studio under the direction of Karen Stokes, who was been named the best choreographer in Houston by Houston Press two years in a row. Students at the intermediate/advanced level can take part in a two-week boot camp held in conjunction with the University of Houston.
Stratford Spartanaire Sizzlin' Summer Camp
Ages: Grades K-12
Full or Half Day: Full for Grades 6-12, Half for K-5
Step up your routine with instruction from the uber-talented Stratford High School Dance team. Younger students learn basic dance, with jazz and novelty routines, while the older group will learn several new routines and have the opportunity to work with choreographers from around the Houston area.
MET Dance
Ages: 3-12
Full or Half Day: 4-6 week, one day a week classes
Technically more summer classes, than camp, but who's counting when your 3-year-old can tiptoe around in a pink leotard and teeny tiny bun at a 20-year old acclaimed dance company? Classes range from creative dance to ballet to Broadway to modern dance.

Photo courtesy of chrisada, Flickr