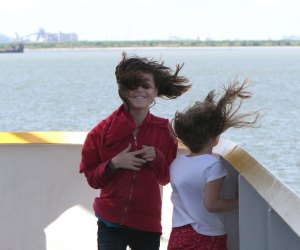 6 Places to Ride a Boat In and Near Houston
Sure, the waters surrounding Houston may not be the clearest, but there is still something magical about being among the waves. I've always considered myself lucky to live in a city near the sea; as a kid, we would often take boat rides around Galveston, and I wish we knew back then about boating opportunities within Houston's city limits. Boat rides make for great activities for any season, from spring to summer to fall. These six options are all family friendly and include both free and ticketed rides.
Sam Houston Boat Tour - Port of Houston
This FREE boat tour has been operating since 1958 and offers guests a 90-minute education ride along the Houston Ship Channel. It's great for families and kids and has indoor and outdoor seating. Another great thing about these rides is that passengers get to see the massive cargo ships cruising in and out of the ship channel. You can book reservations online for any day of the week except Mondays and Tuesdays.
Boardwalk Beast - Kemah Boardwalk
If you're spending the day among the amusements at the Kemah Boardwalk, the Beast is a must-see. Hop on board for a fast-paced 25-minute ride around Galveston Bay. This boat ride features music and entertainment and may not be a great pick for younger children. Oh, and you'll most likely get wet. Make sure to check its daily schedule before you go.
OUR LATEST VIDEOS
"Looking Back" History Boat Tours & Waugh Colony Bat Tours - Buffalo Bayou
The Buffalo Bayou Partnership offers history boat tours for guests ages 4 and up along the bayou where you will learn about Houston's origin story and history. However, the highlight here is you can book bat tours. Yep, the Waugh Colony Bat Tours take guests right by the Waugh Bridge where hundreds of thousands of Mexican free-tailed bats call home. This tour is extremely popular, however, so plan ahead and make reservations online.
Galveston Island Ferry - Galveston
There are many private companies that take guests on rides out in the bay, but at least once in your kids' life, you should take them for a ride on the Galveston-Port Bolivar ferry. It's nothing glamorous, but there's just something about driving your car onto a massive boat that seemed so thrilling and dangerous to me growing up. The FREE 2.7-mile trip takes about 18 minutes and takes travelers along Hwy. 87 between Bolivar Peninsula and Galveston Island. The ferry schedule and current waiting times are available online.
Dolphin Baywatch Tours - Galveston
Believe it or not, there are dolphins in the murky waters of Galveston Bay. These boat tours offer interior and exterior seating and promise to bring guests up close and personal with these majestic animals. Tours run every day, every hour, and children under 12 are FREE. You'll find their pier near Downtown Galveston's historic Strand District, which makes this a perfect activity if you're spending the day sight-seeing.
Armand Bayou Nature Center - Pasadena
The sprawling and beautiful Armand Bayou Nature Center offers pontoon boat tours every Saturday, but you can schedule a private tour throughout the week. It is recommended for kids ages 5 and up and you can choose from a morning, afternoon, or evening ride where you can see wildlife and learn about the area from bayou specialists.
For more posts like this sent to your inbox, sign up for our FREE newsletters.
Top photo courtesy Adventures of KM&G-Morris via Flickr