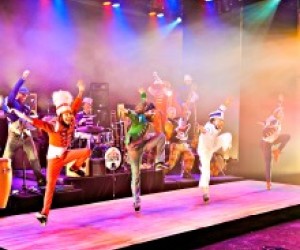 Don't Miss Feet Don't Fail Me Now!: A High-Energy Tap-Dance Show at the New Victory Theater
Our partner, the New Victory Theater, is well known for presenting unique shows for families from around the world. And Feet Don't Fail Me Now!, a tap-dance extravaganza by Minneapolis' Rhythmic Circus, is definitely one of its best. This one-of-a-kind production is an exciting mash-up of rock concert and vigorous dance production that you don't want to miss.

Rhythmic Circus is an 11-member performing arts troupe comprised of the incredibly talented Roots City Band and four amazing rhythm-style tap dancers. The plot-less Feet Don't Fail Me Now! is an hour-long party featuring 14 genre-busting numbers ranging in style from beat box, to a cappella, to salsa, to jazz, to funk, to rock. The dancers' fast-paced percussive tapping brings another level of rhythm to the pounding music.

A true must-see, my eight-year old son and I were blown away. It's one of the best things we've ever experienced at the New Victory Theater and that's quite a compliment considering how many shows we've seen there!
Prepare yourself: Feet Don't Fail Me Now! isn't Singin' in the Rain. The infectious, catchy tunes paired with rapid-fire moves is a raw, modern take on tap-dance and unlike anything I have seen before. While all of the numbers had my son and I bobbing in our seats, some particularly stood out. The bluesy title number introduced the audience to Rhythmic Circus' brassy style and set the tone for what was to come. Both comical beat-box performances by Aaron "Heatbox" Heaton, "Hit the Road" and "Celebrate," were incredible. Following the latter, the dancers and Heaton had an amazing beat battle (the night we attended, the hoofers won). And the cast hit a fevered pitch during the big finale medley, which included a tune called Singin' in the Rain that had nothing to do with Gene Kelly. Their energy was so infectious, families were dancing at their seats and some even rushed the stage rock-concert style.

Since Feet Don't Fail Me Now! gets pretty raucous, it's recommended for children ages 6 and up, and I agree. The band and the dancers are quite loud and the whole experience could be a bit intense for sensitive or very young kids. That said, one of the things I really enjoyed about the show is that it was as enjoyable for me as for my son. I even spied some grown-ups sans kids at our performance! Feet Don't Fail Me Now! definitely appeals to the whole family making it a wonderful outing for the upcoming Thanksgiving break. Bonus: If you go this Friday, November 22 you can also try the post-show TXT Marks the Spot, an interactive smart-phone scavenger hunt that takes place throughout the theater. My son and have done a few and they're always a fun way cap off a night at the New Vic.

Feet Don't Fail Me Now! is playing through Sunday, December 1 at the New Victory Theater, 209 West 42nd Street between Broadway and Eighth Avenue. Tickets are $14-$38.
OUR LATEST VIDEOS