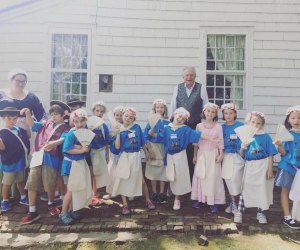 Get Artsy at One of These Fairfield County Museums
Kids and museums. The two don't always go together like PB & J. Many museums are too quiet, too formal and quite frankly, too stuffy, particularly for a three year old. That being said, there are quite a few great museums that actually cater to children with innovative, hands-on programming designed specifically for kids. From helicopters to Colonial Connecticut to modern art, Fairfield County has many first-class museums featuring history and the arts. Most of our museums are also small, easily accessible and extremely family-friendly. Here's a round up of our favorites:
Aldrich Contemporary Art Museum - Ridgefield
The Aldrich in Ridgefield is a nationally recognized modern art museum which is also recognized as one of the most innovative and engaging institutions of its kind. It has no permanent collection, but rotates a variety of high-quality exhibits, several of which are featured at the same time. Consequently, the Aldrich always has something for everybody: an interesting mixed-media exhibit, video presentations, sculptures, paintings, exhibits of 'found objects'. The small museum is composed of surprisingly airy and spacious exhibition halls, providing for a leisurely, laid-back art experience. The Aldrich Museum offers a variety of workshops and educational opportunities for children, including hands-on art classes for preschoolers and kindergarteners. Every third weekend it is 'drop-in time' at the museum for families for interactive and fun art education events. Check out our detailed visit to the Aldrich for tips on where to eat and shop when you're through at the museum.

258 Main Street Ridgefield 06877
The Barnum Museum - Bridgeport
In June 2010, a tornado destroyed the historical building housing the iconic entertainer's collections. The historical building is in restoration for now, but you can take a look at how they evacuated the valuables during the storm, and how they're repairing others. Just enter through the back at the People's United Bank Gallery entrance. Thursdays and Fridays only, 11 a.m. to 3 p.m.
820 Main Street Bridgeport 06604
Bruce Museum - Greenwich
The Bruce Museum is a small, local museum with art and natural history exhibits. Its collections were started by Robert Moffat Bruce, a wealthy textile merchant from the late 19th century. It features a pleasing diversity of exhibits: permanent art exhibits from the work of the local Cos Cob school, natural history exhibits focused on geology, minerals, land formation complete with engaging video presentations. Its glow-in-the -dark minerals and touchable meteorite are the favorites of kids. Many of its thematic exhibits focus on the natural history of the Connecticut region. The museum hosts Family Gallery Tours on Sunday afternoons for children ages 6-10 as well as toddler-friendly programming on Bruce Beginning Tours with guided tours and hands-on activities for children ages 3-5 and their adults. Also, check out our detailed visit to the Bruce Museum and Seaside Center.

1 Museum Drive Greenwich 06830
Fairfield University Art Museum (FUAM) - Fairfield
The seven-year-old FUAM boasts a collection of art that spans the globe and time. You and your brood can view pieces from the Bronze Age to the Baroque, Tuesday through Friday from 10 a.m. to 4 p.m. The Walsh is also closed on Tuesdays. They do open on occasional Saturdays, and close on University holidays, so check their calendar before you go.
1073 North Benson Rd., Fairfield 06824
Bush-Holley Historic Site - Cos Cob
The Bush-Holley House has gone through many transformations throughout its two and a half century existence. Like most of colonial Connecticut, it started out simply and humbly: a one-room tiny house. Over the years it grew into a nice, colonial saltbox, proud residence of an industrious and thriving family in the Cos Cob area. By the mid-1800s it was transformed into the center of an art colony, its grounds and terraces offering sweeping views of the Long Island Sound inspiring the artists of the Cos Cob school. As a museum, the well-preserved colonial house celebrates both: colonial life and history and the achievements and work of the Cos Cob art community. 4 of its carefully designed rooms are dedicated to the presentation of colonial life through the reconstruction of the Bush family's late 18th century home. The remaining rooms feature the work of the late 19th century Cos Cob artists.

39 Strickland Road Cos Cob 06807
National Helicopter Museum - Stratford
A small museum installed in the East-bound railway station in Stratford was inspired by Fairfield County's role in the design and production of helicopters, these special flying machines of complex and ingenious engineering. The little museum features exhibits of photographs documenting the history and evolution of helicopters. It also showcases a variety of model helicopters, including the carefully built model of Igor Sikorsky's – yes, from Shelton, CT - first helicopter. The main attraction is a full-size helicopter cockpit, the favorite of kids of all ages.
2480 Main Street Stratford 06116
Military Museum of Southern New England - Danbury
The Military Museum of Southern New England also boasts some big, impressive vehicles. Its tiny front yard is full with historic tanks and military vehicles from various countries and wars. Usually visitors can just look at and walk around the vehicles, but once a month, the museum has an Open Turret weekend when guests can experience what it feels like to squeeze themselves into the tight bellies of these gigantic war machines. In October Open Turret weekend is on the 29th and 30th of the month. Inside, the museum has interesting exhibits with large dioramas and plenty of educational materials with many original artifacts and objects from the US armed forced and the big military conflicts of the 20th century.
125 Park Avenue Danbury 06810
Housatonic Museum of Art - Bridgeport
The Housatonic Museum of Art makes for the perfect venue for the whole family to take part in art. Free and open to the public all year long, except weekends (check the calendar before you go). Open until 7 p.m. on Thursday evenings. With a vibrant permanent collection and changing exhibitions, the HMA is a hidden gem in the center of Fairfield County.
Lafayette Hall 900 Lafayette Blvd., Bridgeport 06604

Westport Historical Society - Westport
The two-story, pretty, white Wheeler House in Westport takes us back to the Victorian period. The house's first floor rooms have been meticulously restored with many original and replica objects for the period. The Victorian bedroom, dining room, parlor and kitchen vividly evoke the comfortable and respectable lifestyle of an American middle-class family in the post-Civil War period of new hope and growth. Not far from the attractive, Victorian house stands the heptagonal, bulky, cobblestone Bradley-Wheeler Barn. The mysterious little building houses an exhibits of the history of Westport from native Americans to today. The key attractions are the barn's 5-foot square model of the town from the 1860's with audio recordings by Joanne Woodward and Paul Newman and Swezey, the little toy train from Westport's old-timer Swezey Jewelers' shop windows.

25 Avery Place Westport 06880

Lockwood-Mathews Mansion Museum - Norwalk
Commemorating the glamor and larger-than-life grandeur of the Gilded Age, the Lockwood-Matthews Mansion is one of the biggest and most beautiful historic house-museums in Connecticut. Many of its rooms on the first-floor have been renovated and restored: its movie-worthy rotunda, luxurious and impeccably elegant library, music, dining and billiard rooms could have been in the mansion of Great Gatsby. The mansion is located smack-dab in the middle of Matthews Park, which is also home to Stepping Stones Museum for Children and the nautical-inspired playground, Devon's Place.
295 West Avenue Norwalk

Keeler Tavern - Ridgefield
The Keeler tavern in Ridgefield is our long-time favorite. The old colonial inn-tavern-hotel-post office is interesting in itself with its many exciting objects from hundreds of years ago. Enjoy the lively tales from costumed tour guides: colorful anecdotes, amusing rumors and gossips from the period and sometimes scary stories bring to life the tribulations, joys and everyday routines of Connecticut's colonists. Also, be sure to check out our detailed visit to Keeler Tavern.

132 Main Street Ridgefield 06877


Fairfield Museum and History Center - Fairfield

For 10 years, the Fairfield Museum and History Center has been transporting visitors back to the past with educational programming and engaging art and history exhibitions. The museum offers plenty of family-friendly programming from its widely-popular Holiday Express Show operating from early December through January or Friday morning story hour where children are swept away to the past with stories inspired by the Victorian Cottage and meet new friends from back in time as a history tourist. The museum also hosts scavenger hunts, the Halloween Spooky Stroll and vacation camps.
370 Beach Road Fairfield 06824


Photo courtesy Keeler Tavern
Originally published 11/5/11.