Crown Heights for Kids: Drop-in Culture Spots Where Families Can Play and Learn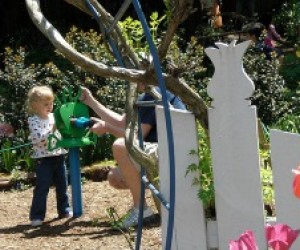 5/14/13
- By
Sarah G
What's the one neighborhood in NYC that has not one but two children's museums? If you guessed the Upper West Side or Park Slope, try again. Crown Heights, Brooklyn is home to the super-popular and interactive Brooklyn Children's Museum as well as the lesser-known Jewish Children's Museum, which features an entire floor of games including an indoor mini-golf course. So while there may not be any traditional kiddie gyms in Crown Heights (yet—it's only a matter of time), there's certainly no shortage of places for kids to play and learn.

In addition to the aforementioned tot spots, there's the Brooklyn Botanic Garden and the Brooklyn Museum, which are both very kid-friendly and offer wonderful family programming year-round. Plus the historic Weeksville Heritage Center is about to debut its brand-new Education and Cultural Arts Building. We continue our month-long spotlight on Crown Heights with a look at everything these institutions have to offer families, including lots of opportunities for enriching drop-in fun.
Brooklyn Children's Museum
145 Brooklyn Avenue at St. Marks Avenue
The U.S.'s oldest and greenest children's museum underwent an awesome overhaul in 2008 and is chock-full of hands-on fun for kids of all ages. With daily drop-in projects and workshops, temporary interactive exhibits and awesome permanent installations like the early learners' Totally Tots, the multicultural World Brooklyn and a Sensory Room for children with special needs, there truly is something for every family. BCM also hosts many beloved annual events such as the Dads & Daughters Valentine's Day Ball and the Monster Mash party around Halloween. Admission is $9 per person however BCM is FREE to visit every third Thursday of the month from 4 to 7pm and the first full weekend of each month 2 to 5pm except on holiday weekends.

Jewish Children's Museum
792 Eastern Parkway at Kingston Avenue

We recently wrote an entire post about this tot spot and we can attest to the fact that you don't need to be Jewish to enjoy yourself here. While all of its interactive exhibits are meant to school visitors in Jewish culture, history and traditions, they're also a lot of fun. The fifth floor Gallery of Games features a climbing wall and mini golf, while the other levels offer hands-on lessons in the 6 Days of Creation and a timeline of important Jewish events, including a gentle introduction to the Holocaust. Kids can get creative here, too: JCM has a great lineup of crafts workshops in which kids can make their own shofars for Rosh Hashanah, bake challah for Shabbat or matzo for Passover, or create menorahs for Hanukkah. Other attractions include a movie theater, a kids' library and even a play synagogue where children can examine the Torah. Admission is $13 for adults, $10 for seniors and free for children under age 2.

Weeksville Heritage Center
1698 Bergen Street between Rochester and Buffalo Avenues
Dedicated to preserving the historic African-American settlement of Weeksville—one of the country's first free black communities—this cultural organization maintains three houses that show what life was like circa 1860, 1900 and 1930. This summer, WHC will significantly expand its offerings thanks to its brand-new 19,000-square-foot Education and Cultural Arts Building, which will contain a resource center, classrooms, an oral history studio, a micro farm and a vintage garden. Right now, the three historic houses are open for tours Tuesdays through Fridays at 3pm. But if you "like" the Weeksville Facebook page, you'll be able to keep up on the progress of the new building. Also, throughout July, WHC organizes Saturday musical performances, family days and film screenings. $5 for adults, free for children under age 8.

Brooklyn Botanic Garden
150 Eastern Parkway between Underhill Avenue and Eastern Parkway
We've written about BBG before, of course, and as regular visitors, each member of my family has a favorite spot. There's the Children's Garden where kids can take classes and generally romp around. But somehow we always end up at the Lily Pool Terrace, peering into the murky water to spot bright fish and admire the water lilies and lotuses. Every year, we stop by the Cranford Rose Garden and we never miss the Cherry Esplanade with its soft grass (the only spot where visitors are allowed to hang out and picnic on summer nights). The BBG is open year-round and hosts many incredible annual events like the Sakura Matsuri/Cherry Blossom Festival in spring, the Chile Pepper Festival in fall and Ghouls & Gourds around Halloween. Admission is $10 for adults and free for children under 12, however the BBG is free to all on Tuesdays and on winter weekdays November to February.

Brooklyn Museum
200 Eastern Parkway at Washington Avenue
One of the oldest and largest (560,000-square-feet!) museums in the U.S., this awesome institution showcases world-class art and has lots of great programs for kids. Its extensive youth and family offerings include the Gallery/Studio Classes for school-age kids, plus Arty Facts, tot-friendly tours of the galleries followed by hands-on art projects every Sunday morning. While the free monthly Target First Saturdays aren't aimed at families, they are definitely kid-friendly and feature no-cost special events, workshops, performances and films. $12 suggested admission for adults, free for children under age 12.

Check out all of our posts about exploring Crown Heights, Brooklyn with kids.