The Very Hungry Caterpillar Show
DR2 Theatre

NYC Easter Brunch Cruise 2023
Event Cruises NYC

Easter Fun Cruise with Egg Hunt 2023
Event Cruises NYC
Sign up for our free newsletters.
New Staten Island Playground: Schmul Park in Freshkills Park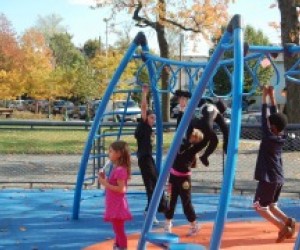 10/29/12
- By
Nataki Hewling
Schmul Park isn't new; it's a revamp of a drab play spot that was sorely in need of a makeover. And while the overhauled park may not qualify as a Destination Playground, the vibrant and colorful romping spot is certainly a welcome addition to the neighborhood—even in the cool fall weather it's packed every day after school!

In addition to the playground, the new $6.5. Schmul Park features a pair of handball courts, basketball courts, a softball field, an open lawn for picnicking or lounging, lovely native plantings, a comfort station with bathroom (and changing tables, yay!), and a pathway that will serve as the entrance to Staten Island's 2,200-acre Freshkills Park, which is currently being developed.
I first visited Schmul Park on an early chilly morning so I could get a good look at the playground with no distractions. I returned with my eight-year-old son on a warmer day, and the place was really busy! The ground is covered with foam-like safety surfacing and the play equipment is set up like a small adventure course, encouraging children to start at one point and follow through until they reach the end. The swing set accommodates toddlers, big kids and children with special needs, and the sandbox has lots of nice interactive elements, like a sand table.

There are lots of gentle slopes that kids can run up and down, or slip and slide on when the sprinklers are on or snow is covering the ground. (I can't wait to see how much fun that will be!)

My eight-year-old went straight for the climbing structure, but soon begged to go to the nearby basketball court. While the playground equipment is supposed to accommodate all ages, I did notice that most of the children were under 5. They were all having a blast rolling and running down those hills! Technically food is not allowed in the park (although I wonder how that will be enforced) but I did notice that the playground was spotless.

On our way to the courts, my son saw some children his age riding bikes and scooters along the wonderful walkway that leads to Freshkills Park. It's a lovely place to stroll and is lined with benches. I spoke with a mom of a 12-year-old who complained that the playground skewed too young. Really, the main activities for school-age kids, especially tweens and teens, are playing basketball or handball, and riding scooters or bikes on the pathway. As for parents, there's a generous amount of seating if you want to relax and read, or sit with a baby in a stroller. The year-round bathrooms are clean and spacious, and there are changing tables and even a large family restroom. Although I live in another part of Staten Island, I'd definitely drive the extra miles to visit this park with my family—especially as Freshkills Park continues to develop.
Schmul Park is located at Wild Avenue between Pearson Street and Melvin Avenue and connects with the in-progress Freshkills Park.

Read about other great outdoor play spots in our NYC Parks & Playgrounds Guide.