2023 Annual Bus Festival
Emily Warren Roebling Plaza

Improv 4 Kids Off Broadway Live
New York Improv Theater Times Square

Spark Math: Free Trial Class
Virtual
Sign up for our free newsletters.
Kids Playhouse Jackson Heights: Queens' New Drop-in Indoor Play Space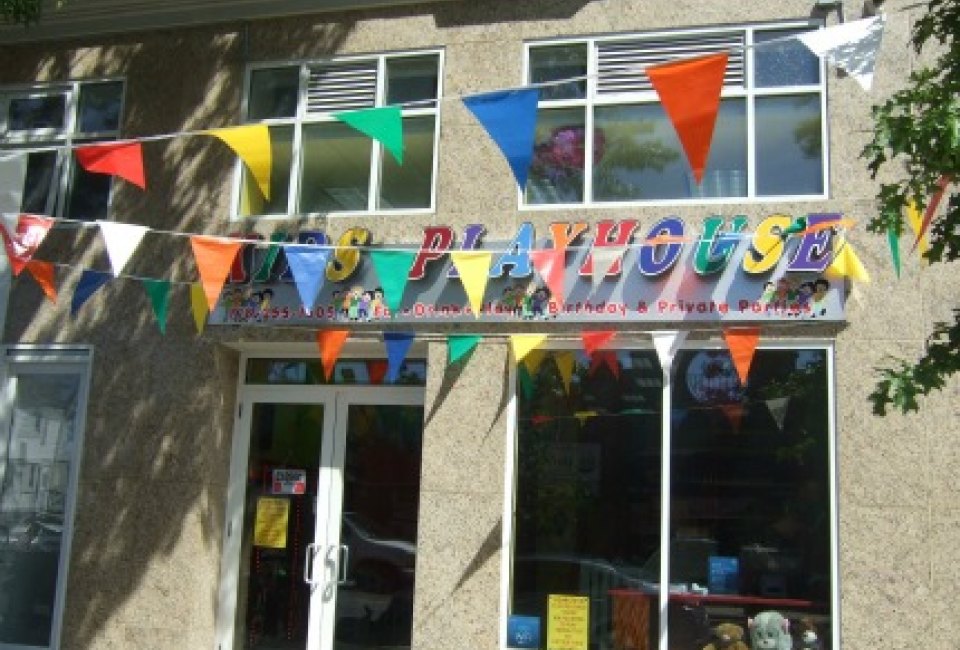 8/12/13
- By
Kelly O
Unfortunately Kids Playhouse closed in late 2015. While there are lots of fun things to do with kids in Jackson Heights, the community has long been lacking in the indoor play department. But that's about to change. The local family behind Astoria's super-popular Kids Playhouse, which we raved about last year, has opened a second drop-in play space in Jackson Heights, Queens. That's great news for neighborhood families, especially since the new Kids Playhouse has all of the same awesome qualities as the original including a multilevel Adventure Maze, a separate toddler play area, arcade games, colorful wall murals and a can't-be-beat price: $7 for up to three hours of play.
My kids and I have been going to Kids Playhouse Astoria since it opened. The owners, Moe and Sam, are genuinely kind and keep the place safe and impeccably clean. The new Jackson Heights play space is similar to the original in size and design with a few improvements: The room is deeper, the Adventure Maze is three levels instead of two and there are lots of character murals like Dora & Diego, and Spider-Man. Like the Astoria outpost, Kids Playhouse Jackson Heights is big enough that the kids can stay entertained for a long time and yet small enough that you can easily keep an eye on them. I don't mind that my daughter likes to linger since I can enjoy myself, too, since there's free Wi-Fi and a snack bar with yummy cappuccinos with cinnamon. I even invite other mom friends so it can be a double playdate.

The Adventure Maze is definitely the highlight and keeps kids climbing, exploring, crawling and swooshing. I've even gone down the slides! There's a separate gated toddler area with carpeted floors, two short slides, a playhouse and a few toys. Shoes must be removed and socks are required to enter the toddler section and the Adventure Maze. Need a break? The snack bar is stocked with kid-pleasers like pizza (pies only, no individual slices), juice, milk and other goodies. There are a few video games to keep tweens busy (though I admit I'm not a fan of the claw "games" where kids can try to win prizes, the operative word being try).

Drop-in admission is $7 per child for up to three hours of play so the price is a bargain. Kids Playhouse Jackson Heights is open for drop-in play seven days a week unless a private party is scheduled. I highly recommend that you check the space's availability on the Facebook page before heading there, especially on weekends. The owners are really good about posting when it is closed for a private event.

Speaking of parties, the Astoria location gets booked up months in advance and I foresee that happening at the Jackson Heights space as well. The party package includes two hours of private play, pizza and juice for up to 15 children, beverages (coffee, soda and water) for adults, a special gift for the birthday child, balloons, invitations, game tokens and hosts.

Kids Playhouse Jackson Heights is located at 93-05 37th Avenue between 93rd and 94th Streets. It's open daily from 10am to 8pm but on weekends call ahead to make sure it's not closed for a private function: 718-255-1505.

Find out about other great indoor play spaces in NYC or check out other things to do in Jackson Heights, Queens with kids.
Places featured in this article: