Hiho Batik: Design Your Own Cool Dyed T-shirts at this New Park Slope Boutique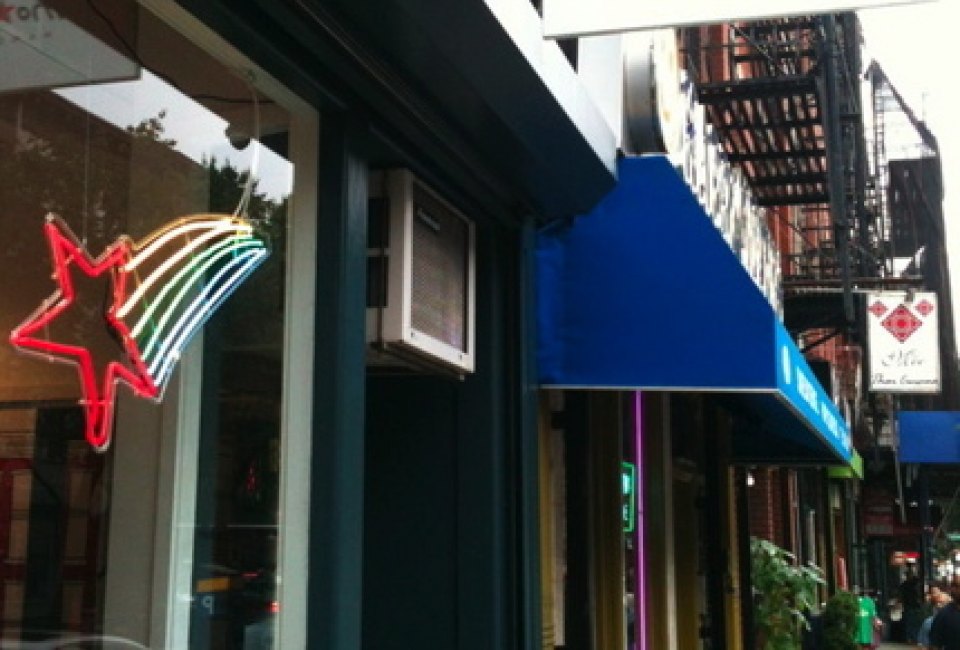 10/22/12
- By
Sarah G
There are a lot of one-of-a-kind attractions in Park Slope like a superhero supply store and a dedicated origami studio. Now there's a new offbeat spot in the Slope: Hiho Batik, a clothing boutique offering do-it-yourself batik sessions for families.

Before you go and Google, batik is the ancient Asian art of using hot wax and dye to create funky patterns on fabric. It may sound complicated but actually it's not that much harder than tie-dyeing. Any child five and up can do it, even if he's not that artistically inclined. My kindergartner certainly had a blast designing and dying his own unique T-shirt at Hiho Batik—it's actually been tough convincing him to take it off.
When you first enter Hiho Batik, you'll think you're in a traditional clothing boutique. There is a large selection of colorful cotton short- and long-sleeve tees for kids and adults, each hand-printed by the Hiho staff with a unique batik design. But the real fun happens in the back of the store in a well-lit studio outfitted with cheery murals, and long tables with benches. There, friendly and patient Julia Silver Gordon, who co-founded the store with Robyn Stylman, walks kids (and adults) through a simple batik lesson from sketch to final product.

Neither my son nor I had ever tried batik before but we plunged right in. First, my son sketched out a design. Then he traced it onto a T-shirt with a hot wax gun (I had to supervise that part a lot). Finally, we applied dye to the tee and voila, the wax tracing kept his design intact.

What really makes these shirts pop is the final step, when the entire design is covered with wax and the background is dyed a contrasting color. You get to pick out the color, however, the store's staff does the rest of the work after you leave. Usually, you pick up your T-shirt about a week later. My son was thrilled when he saw the final product. He was so proud of his design!

These do-it-yourself batik sessions take about 45 minutes and are great for tweens and up. Younger children will need a good deal of assistance. Regardless of age, all projects are closely supervised by Hiho's staff. While walk-ins are accepted, appointments are recommended. The studio is also available for parties, where guests can make their own designs or choose from Hiho's existing templates.

Prices for do-it-yourself designs are $40 for short-sleeve tees and $45 for long-sleeve ones, so it's definitely a bit of an investment. But that's the price for originality: No one else in the world will have a tee quite like your kid's.

Hiho Batik is located at 184 Fifth Avenue between Degraw and Sackett Streets.


See our other posts about crafting in New York City.
Places featured in this article:

Sign up for our free
newsletters.
Mommy Poppins is a family activity website that helps people find things to do with kids.
©
2023
MommyPoppins. All Rights Reserved.
mp-prod4-v4.32.99
Enter to Win!