How to Tackle Tough Stuff With Your Kids: Depression, Stereotypes, Surgery, and More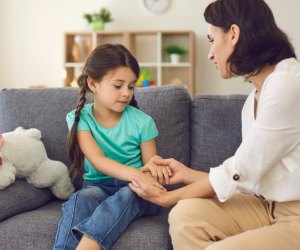 11/17/22
- By
Jessica Laird
While we can handle many of the day to day issues that come up for our kids, there are some times where a Google search doesn't cut it and it's time to turn to help from experts. From discussing a family cancer diagnosis to navigating hurtful stereotyping, eating issues in kids, and more, Connecticut Children's has created a new toolkit called Overcoming Challenges filled with advice on facing some of the difficult situations and conversations we encounter with our kids from pediatric psychologists, child life specialists, registered dieticians, and other pediatric experts.
It seems like children are facing an increasing number of tough challenges lately. Check out some of the ones tackled in the Overcoming Challenges toolkit and click through to get all the advice, including when and how to reach out to a specialist–there's even a link to easily request a virtual or in-person appointment.
Here's the guidance from Connecticut Children's:
Preparing your child for surgery
It's easy for a child or teen to feel nervous, or even develop misconceptions, about having surgery. When preparing for an upcoming procedure, Connecticut Children's Child Life specialists encourage parents to listen really closely for any misinformation their children may have. Young kids may think their surgery is some sort of punishment, while older kids may worry that they'll wake up during their procedure. Make sure to clear things up calmly and confidently, and leave plenty of room for questions.
Read 10 more ways parents can help prep kids for procedures
Talking about a family cancer diagnosis with kids
While keeping the news of a cancer diagnosis a secret may initially feel like the best way to protect your kids, research shows that children actually cope best when they're part of an open conversation. Without honesty and strong communication, kids' vivid imaginations can easily make up scenarios that may be worse than reality, and children finding out accidentally about cancer in the family can really damage trust.
Ask yourself these questions before talking to your child about cancer
Teaching kids healthy holiday eating without overindulgence
We all want our kids to have healthy relationships with food, but diet and nutrition can be sensitive topics for kids of all ages and genders. Holidays can be a time when the focus on eating, or concerns about overindulging, can be particularly challenging. Nutritionists suggest trying to keep your kids' eating schedule as consistent as possible and never skip a meal to "prepare" for a bigger one. This can lead to overindulgence and unhealthy habits.
Get 8 more nutritionist-approved healthy holiday eating tips
Navigating seasonal depression in children
Seasonal Affective Disorder–also known as SAD–is often talked about in the context of adults, but did you know that children and adolescents can experience similar symptoms? If you're noticing signs of depression in your child, like changes in mood or sleep, low energy, self-isolation, or a lack of enjoyment, pediatricians recommend reaching out for an assessment and guidance on treatment.
Here are 4 effective ways to actually treat SAD in kids
Addressing diversity, equity, and inclusion with children
Stereotypes and unconscious bias are at the root of a lot of the challenges our kids face related to diversity, equity, and inclusion–often dubbed DEI. The natural inclination for humans to compartmentalize and categorize things, and our inability to see how those assumptions impact our perception of people can lead to racism, gender bias, ageism, ableism, and more. Pediatric psychologists suggest teaching kids how powerful words can be, regardless of intent. Ask them about a time someone hurt their feelings and explain the damage that words and assumptions can do.