6 Expert Tips for a Healthy Back-to-School Season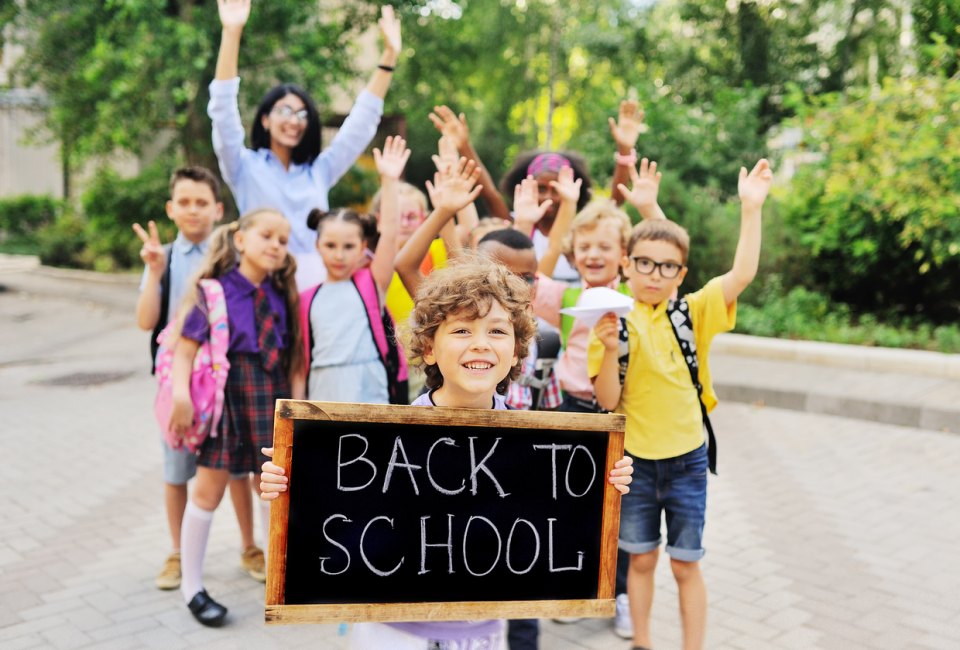 8/25/22
- By
Jessica Laird
The last thing busy parents need at the beginning of the school year is another item on their to-do list, but that doesn't mean children's health and safety concerns should take a back seat. That's why we've partnered with Connecticut Children's to share some expert tips from their free 2022 Back to School Kit. With their professional understanding of the most important healthcare concerns for children heading back to school, the kit provides easy and doable expert advice that will have a big impact on your child's health and happiness in the upcoming academic year.
Here are six things you can do to help set your family up for a healthy and successful school year.
Brush up on backpack wearing dos and don'ts
Did you know that carrying an ill-fitting backpack can actually cause short-term and long-term muscle and joint problems in kids?
When picking out the proper bookbag for this school year, look for lightweight options with wide padded straps, a padded back, and a chest or waist strap for added support. Rolling backpacks are also a good option.
Find out how to pick the right backpack and how to fill it for maximum comfort
Stock up on healthy snacks and meals
Nutrient-dense snacks are a critical part of keeping kids energized–especially during busy school days! Make a back-to-school grocery list that includes fresh fruits, veggies, whole grains, and lean protein, which can be paired together for quick and simple snacks. Try sliced apples with cheese or raw veggies with hummus, or shake things up with fruit kabobs dipped in yogurt or whole grain bread and cheese cut into shapes with cookie cutters.
See how to get kids on board with healthy snack choices
Commit to a consistent sleep schedule
Remember that kids need more sleep than adults do – 9-10 hours a night for kids ages 5-12 and 8-9 hours for teens. With academic performance, behavior, and mood all dependent on a good night of rest, try to prioritize consistent bedtimes and rise times all seven days a week.
Learn how to optimize your bedtime routine and avoid stalling tactics
Have a conversation about mask wearing
While it looks like masks will be optional at Connecticut schools for the coming academic year, some kids will likely still be wearing them. Whether you plan to have your child cover up or not, have a conversation about masking to gauge their comfort level and to help answer any questions they may have.
Read up on how to talk to kids about mask wearing
Make sure your child's up-to-date on vaccines
Like most states, Connecticut requires that kids are vaccinated against certain diseases in order to attend public and private school. Especially if it's your child's first time heading into a classroom, make sure you're current on all required immunizations and that your school has an up-to-date medical form.
Learn how the COVID-19 vaccine can help protect kids 6 months to 17 years
Schedule an appointment with your pediatrician
If you've missed a well visit or you've been meaning to reach out to your child's doctor with a medical question, the start of the school year is a great reminder to schedule an appointment. If you're in need of a pediatrician, schedule a Video Visit with an expert at Connecticut Children's or book an in-person appointment at the location closest to home.
For more timely health and safety tips, check out Connecticut Children's latest resource kit for families, the 2022 Back to School Kit. Connecticut Children's is the only health system in Connecticut dedicated to children, providing more than 30 pediatric specialties at multiple locations in three states, and through Video Visit. They are Magnet recognized, a designation only 7% of hospitals achieve, and U.S. News & World Report has named them one of the best children's hospitals in the nation.
The contents of this article are for informational purposes only and not intended to be a substitute for professional medical advice, diagnosis, or treatment. Always seek the advice of your physician or other qualified health provider with any questions you may have regarding a medical condition.
Places featured in this article:
Sign up for the Mommy Poppins Newsletter today!