Community Gardens in Hartford County: Gardening With Children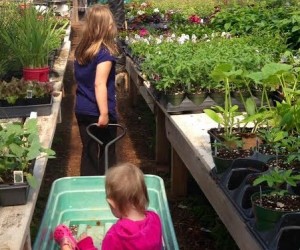 Experts (I am not one of them!) agree that horticulture is great for kids: it allows them to design, plant, and maintain a garden, while teaching them about nutrition, teamwork, cooking, and food sharing.
The expert who propelled our family gardening endeavor about five years ago was Curious George. Yeah. The cartoon monkey. After watching an episode about gardens, my daughter begged for one of her own, and with a little help from good neighbors at The Pickin' Patch in Avon and Home Depot, a little girl's dreams of becoming a farmer came true.
Our German Shepherds had already excavated the backyard, so deciding which section of perfectly manicured lawn to dig up was never a choice for us. We just picked a sunny spot, decided on a 10x10 lot, and stood back as daddy did the tilling.
My eldest daughter was delighted to pick seedlings at The Pickin' Patch and each year we get more ambitious. What began as a basic crop of tomatoes and peppers has expanded to include lettuce, cucumbers, zucchini, and herbs. Now don't get excited – you won't find the Verge Vegetable Stand at your local farmers' market.
Two years ago, we tried eggplant. We grew a few twisted miniatures and gave up on that crop. Last year, we attempted celery and carrots. We got leaves, while a handful of bunnies frolicking in our backyard feasted on the goods. The broccoli served as a cozy bed-and-breakfast for caterpillars. This year, the girls want corn and pumpkins. I can already foresee the future but am not about to squash their enthusiasm, especially since little ladybug imprinted gloves already await in the garage.
So why do we keep gardening, despite our questionably green thumbs? I offer you three main reasons: the girls love it. They enjoy the process, the wait, the water sprinkler, and race each other to pick the crops at the end of the day. Our small garden also allows for time spent together outdoors, and is a daily reminder that our family is a team and food should never be taken for granted. In addition, the girls' appetite for vegetables has increased, simply because they help to grow them.
If your family is interested in gardening, start planning your backyard dig. Or, if your grass is too pretty to be disturbed (I envy you), check with your town. Community gardens abound, usually for a small fee. Some are available only to residents, but some are not. Registration begins this month and plots do go quickly (Farmington, for example, is already sold out). Here are some community gardens in the area:
West Hartford: Buena Vista Gardens on Cornerstone Drive, Westmoor Park Gardens on Flagg Road, and Wolcott Gardens on Wolcott Road. Unfortunately, garden plots are available only to West Hartford residents.
Simsbury: Simsbury Community Gardens on Sand Hill Road.

Bristol: Community Gardens at the Bristol Senior Center. Plots are available only to Bristol residents.
New Britain: Two gardens - one on the corner of Lawlor and North, and the other at Chapman and Belden streets. Available only to New Britain residents.

Glastonbury: Wind Hill Community Farm on Hebron Avenue.
Southington: Two gardens - one on Academy Street, and one on East Street.

If you know of other community gardens, please share in the comments section.

Whether your destination is a vegetable patch or a flower garden, may the sunshine be with you.