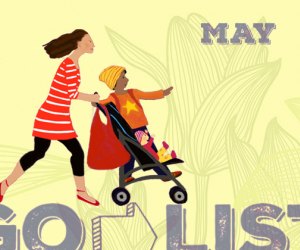 May GoList: Best Things To Do with Kids in Connecticut
The flowery, festive heart of spring, May brings Mother's Day and Memorial Day weekend. Everywhere you turn throughout the month, there are fairs, festivals, and nature-inspired events, but if we had to choose, these are our very favorite things to do with kids in Connecticut this May. If you click through to the full listings, you can add them to your calendar. Of course, our Event Calendar always has more fun listed each and every day. And don't forget to bookmark our Spring Fun Guide for family activity ideas throughout this gorgeous season in Connecticut. Have fun planning!
Pancake Breakfast and Sheep Shearing Wilton
Saturday, May 4
Celebrate Spring at the Farm! Drop in for pancakes with Ambler Farm maple syrup and then visit with the resident sheep, goats, and chickens, and stay to observe the sheep's wool shearing in preparation for warmer weather.
Fair Haven Family Stroll & Festival,
New Haven
Saturday, May 4
After walking on a loop around the river, There will be drums, live family-friendly music and dance, parachute play, puppets, face painting, food vendors, bubbles, yoga, arts and crafts, and a whole lot of door prizes.
Enjoy a community block party complete with children's games, craft fair, vendors and food! A DJ will keep you entertained while you wait for your duck to cross the finish line.

Pick up an Explorer Kit from the Portable Art Cart. Photo courtesy of the Griswold Museum
Community Free Day at the Florence Griswold Museum, Old Lyme
Sunday, May 5
Visitors can tour the art exhibitions and historic Florence Griswold House for free. Balloon art, magic shows, family tours are all part of the day.
Fresh from the Farm Tasting, South Glastonbury
Sunday, May 5
Sample various farm products, including eggs, omelettes, Easter ham, and locally roasted coffee. Plus hayrides, facepainting, kids activities, and live music.
Sakura Matsuri/ Cherry Blossom Festival- New Canaan
Sunday, May 5
Welcome spring with taiko drumming, martial arts, ikebana, origami, cartoon balloon characters, bonsai, origami, samurai armor, and a Japanese food truck selling real yakisoba.
Dogwood Festival, Fairfield
Friday, May 10 - Sunday, May 12
For over 80 years, members of Greenfield Hill Congregational Church and thousands across Fairfield County have celebrated the beauty of spring with the Dogwood Festival. The Dogwood Festival offers a variety of entertainment for all ages featuring local history and culture. Admission is free and proceeds benefit charities near and far.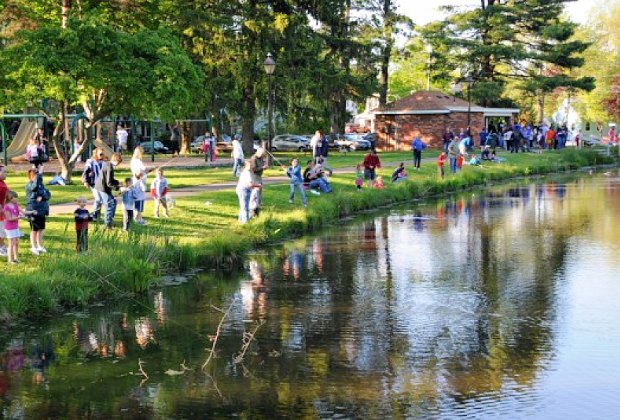 Photo courtesy of Sheila Schmidt Family Fishing Night
Sheila Schmidt Family Fishing Night, Windsor
Friday, May 10
Have dinner and enjoy some family fishing in a pond stocked with trout.
Farm & Flower Festival, Windsor Locks
Saturday May 11
Come celebrate the beauty of spring at the annual Farm & Flower Festival! Buy mom a flower for Mother's Day, enjoy live music, take a ride on a tractor, live animals and more. All money raised will benefit the WL Food Pantry.
Mother's Day Cake Decorating - Middlefield
Saturday, May 11
Your cake will come alive with delicious icing, colorful sprinkles, sparkly decorations, glittery sugars, candies, gumdrops and more!
Water Lantern Festival - Danbury
Saturday, May 11
This is a family friendly event that can be shared by everyone. Friends, families, neighbors, and lots of people that you haven't met can come together to create a peaceful, memorable experience.
Run Like a Mother 5K, Ridgefield
Sunday, May 12
A 5K women's only race with a 1 mile kid's run. It's a race and celebration of Mother's Day, fun and fitness with a great post race event.
H.O.R.S.E Spring Open House, New Preston
Saturday, May 18
Visit with the horses, boutique sale, tack sale, silent auction, and hourly tours.
Create a Fairy/Gnome Garden - Bristol
Saturday, May 18
Using live plants and materials that are supplied, use your imagination and create a garden any Fairy or Gnome would love to live in! Guidance given in making this amazing take home creation!
New Canaan Nature Center's Community Garden Kickoff, New Canaan
Saturday, May 18
"Adopt" a plot in the Nature Center's community garden for the growing season (May-November)! The community garden provides a shared space in which local residents can tend a plot of land, learn together, and share in an appreciation of the outdoors and gardening.
Dionysos Greek Festival, New Britain
Friday, May 17 - Sunday, May 19
Homemade pastitsio, moussaka, spanakopita, and so much more. Greek music and greek dancers, don't miss all of the fun!
Locapalooza Music & Art Festival, Bethany
Saturday, May 18
This family friendly event has something for everyone in the family. Eight local bands will be sharing their original music, the vendor village will feature items that are handcrafted in Connecticut and the Kids Korner will have arts & crafts projects as well as hula hoops, bubbles and other activities.
Touch-a-Truck,
East Lyme
​Saturday, May 18
This year the event will feature fire trucks and fire safety. Chief Wargo is eager to show the children that even though a person dressed in turnout gear may look scary, they should not be afraid of firefighters.
State Museum Sunday- Guilford
Sunday, May 19
Free admission for Connecticut residents at any of the four State Museums on the third Sunday of the month. Hosted by the Henry Whitfield State Museum.
Revolutionary War Encampment, Wethersfield
Saturday, May 25
Start Memorial Day Weekend off with a 'bang" at the Webb-Deane-Stevens Museum. Demonstrations include 18th Century medicine, open fire cooking, camp life, and musket firing.
Decoration Day at Mystic Seaport, Mystic
Monday, May 27
Mystic Seaport will pay tribute to fallen Civil War soldiers during the Museum's annual Decoration Day ceremony. Activities are planned throughout the day.