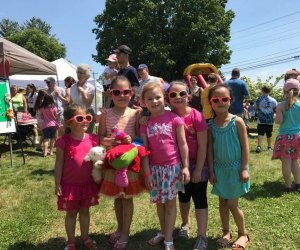 All Sorts of Free Fun for You and the Kids This June
It's the first month since your kids got out of school and it's time to find some fun things to do. You don't want to blow your whole entertainment budget in the first month of summer, so FREE is the target price tag. This is a great month because during the month of June, Connecticut celebrates with their Trails Day and their Open House Day. And of course don't forget all the discounted dad-missions for Dad on Father's Day.
Life in Simsbury "Celebrating the Familiar" - Simsbury​
May 15 through Sept. 15
Wander the public art trail and participate in the summer-long scavenger hunt being sponsored by the Simsbury Chamber of Commerce. Seward Johnson's life-like statues are on display all throughout town.
Ethos Greek Festival - Stamford
June 1 - 3
Come on out and experience the Greek culture at its finest. Try Greek foods, dances, and games for the whole family. Listen to the Athenian Entertainment Greek Orchestra and take a spin on the Ferris wheel or other fun rides.
Roseland Cottage Historic New England - Woodstock
June 2
Roseland Cottage is open to the public on June 2. Tour the grounds for free at this annual event. Check out the Gothic Revival home built in 1846 and it's amazing grounds.
Free First Saturday at Lyman Allyn Art Museum - New London
June 2
Each month until the end of the year, there will be an art project offered for free. On June 2 create Van Gogh inspired flowers.
Weed Beach Festival - Darien
June 2
Join the festival on the beach. There will be free live music, games for kids, and vendors. Tickets for a clambake will be available as well.
Open Farm Days at Common Ground - New Haven
June 2
Ongoing through the summer, Common Ground will open up their farm so that families can come and see the learning garden, and play with their ducks, chickens, goats, and sheep. Take a hike on the family-friendly Old Oak Nature Trail.
Fireworks 2018 - Wethersfield
June 2
Fireworks 2018 is back for the fifth year. Starting at 9:15 at Cove Park, there will be an amazing display of pyrotechnics.
Connecticut Trails Day - Various Locations
June 2-3
All over Connecticut, hiking trails will be open to families wanting to get outside. The Connecticut Forest and Park Association hosts this annual event. There are over 200 free guided activities happening at locations throughout the state. For details go to their website.
Touch a Truck sponsored by the JCC of New Haven - Woodbridge
June 3
Children ages 3-12 will love to see trucks up close and personal at JCC's annual Touch-a-Truck event. There will be dozens of vehicles, a bounce house, a music DJ, and crafts.
Zumba for Kids and Parents - Norwalk
June 4
Come to Norwalk Library and participate in a family-oriented Zumba exercise class. Children ages 3-12 are invited to participate. The class tops out at 80.
Classic Cruise Night at Ocean Beach - New London
June 4
Every Monday night during the summer, Ocean Beach transforms into a 1950's party complete with live music and a huge lineup of classic cars.
Stepping Stones Museum for Children Free Night - Norwalk
June 7
Spend some time at the children's museum. Entrance is free and activities include the Energy Lab, Tot Town, the Color Coaster, and Celebration Playground.
Connecticut Open House Day - Various locations
June 9
Locations all over Connecticut throw open their doors on June 9 and don't charge an admission. Museums, galleries, and multiple attractions will be open to the public. A few locations to consider include: the Stony Creek Museum (Branford), the Barnum Museum (Bridgeport), Old Newgate Prison (East Granby), Connecticut Trolley Museum (East Windsor), and the Vintage Radio and Communications Museum (Windsor).
Harry C. Barnes Nature Center Free Admission Day - Bristol
June 9
Come down to the nature center and enjoy what it has to offer including special activities for this day. The Nature Center has exhibits, live animals, and hiking trails.
Cheshire Strawberry Festival - Cheshire
June 9
Come to the 81st Annual Strawberry Festival in downtown Cheshire. There will be juried crafters and artisans, delicious food, a bounce house, and face painting.
Celebrate West Hartford - West Hartford
June 9
This is an annual two-day event with both local and professional entertainment. Enjoy the food, games and activities, carnival rides, and more!
Yankee Doodle Fair - Westport
June 14-17
Have a family focused fun time in Westport. Enjoy the carnival rides and traditional entertainment. No admission, rides cost extra.
Touch-a-Truck Event - Newington
June 16
Newington Parks and Recreation will be hosting an event where your littles can touch a back-hoe, fire truck, pay-loader, police car, ambulance, and a snow monster.
Butterfly Hunt - Hartford
June 16
Can you find one of the 20 species of butterflies that live near Cedar Hill Cemetery? Join the Connecticut Butterfly Association to find out! Wear bug repellant because there are other bugs besides butterflies there.
Strawberry Festival - Monroe
June 16-17
Come down to Monroe Congregational to look at the exhibitors and artists. Your children will enjoy the live music and games are offered at a nominal cost.
Dinosaur Place Free Dad-mission - Oakdale
June 17
Dads get into the Dinosaur Place free on June 17 when accompanied by another paying ticket holder. Dinosaur Place is a 60-acre outdoor park with hands-on activities and a museum.
CT Trolley Museum Behind the Scenes Tour - East Windsor
June 17
Get a behind-the-scenes tour of the Trolley Museum. Dads and Grandads get in free when accompanying another paid adult. Take a look at the trolleys currently under restoration.
Accessibility Day at Stepping Stones - Norwalk
June 17
Free admission to families of children with special needs.
St. Andrew's Italian Feast - New Haven
June 21-24
St. Andrew and the Apostle Society and the Amalfitani-Italian Community of New Haven annual cultural heritage festival. This festival has been ongoing for decades. Great Italian food, entertainment, and kids activities.
Photo: Cheshire Strawberry Festival 2017