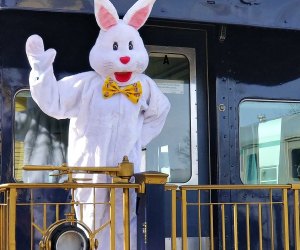 Easter Brunches, Trains, and Drive-Thrus for Connecticut Kids
With spring in the air, it's time to polish up those dress shoes and think about a special Easter breakfast or brunch with kids. If your kiddo is keen to be treated to a very special, bunny-themed meal, train ride, scavenger hunt, or drive-thru, check out these fun community events to celebrate the holiday.
For more ideas to enjoy the start of this gorgeous season in Connecticut, bookmark our spring fun guide. Be on the lookout for our annual Easter egg hunt roundup, coming soon.
2021 note: Most (but not all) of these events feature Easter Bunny visits. If sightings and photo ops are a priority, be sure to call ahead to make sure the rabbit-of-the-hour will be on hand. Also, contact the event organizers to check on mask policies, pre-registration requirements, and capacity restrictions to make sure the event is safe for your and your little bunnies and chicks.
OUR LATEST VIDEOS