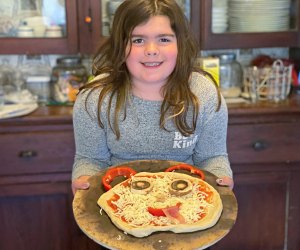 Shop and Support Local Businesses in Connecticut During the Shutdown
We all are following the "Stay Safe, Stay Home" guidelines, but why not have a little fun and spread the love that makes Connecticut the best place to call home? Our little corner of New England is bursting with local businesses that could use our support more than ever right now. Families can support Connecticut businesses by ordering meals (or meal kits) from local restaurants, buying gifts from independent toy stores and bookstores, investing in gifts or virtual classes from area museums and attractions, and more. (Remember, when you buy directly from one of these companies rather than a third-party service, you can ensure that more proceeds go directly to the small business itself.)
And while you're showing your support for the businesses you love, we hope you'll count Mommy Poppins and our small business partners among them. You can support Mommy Poppins by sharing articles you find useful with friends or on your social media channels, checking out our directory of virtual classes, camps and birthday parties and telling businesses you found them through Mommy Poppins. Also, as part of our effort to keep our local parent writers and this website afloat and support some of our favorite family businesses, we've created Poppins@Home, a platform for small businesses to share free and low-cost online classes and birthday parties with kids all over the country. Please consider trying a few of these fun, affordable, and creative classes—and spreading the word among your friends—as yet another way to support, uplift, and get through these challenging times together!

Mr. Frosty's Fiesta To Go Kit will make an at-home night special. Photo courtesy of Ally Noel
Local Restaurants With Meal Kits and Dessert Kits
Mr. Frosty's - Norwalk
Ice cream can certainly make everything a little bit better, and that is certainly true of Mr. Frosty's. Delivery and curbside options are available for a variety of creative take and make ice cream concoctions like the Survival Kit, Ice Cream Fiesta Kit, or Waffle Sundae Kit.
Elm Street Diner - Stamford
If you follow Elm Street Diner on the 'gram , you are probably familiar with their over the top "secret menu" crazy milkshakes. Well, they have done it again! You can indulge your sweet tooth with one of their DIY Donut Kits. Each kit includes a dozen donuts, candy, fillings, and frostings.
The Painted Cookie - Wilton
The Painted Cookie is not only delicious - its also completely nut-free and allergy aware. They are currently offering curbside pick up of coloring cookies, and with 24 hour notice you can grab a bake and decorate kit or a birthday celebration bucket.
Mystic Drawbridge Ice Cream - Mystic
Although I do love the view of the drawbridge from the patio of Mystic Drawbridge Ice Cream, its safe to say that their ice cream tastes phenomenal from the comfort of your own home. Make it a Family Fundae with their sundae kit, complete with a cherry to place on top.
Saugatuck Sweets - Westport & Fairfield
Satisfy that sweet tooth with one of Saugatuck Sweets' prepared kits. You can make a mint oreo cookie ice cream sandwich, old-fashioned root beer floats, campfire waffles, and more! Check their social media for the latest.
Luna Pizza - Hartford
This spot is offering a $10 Pizza Kit that includes dough, sauce, cheese, and up to two toppings.
Moneta Moments - Windsor
It's always a good time for Moneta Moments' Party in a Box! Pick from several designs and decorations, and each child will receive four cupcakes to decorate at home. These kits need to be ordered at least two weeks before.
Fortina - Stamford
If you check out @fortinapizza on Instagram, then you will get the inside scoop on what this week's Cooking with Christian is going to be. You can order the ingredients and have them delivered ahead of time.
Forever Sweet Bakery - Norwalk
Forever Sweet's cupcake game is strong, and their themed rotation of to-go kits is no exception. Get everything you need to make dinosaur, birthday, or springtime cupcakes.
Romanacchi Pizza Kit - Norwalk, Westport, Trumbull
Every week Romacchi hosts an Instagram Pizza Competition. Buy a pizza kit from any of their locations ($5 small, $10 large) and let your inner Iron Chef break free! Kit includes dough, sauce, and cheese.

Recess Playworks takeout crafting kits include Zoom instruction. Photo courtesy of Recess Playworks
Local Arts and Craft Places with Takeout Crafting Kits
Recess Playworks- Ridgefield
Recess Playworks is putting together kits to keep the kiddos entertained for days! Its Let's Get Artsy Art Box includes everything you need for five days of art projects, complete with Zoom instruction.
Glazey Dayz - Watertown
With over 200 pieces of pottery to pick from in their online store, Glazey Dayz will give your family something to do even on the laziest of days.
The Golden Button Arts and Crafts Studio - Woodbury
If crafting is your thing, then the Golden Button is your place. It's currently offering curbside pickup for some of their popular projects. Pick a few up and you can paint, sew, or sculpt your way through quarantine.
Painted By The Shore - Branford
Painted By the Shore has an amazing line-up of Virtual Workshops lined up for the whole family. From painted Kindness Rocks to Friday Family Nights Online, it's bringing everyone together through the power of crafting.

Try learning something new through online classes from the Maritime Aquarium. Photo by Ally Noel
Local Museums and Attractions with Online Shopping and Virtual Activities
Hartford Yard Goats - Hartford
Buy some Goats gear—including face masks!—and then download (for free) a Hartford Yard Goats' Chompers and Chew Chew's Activity Book.
Mystified Escape Rooms - Mystic
Spend a day solving clues from your car with the Family Frolic Special CAR EDITION Scavenger Hunt around downtown Mystic.
Storytellers Cottage - Simsbury
The Storytellers Cottage is offering online kids classes on filmmaking, writing, and more. Snuggle up tight and get all cozy while you listen to the Storytellers Cottage read a virtual bedtime story live at 7:30 p.m. each night.
PEZ Visitor Center - Orange
Take a 3-D virtual visit to see the PEZ Visitor's Center and get an up-close look at how these popular candy dispensers are made.
Stamford Museum & Nature Center - Stamford
Schedule a 30-minute ZOOM animal visit for your classroom of birthday party. Just reach out to the Director of Education for scheduling and fees (lmonachelli@stamfordmuseum.org).
Beardsley Zoo - Bridgeport
Get a custom video made for your child's classroom. Fill out a form and pick from a variety of the Zoo's inhabitants, and in 3 to 7 days, the Zoo's Education Department will have a personalized video ready to show your class.
Mystic Aquarium - Mystic
Stay connected to your finned and scaled pals by sending them letters - they promise they'll write back!
Maritime Aquarium - Norwalk
The Maritime Aquarium is offering some of its most popular family programs virtually. Go spend time with seals, become a Citizen Scientist, go on a Shark Safari—and then give a donation you can afford.
Girl Scouts of CT - Statewide
Girl Scouts of Ct invites everyone to see what it's like to be a Girl Scout. You are all cordially invited to a Flower Garden Party, discover the beauty of bugs, or earn your Outdoor Art Creator badge.
Places to Buy Face Masks, Clothes, and Gear in Connecticut
Around the Rosie - Westport
The popular consignment shop, Around the Rosie, has moved its inventory online and will even offer shoppers a Private Virtual Shopping experience. Simply let them know what sizes and gender you are looking for, and it will put together a collection of clothing for a private virtual meeting.
Fierce Face Protection - South Windsor
Although these are not medical-grade face protection, these stretchy, tubular face masks are perfect for heading out when you cannot maintain your social distance.
The Two Oh Three - online
Show your CT LOVE with your gear from The Two Oh Three. From hats, hoodies, onesies, and PJ sets, this lifestyle brand will make you proud to call Connecticut home.
Saltwater - Fairfield
It's always the perfect beach day at Saltwater in Fairfield. This small boutique sells accessories, t-shirts, beach bags, and toys for summer fun. Online ordering and shipping are available.

Make a celebration fun with balloons. Photo courtesy of Beach Party Balloons
Local Birthday Party Planners
Kona Ice Truck - Stamford (serving Coastal Fairfield County)
Bring any celebration car parade to the next level with the Kona Ice Truck. The truck will park at a predetermined spot and serve your guests some shaved ice. The VIP family is served first and then guests in each car take their turn coming up to the truck.
My Balloon Guy - Stamford (serving Fairfield County)
What's a party without balloons? Send the birthday kid a special balloon sculpture to get this party on the road! My Balloon Guy can make just about anything out of balloons.
Beach Party Balloons - Milford
Beach Party Balloons is offering curbside pickup and delivery of all your balloon needs.
Hartford Prints - Hartford
Hartford Prints is "by your side, curbside." On Thursdays, Fridays, and Saturdays you can pick up one of its original designs feature gorgeous letterpress stationery that would make any special occasion feel memorable.
Hardcore Sweet Bakery - Watertown
Hardcore Sweet is ready to help you celebrate just about any occasion. Its custom cakes and cupcakes are adorable and delicious.
DiMare Pastry Shop - Stamford
This family-owned bakery has been serving up family fun for 44 years. In addition to delivering yummy cakes and cookies, it also supports healthcare workers with a steady flow of sweets.