Boxing, Fencing, Sailing, Squash, and More Sports Classes Outside the Box in Fairfield County, CT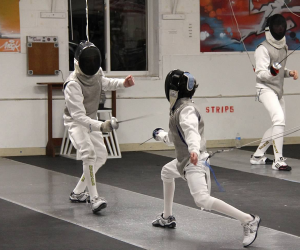 At a recent lacrosse camp, one pigtailed and freckled little 7 year old informed me that she would be playing in Baltimore next week to "focus on my attack dodges." This made me start thinking about the sports my kids are pursuing. Maybe it's time to go off the beaten path a little, and try a sport where a kid stands a better chance of standing out.
I've listed below some not-so-run-of-the-mill sport options that I've found for kids. For more options, check out our Classes and Enrichment Guide for Kids in Connecticut, or have fun digging into our Fairfield County Guide.
Candlewood Fencing, Danbury
Classes are offered for children as young as five at the Candlewood Fencing Center, and participants can choose to pursue either competitive or recreational fencing. A monthly fee is required (discounts offered for multiple family members), and then classes cost about $15/class on top of the monthly fee.
YMCA Bridgeport/Stratford Youth Swim Team, Stratford
Kids 18 and under can head to the Stratford YMCA to join the BSY Torpedoes, the YMCA's swim team. Girls and boys as young as 6 develop their strokes and speed in the evenings at the pool, then may participate in area meets on weekends. The "Short course" runs September through March, with summer sessions available.
Ortiz Boxing Gym, Bridgeport
A free program for boys in Bridgeport, Ortiz Boxing Gym offers youth boxing and is run by "Coach Carlos" Nieves. Boys ages 10 and up can train Tuesdays through Fridays from 5 to 8 p.m. Boys ages eight and nine train Saturday mornings from 9 a.m. to noon.
Parkour at Gymnastics & Cheerleading Academy of CT, Fairfield
Parkour is no joke-- but it is so fun. This relatively new sport -- sometimes called "freerunning" -- combines jumping, climbing and running over and around obstacles. It is perfect for the risk-loving, high-energy kid in your house. Parkour classes at GCACT are available for ages three and up.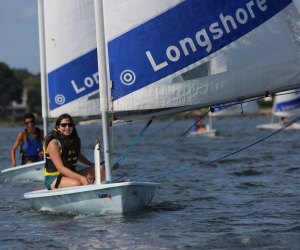 photo courtesy of Longshore Sailing School
Longshore Sailing School, Westport
Throughout the summer, Longshore Sailing School offers four levels of sailing instruction for ages 9 and up. Additionally, the school offers Kayaking Adventures and Water Bugs for kids as young as 8. Bring your sunblock!
Greenwich Flag Football, Greenwich
Flag football is open to girls (ages 7 and up) and boys (aged 5 and up). The season runs in the spring, and is open to residents and non residents alike. This past year the league fee was $200. There are similar leagues available in Milford, Bridgeport, and Fairfield. Find the one closest to you and ... play ball!
Nutmeg Bowl Junior Bowling Program, Fairfield
Two divisions of Junior Bowling are available at Nutmeg Bowl's Junior Bowling Program: USA10 for ages 7 to 12 and USATeen for ages 13 to 19. Team members may compete regionally and players can win scholarship money.
The Squash Club at Chelsea Piers, Stamford
We gave squash a try this past winter and my older two kids really enjoyed it! Chelsea Piers offers a variety of developmental squash clinics for kids 5 and up. Pricing and class options are available on their website.
India Cultural Center Greenwich - Greenwich
The ICC is offering cricket to boys and girls in grades 1-3. Come and see what makes this India's most popular sport!
Top photo courtesy of Candlewood Fencing Center
Originally published on 3.28.13.