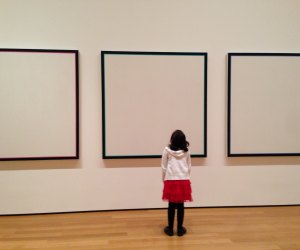 10 Tips for Taking Kids to an Art Gallery
Are you one of those parents who avoids taking kids to art galleries ... because you are sure your kid will punch a hole in the Renoir? I feel ya! But you don't have to give up on culture for the cause of parenting! Kids not only love to make art -- they love to be inspired by it! And research proves it: exploring art is good for kids, yo! So take heart. With a bit of planning, I've found art shows and galleries to be one of our go-to outings, even on (gasp!) a sunny day!
Not sure which art gallery in Fairfield County to try first? Start with the kid-friendly Aldrich Museum in Ridgefield or the awesome local works in CityLights Gallery in Bridgeport. Be sure to find out which days are free to enter first!
Here's my list of tips for visiting art galleries with kids:
1. Research the exhibits before you go.
Give the kiddos info about the exhibit before they even enter the gallery. Will it be paintings, sculptures, photographs, mixed media? What even IS mixed media? Are the artists alive or dead? Are they local? What is the "theme" of the exhibit?
2. Review the rules.
Prep the kids with your personal do's and don'ts for visiting an art gallery. Here's mine:
DO
Ask questions!
Spend as much time as you want looking at a piece of art
Reward if you speak up when you have to go poddy!
Go through the exhibit in whatever order you like.
Get excited, amazed, and curious! Wonder: Why was this art chosen to hang in a gallery?
Leave when you are tired.
Take photos (no flash!) if they are allowed. (I give the kids one of our old digital cameras so they stop asking for my phone!)
DON'T
Touch... unless the exhibit says you may.
Cross the ropes or barriers. Or climb or swing on them or unhook them and wrap them around your brother.
Be afraid! Art is for everyone!
3. Map it out.
Check the gallery floor plan before you go. Know the location of all bathrooms and the snack bar.
Most larger galleries, like the Bruce Museum in Greenwich, have online maps that even show where Family Restrooms are!
If not, ask when you enter and have the kids hit the bathroom first thing on arrival.

4. Play games, all sorts.
Check the gallery's website for kids' activities and family events. One of our favorites, the Yale University Art Gallery, for example, offers an extensive kids' program and is FREE. Ask at the Information Desk when you enter. Galleries may have coloring sheets or kid-friendly maps.
But what if the gallery you visit doesn't have pre-planned activities? Don't panic. A simple game of "I Spy" or an art scavenger hunt will make the time more fun and meaningful for all.
5. Encourage art making.
Pack a bag of colored pencils and paper and do like the art students do: plop down on the floor and draw. Ask the kids to choose their favorite work or two and try to draw it in their own sketchbook.
6. Find a kid-friendly docent.
I do not recommend taking the young kids on standard, hour-long gallery tours. However, see if you can spot a volunteer who gives off that "favorite aunty" vibe. Docents have heaps of interesting information about the art. They are more than glad to spend a few minutes answering "why"!
7. Avoid the audio tours.
Of course kids are excited by electronics! But note: most audio tours are designed for for adults. i.e. BORING! Trust me: those little lovelies are going to PRESSURE you for that elusive headset. Just say NO (unless they are teens).
8. Know your limits.
Every kid has her or his limits on indoor activities. Be ready to leave before they are, and have a nearby park or playground planned to run around afterwards.
9. Visit morning... or evening.
I find my kiddos can't do much of anything useful immediately after lunch, regardless of their age. Plan to arrive when the gallery opens for an hour or two of enrichment, followed by a picnic in the park. Know what else is fun? Dressing up a bit and visiting galleries for a "fancy" evening opening! Some, like the Wadsworth Atheneum in Hartford, offer free admission during "Happy Hour".
10. Bring the stroller... but be prepared to park it.
Strollers are lifesavers when it comes to giving kids a place to chill. However, galleries are inconsistent on allowing them. So call ahead of time, or just be prepared to wrangle the kids on foot and pack light.
*BONUS: Bring water.
I'm always shocked at how dry I get in art galleries... but it shouldn't surprise me. Galleries keep humidity low to protect the artwork. So be sure to pack a water bottle.
Prefer to combine arts with the outdoors? Check out the ArtFairCalendar.com online for a list of latest craft and art fairs.
Do you have a favorite art gallery or museum in CT to visit with the kids? Let us know.
--
Photos by E. Howard