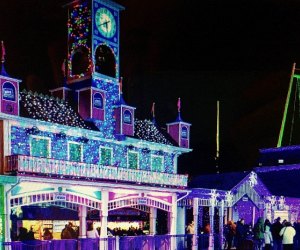 Holiday Light Shows in the Hartford Area
With the dark evenings falling upon us earlier and earlier each night, all the houses lit up with holiday decorations are even more enjoyable. One of our favorite things to do this time of year is to drive around in the evenings looking at all of the beautifully lit houses. Not only are the houses breathtaking to gaze at, but many places in the Hartford area offer special holiday light shows. We've listed some Holiday Light Show events that are sure to make an impression!
Between November 24, 2016, and January 1, 2017, enjoy Holiday Light Fantasia, a two-mile long show in Goodwin Park exhibiting a beautiful collection of over 1 million lights. The park is transformed into a drive-through winter wonderland filled with over 35 holiday scenes and characters celebrating not only Christmas but Hanukkah, New Year's, Kwanzaa, and Three Kings Day.
1130 Maple Avenue, Hartford
Between November 25 and December 30, 2016, the Connecticut Trolley Museum in East Windsor is having its annual Winterfest. Board, an open or closed trolley for a 20-minute trip through the "Tunnel of Lights". If you bundle up and are willing to brave the cold then choose the open "electric sleigh" for a more scenic ride through the Connecticut winter woods. The event is not open daily, so be sure to check days of operation.
58 North Road, East Windsor
Between November 22, 2016, and January 3, 2017, another popular place to see holiday lights is Hubbard Park in Meriden. Here you will enjoy a display of strictly white lights with many formed in the shape of animals such as a reindeer on top of a roof, brightly lit swans floating atop the pond, turtles making their way toward the water, and more. Admission is free.
999 West Main Street, Meriden
Another option on Friday through Sunday, November 25 and December 18, 2016 is the Holiday Lights event at Lake Compounce. The park will be covered in lights and every half hour a spectacular light show will go off set to music. There will also be many fun themed activities like ride the North Pole railway, select rides will be open, entertainment, caroling, pictures will Santa, gingerbread house making, special fire pits for staying warm, and much more.
186 Enterprise Drive, Bristol
Hartford's Winterfest, formerly the Festival of Lights, features an array of dazzling lights illuminating Bushnell Park. While you are there, enjoy the free ice skating and free skate rentals at the lighted Winterfest Hartford rink, open daily now through February 1, and visit Santa at the Pump House Gallery on weekends.
99 Trinity Street, Hartford
Every year since 1978, the owner (now 90) of the New Britain Christmas House, also her residence, has decorated the outside and inside of her historic home with thousands of glittering lights, decorations, moving dolls, Santas, reindeer, nativity scenes, and more. Visitors will be amazed by the sheer scale of the decorations. The lights are so extensive that they can be seen from the other side of Walnut Hill Park, across the street, at night. Admission is free but visitors are asked to make a small donation or bring along a canned food item. All proceeds are donated to local food banks. The home will be open to walk through December 18-22, 6-8 pm.
61 Lexington Street, New Britain
Although not in Hartford County, the Christmas House in Torrington is worthy of a not-too-lengthy road trip to the Western corner. This house is festooned in tinsel, lights, and every type of Christmas-related decoration you can imagine. The owner does not charge admission but does accept donations. The house is open for inside tours from 6-9 pm and outside tours from 6-11 pm, daily, from the day after Thanksgiving until Christmas.
258 Main Street, Torrington
Photo Credit: Courtesy of Lake Compounce