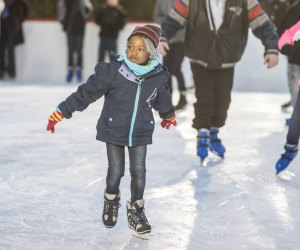 10 Things to Do on Christmas Eve in CT
Christmas Eve is almost here, which means all the holiday festivities will be wrapping up soon. Hopefully all your Christmas shopping and wrapping is finished and you've got a few moments to spare to celebrate with your family. If you're looking to squeeze in some last minute holiday fun, look no further. Make this Christmas Eve one to remember with one of these great activities in the area. Maybe you'll even start a new family tradition!
For more Christmas fun, check out our holiday guide and our event calendar.
Eastern Connecticut
Ivoryton Illuminations – Ivoryton
​Ivoryton Center, Main Street, Ivoryton, CT 06442
With over 350,000 lights throughout the village, Ivoryton is a must-see for CT families! If you can't make it on Christmas Eve, Ivoryton Illuminations is open until January 5, 2017. While you're there, tune your car radios to 101.5 FM for a musical light show.
The Magic of Christmas – Old Lyme
10 AM to 5 PM
Florence Griswold Museum, 96 Lyme Street, Old Lyme, CT 06371
The Magic of Christmas features a beautiful tree display. Almost 200 artists donate works to be part of Miss Florence's Artist Trees. You'll feel like you've taken a trip back to the 1910s.
Litchfield County
Christmas Eve Morning Hike – Litchfield
8 AM
White Memorial Conservation Center, 80 Whitehall Road, Litchfield, CT 06759
Sing Christmas carols, enjoy hot chocolate, and some home baked treats at White Memorial Conservation Center's Christmas Eve Morning Hike. Get ready for the big day with a little fresh air and exercise!
Old Home Day at Mohawk Mountain – Cornwall
8:30 AM - 4 PM
Mohawk Mountain Ski Area, 46 Great Hollow Rd., Cornwall, CT 06753
Snowboarding and skiing is a classic way to spend Christmas Eve. Spend the day playing in the snow with your family!
New Haven Area
Mr. Gilbert's Railroad in 2016 – Hamden
10 AM - 3 PM
Eli Whitney Museum, 915 Whitney Ave., 
Hamden, CT 06517
The Eli Whitney Museum's exhibit of toy trains is the perfect place to spend Christmas Eve! If you've got a train lover, you'll definitely want to check out this annual hands-on exhibition. Kids can even build a toy wooden train!
Fantasy of Lights - New Haven
5 PM to 10 PM
Lighthouse Point Park, 2 Lighthouse Road, New Haven, CT 06512
Check out this amazing light display in New Haven. Featuring over 60 animated light displays and a 3D glasses option, drive through this beautiful display while listening to a special radio broadcast.
Hartford Area
Winterfest Free Ice Skating – Hartford
12 - 4 PM
Bushnell Park, Trinity Street, Hartford, CT 06106
Enjoy free ice skating at Bushnell Park's pop-up ice skating rink! Bushnell Park is even offering free how-to-skate classes for all ages and free skate rentals. Spring for a carousel ride for only $1.
Fairfield County
Holiday Express Train Show – Fairfield
10 AM - 4 PM
Fairfield Museum & History Center Museum, 370 Beach Road, Fairfield, CT 06824
Kids will love this amazing model train display. This holiday tradition features even more tracks and trains this year. What better way to celebrate Christmas Eve than with trains?
Breakfast with Frosty & Friends – Bridgeport
9 AM
Connecticut's Beardsley Zoo, 1875 Noble Ave, Bridgeport, CT 06610
Come to the Beardsley Zoo for breakfast in the carousel! Meet Frosty the Snowman and some of his friends- including Santa Claus himself. Reservations are required.
North Pole Comes to Stepping Stones – Norwalk
11 AM to noon (museum hours 10 AM to 3 PM)
Stepping Stones Museum, Mathews Park, 303 West Avenue, Norwalk, CT 06850
Meet Santa, Frosty, Reindeer, and Penguin and take pictures! Kids can enjoy a fun activity while they wait in line for their visit.
Photo courtesy of iQuiltPlan's Winterfest.