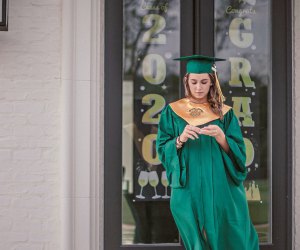 No Prom, No Graduation? How To Celebrate the Class of 2020
The Class of 2020 will go down in the history books: the kids who didn't get a prom, didn't have a graduation ceremony, didn't get all of those fabulous, end-of-childhood parties, all thanks to the Coronavirus. But despite life being put on pause, major life milestones are still happening, including graduating from high school. And while the graduating class of 2020 won't be shaking the principal's hand and receiving diplomas in person right now, there are so many great ways to celebrate all your kid's hard work over the past twelve years, virtually, at home, and socially distanced. From online graduation ceremonies with major celebrities to taking grad photos on the porch, you can help make wonderful memories with your own "coronamencement," social distancing and all. So get the cap and gown ready, grab the camera, and read on for some great ways people are celebrating the graduates in their families.
And from everyone at Mommy Poppins: Congratulations, #Classof2020!
1. Celebrate with the Obamas!
Former President Barack Obama is stepping up to the podium to make graduation memorable for kids all over the country with several different commencement speeches, which you can tune into live, including two on Saturday, May 16th: ESSENCE Studios' Show Me Your Walk, HBCU Edition, which is historically for black colleges, at 2pm ET and then Graduate Together: America Honors the High School Class of 2020 at 8pm ET. He's teaming up with his wife Michelle for YouTube's Dear Class of 2020, which features other notable guests, such as Condoleeza Rice, Lady Gaga, and Zendaya. This livestream virtual graduation ceremony begins at 3pm ET on Saturday, June 6th.
2. Celebrate live with Oprah and friends.
Facebook and Instagram are hosting #Graduation2020 hosted by BJ Novak and Mindy Kaling of NBC's The Office, and commencement speech-alum Oprah Winfrey. Other celebrities such as Jennifer Garner and Lil NAS X also make special appearances. Miley Cyrus is also slated to perform. High schools and colleges are featured by name, state by state, with special messages from deans and principals around the country. The event, which is several hours long, begins at 2pm ET on Friday, May 15th.

Let Oprah inspire you. Photo by Disney/Image Group LA
3. More celebrity speeches and celebrations
Several other virtual 2020 graduation commencement ceremonies are shaping up to be pretty awesome and have some fantastic speakers, public officials, athletes, and performers slated to take part. I'm Still Graduating, for example, features livestream toasts, speeches, and performances from celebrities including Eva Longoria, John Kasich, Jesse McCartney, and many more.
Or head to the iHeartRadio podcast starting on May 15th to hear commencement speeches especially written and delivered by world famous comedians to CEOs and many more for students graduating during the pandemic.
4. #ClassOf2020
Social media is keeping us connected during these unprecedented times, helping new graduates feel like they aren't totally missing out on this big milestone. Instagram is featuring a graduation countdown sticker on Stories leading up to its #Graduation2020 event on May 15th. Students can also use the hashtags #MySeniorQuotes, #GradMessagesChallenge, #GradPhotoChallenge to share quotes, messages, and photos of senior year. Faceobok and Instagram are also spotlighting student athletes and outstanding graduations throughout the week on the social platforms. Show off your walk with the #GradWalk2020 hashtag and join Instagram on Thursday, May 14th for Superlative Day, giving fun and creative awards to classmates. Art students are encouraged to submit art with the hashtag #Your2020Portrait for a chance to win a $5,000 grant and be featured in an upcoming virtual art show, while Instagrams @shop is featuring simple graduation gifts that can be purchased from small businesses.
5. Host a Virtual Prom
There's still time to host a virtual prom this year! Design and deliver digital prom invites, schedule a date and time using Zoom or Google Hangouts, and then get ready to party! There are tons of fun ways to celebrate that'll really make Prom 2020 feel special. Create a hashtag specific to your event that friends can use leading up to and during the event to capture the excitement and memories (e.g. #AHSProm2020). Crowdsource a playlist. Dream up challenges and award prizes for "Best Dressed" or "Most Stylish." Ask family and school faculty to submit photos of their senior prom for a Now and Then collage. Make a corsage in real life and share photos. Get creative and have fun making some memories that may be a little different than what you'd originally planned but no less meaningful.
6. Order take out from a local restaurant
Rather than spending all day in the kitchen prepping for the party, give yourself more time to celebrate with your 2020 grad by ordering take out—and help small businesses, too. Find one of many local restaurants offering catering and take out during quarantine to make the party feel like a celebration. Check local bakeries to order a graduation cake. And remember: Where possible, choose to pick up the order, rather than use a third-party delivery service, so the profits stays with the restaurant.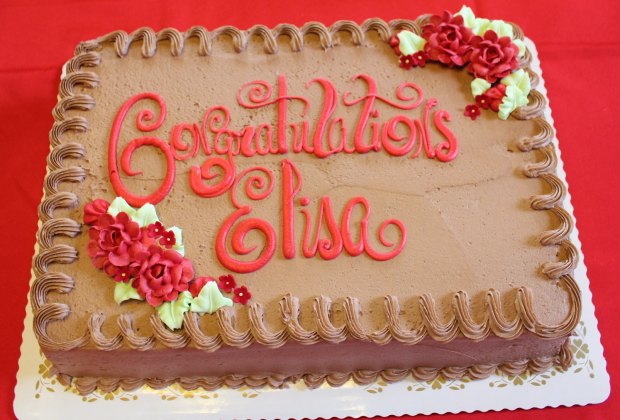 Photo by Chris Oakley/CC BY 2.0
7. Schedule grad "porch" photos to commemorate the day
Photographers around the country are joining in The Front Steps Project to capture life during quarantine, while also raising money for some great causes, quarantine-style. Take senior pics and graduation photos from home with a local photographer. It's not every day that your child graduates during historic times.
8. Host a virtual graduation party on Zoom, Google Hangouts
Get friends and family together online to celebrate the new grad. Do a virtual toast, ask the graduate for a speech, and share your own graduation memories and well wishes and advice for this next new and exciting phase of life.
9. Organize a graduation car parade to celebrate the new grad
Car parades are starting to be pretty common over the last month or so as families invite friends and relatives to stop by and share the love for birthdays and big events from a safe distance. But even so, graduates will appreciate the thought and will love seeing friends and family IRL to celebrate their big day.
10. Decorate at home for a family-only affair
Sure you might not be able to get everyone together like you planned, but you can still celebrate with a household-only party. Play "Pomp and Circumstance" on the bluetooth speakers, hang graduation banners, make a toast, listen to a celebrity commencement speech or livestream a graduation ceremony (for ideas see #1-3 on our list above). Make it as special as is feasible; your new grad will appreciate it.
11. Do a through-the-years treasure hunt remembering K-12
Have a graduation gift you've planned for your child? Consider drawing out the present opening with a through-the-years treasure hunt with small gifts or mementos that reminisce about your graduate's school career from kindergarten through senior year. Make clues for each year that leads to the next. Reminisce, tell funny stories, enjoy the walk down memory lane.
12. Make a kinder through senior year photo collage / slideshow
If a treasure hunt isn't in the cards, hunt through old photographs and put together a collage and/or slideshow to share memories and watch your student grow. Keep a box of tissues on hand because the days might have felt long but looking back, you'll see how short the years were.
13. Collect well wishes, memories, and notes from loved ones
Ask friends and family to share advice for the recent graduate, as well as memories and congratulations. Depending on if they're written notes or videos, you can create a scrapbook or even a video or photo montage that'll be a keepsake graduates can enjoy now and in the future.

Celebrate your senior with a lawn sign. Photo courtesy of Oriental Trading
14. Party with a front yard grad head or "Honk and Wave" sign
Various online retailers are offering unique graduation products. Get a lawn sign with your grad's oversized face or order a "honk and wave" sign to let the whole neighborhood know there's a recent graduate in the house.
15. Order a cap and gown & make a grad photo booth at home
Grabbing a cap and gown online can cost as little as around $20, so why not order one and get fun photos of the graduate at home? Stage a graduation photo shoot or get silly with photo booth props, like a diploma on a stick, fun word bubbles, and a Class of 2020 sign.
16. Make a quarantine time capsule, grad-style
This certainly is an unprecedented year, and graduates can hold onto the memories of their strange senior year with a collection of newspaper clippings, printed out social media pics and captions, a handwritten graduation speech, a 2020 commemorative tassel, greeting cards, and anything else that helps capture the #Graduation2020 mood.
17. Take the party on the go with a Just Graduated car
Similar to our #11 treasure hunt, take the grad and some friends (in separate cars of course) on a scavenger hunt around town that has them walking—or driving—down memory lane. Decorate the car with glass markers and signs, and then get on the road; head to the high school parking lot, grab ice cream to go from a favorite shop, revisit the football field or gym where a memorable game was won. It'll be a fun way to reminisce and process the culmination of their high school career.
18. Grads get to take part in another milestone: Vote!
One of the coolest things graduates get to do a few months after senior years ends is vote! And this year, newly-turned 18-year-olds will have the chance to fulfill their civic duty and cast a ballot in a presidential election, something that comes around only every four years. Everyone—whether it's their first election or the twentieth—can get info on how to register to vote at Vote.org.