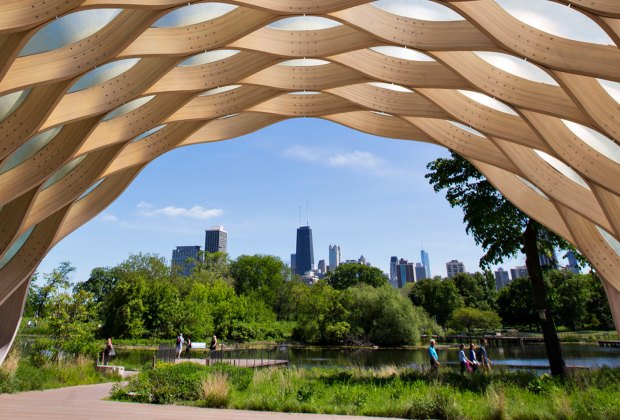 What's open in coronavirus shutdown: parks, beaches, hikes you can do while social distancing
Coronavirus outbreaks throughout the state have promoted Illinois officials to issue a shelter-in-place for residents. But even with social distancing measures recommending that people stay at least six feet away from each other to avoid the spread of germs, there's still plenty for kids and parents to do outside or virtually to enjoy this unplanned stay-cation.
With the city on lockdown our normally robust calendar of events has dwindled down to cancellations, postponements, and virtual activities as we try to navigate our current norm of social distancing, however, we don't think that means your weekend has to be any less fun than normal.
We rounded up a slew of activities that will keep you engaged and entertained all weekend long. And while rain is in the forecast, if it holds off and you're able to get outdoors this weekend to take advantage of some passive recreation, please stay aware and safe! And if all else fails, don't forget to consult our parents' pandemic guide with hundreds of at-home activities and crafts. In Gov. Pritzker's shelter-in-place mandate, there are specific exceptions made for "walking, hiking, running or biking – including going to public parks and open outdoor recreation areas, except for playgrounds." Make sure a healthy dose of sunshine is on your family's agenda for the weekend!
Enjoy a walk through the beautiful and historic arboretum.
The spring migration season is one of the very best times of year to visit the bird sanctuary, and it's FREE!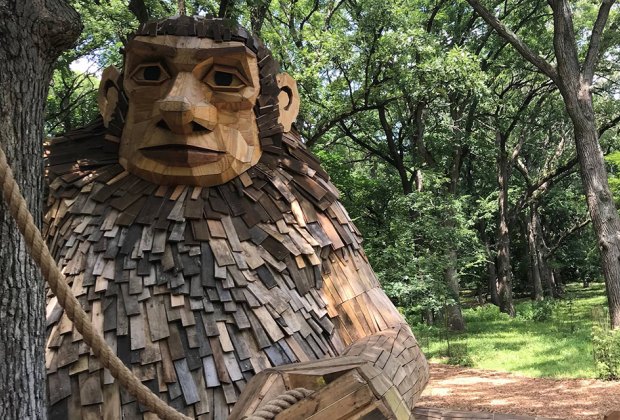 Discover a giant in the trees at the Troll Hunt at Morton Arboretum. Photo courtesy of the museum
3. Troll Hunt at Morton Arboretum
If you haven't yet found all of the gentle wooden giants nestled in the greenery at the Morton Arboretum's Troll Hunt, the exhibition has been extended through June. Find them all, and discover their habitat, before they're gone! Buildings on the Arboretum grounds are closed with the exception of restrooms adjacent to the visitor center.

Stroll the lovely grounds around the Alfred Caldwell Lily Pool. Photo courtesy of the Lincoln Park Conservancy
See what's blooming around the Lincoln Park Conservancy's serene hidden gem the Alfred Caldwell Lily Pool. FREE
5. Hike at Northerly Island Park
Hike the nature trails at Northerly Island Park for a beautiful way to catch views of the Chicago skyline. FREE
6. Julia De Burgos Park
Get out for a bike ride or a scooter run on the 606 and stop to play at the climbing structures at Julia De Burgos Park.
Enjoy the Cancer Survivors' Garden at fantastic Maggie Daley Park.
8. Lakefront Trail
Walk or bike the Lakefront Trail and stop for a picnic in the grass. FREE
Snap some Instagram-worthy shots in front of the Pilsen murals. FREE
10. Art walk
Do a public art walk downtown: Within a few city blocks, you can see the iconic Cloud Gate at Millennium Park, the Daley Plaza Picasso and Miró's Chicago sculpture, Agora in Grant Park, the Sounding Sculpture at the Aon Center, the Flamingo at the Federal Center Plaza, and Chagall's Four Season
12. Go on a Shamrock Hunt in your neighborhood in the western suburbs.
13. Get moving with an online workout class
Take an online workout class like Move It Mornings: Live Ninja Class, Kindness Kids Yoga, or EngerGEEwhiz Virtual Workout.
14. Virtual storytimes
Attend a virtual storytime such as Virtual Shark Story Hour, Virtual Story Time with Oliver Jeffers, or Virtual Story Time with Mac Barnett.
15. Online concerts
Make a mosh pit in your living room with online concerts from Lucky Diaz and the Family Jam Band, Suzi Shelton, or the Deedle Deedle Dees.
16. Online classes for kids
Experiment with online academics with Quarantime or Bubbles Academy.
17. Art classes
Draw inspiration from virtual art classes like Art with Miss Choate or Anna Rae Art.
Top photo courtesy Choose Chicago.