Illinois Reopening: What's Open and What's Closed in Chicago Now
Governor J.B. Pritzker has rolled out the Illinois reopening plan, while Chicago Mayor Lori Lightfoot has announced a separate framework for the Chicago metro area. After two months of lockdown, only seeing each other in car parades and during 8pm howls, giving our kids quarantine haircuts, and throwing virtual birthday parties, we finally have an Illinois reopening plan. We will (eventually!) be able to get out and enjoy some of the long-awaited warm weather.
The Restore Illinois plan divides the state into four regions and includes five phases. May 1 saw the beginning of Phase 2, a mostly stay-home-phase, with the reopening of some state parks. Locally, the Protecting Chicago plan also has five phases and is also currently in Phase 2. In positive news, Illinois regions beyond the metro area continue to flatten the curve and are on track to enter Phase 3 of reopening May 29. Chicago is close behind and expected to start reopening sometime in June. Read on to find out what this means for families, schools, and local businesses, as well as what outdoor spaces we can now visit, those reopening soon, and those that are still closed.
To enter Phase 3, we need to keep meeting certain milestones, which means continuing to socially distance and wear face masks. If you develop symptoms, find out how to get tested, and be sure to steer clear of close contact, particularly with vulnerable populations.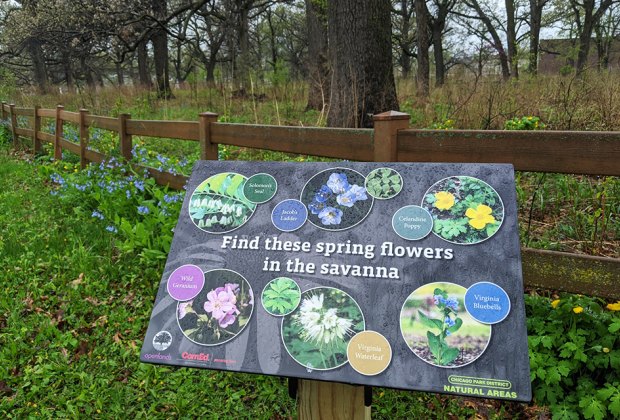 Most state and local parks are open and offering plenty of open space and activities. Photo courtesy of the Chicago Park District
What's Open in Chicago During Phase 2?
Chicago parks, with some exceptions, began opening on May 1 for walking, running, and hiking with members of your immediate household (playgrounds and basketball courts are closed). Additional facilities will start to open in June, although Mayor Lightfoot has said the Lakefront Trail and beaches will remain closed. The Chicago Park District website provides continually updated information on reopenings. Some Illinois State Parks also reopened on May 1 and offer activities such as wildlife observation, hiking, biking, equestrian use, and fishing.
Forest Preserves
The Forest Preserves of Cook County have technically been open since May 1 (with some exceptions), but many facilities, including parking lots and restrooms, are closed through May 31. Most trails in the DuPage Forest Preserve have also been open since May 1, although restrooms are closed and events canceled until further notice.
Go old-school with a visit to this drive-in theater in the northwest suburb of McHenry, Illinois. We're hoping to see more drive-in theaters follow suit, allowing families to enjoy the big screen while maintaining a safe distance from one other. Capacity at the McHenry Outdoor Theater is limited to 350 vehicles, and it's asking patrons to remain in their cars.

Order the classics from Avec's menu, plus home bar kits are available for delivery or curbside pickup. Photo courtesy of the restaurant
What Businesses are Open for Delivery and Curbside Pickup?
Restaurants
If there is any silver lining during these uncertain times, it might be that some of Chicago's best restaurants, who would not typically offer carryout, now do. Chicago favorite Avec is offering Memorial Day grilling kits. The Publican offers family-style meals to go, and several other gourmet restaurants have gotten in on the action, too. If you prefer to keep it classic, there's always Pequod's deep dish or Al's Beef, both with multiple locations throughout Chicagoland. Phase 3 should see the opening of even more restaurants for takeout and delivery.
Toy and Book Stores
If there has ever been a time to spoil your children, this is probably it. Now, you can do so while supporting local book and toy stores, many of which are offering curbside pickup throughout the city.
Farmers Markets
Some markets, including the Green City Market, South Loop Farmers Market, and 61st Street Market, have already begun offering pickup or delivery options to customers.
We also have a list of local businesses offering cubside service ranging from bakeries to clothing stores. We're all about supporting local!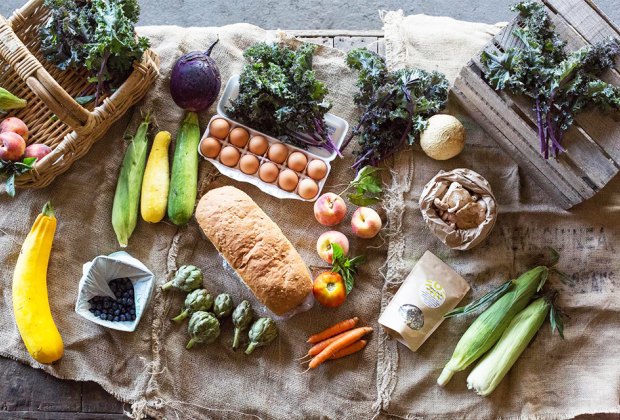 Get produce, dairy, bread, and other fresh products from the 61st Street Market. Photo courtesy of the market
What Will Open in Chicago During Phase 3?
The Morton Arboretum reopens to members from June 1-14. Advance registration is required for timed-entry tickets. Members can begin registering online on May 29.
Chicago farmers markets that aren't yet open are scheduled to reopen in June, with new safety guidelines in place. Be sure to check the DCASE website or your favorite market's website or social media feeds for up-to-the-minute hours. Suburban farmers markets will also begin opening in June, including the Schaumburg Farmers Market (June 5), Naperville Farmers Market (June 6), and Skokie Farmers Market (June 7). The Wheaton French Market is already open, and more vendors are expected to join on June 6. Some of these local markets are even dedicating early hours to seniors and other vulnerable populations.
Chicago Public Libraries are on track to begin partially opening in June, with limited services and additional safety precautions in place. Suburban libraries are following the trend of limited June reopenings, and some are preparing to offer curbside pickup. Check your local branch's website or social media feed for up-to-date information.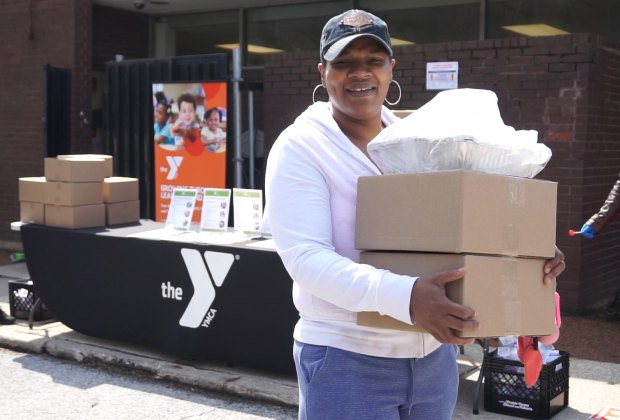 Chicago-area YMCAs have been helping throughout the crisis, but soon may open for regular business. Photo courtesy of the YMCA of Metro Chicago.
Nonprofits
Nonprofit organizations will be allowed to begin reopening in Phase 3. Some, such as the YMCA of Metro Chicago, have already been busy offering much-needed food delivery and child care for essential workers. Many of us rely on our neighborhood nonprofits to keep our kids busy and entertained. If you are missing your local neighborhood nonprofit, be sure to check its website or social media page to see if they are planning to open during Phase 3.

Soon Chicago shoppers won't be on the outside looking in at their favorite retail spots. Photo courtesy of Play
Retail Stores, Salons, and Barbershops
"Non-essential" stores will begin to open during Phase 3, including salons, barbershops, and some retail stores. Be sure to check your favorite business' website or social media for up-to-the-minute information. In the meantime, consider patronizing these other local businesses that have remained open during the pandemic.
When Will Schools Open?
While schools remain in distance learning for the rest of the school year, Phase 3 welcomes the opening of some child care and summer camp programs, with approved safety guidance from the Illinois Department of Public Health. The 2020-21 public school calendar is already out, and we bet parents will be counting down to September's first day of school more than years past. The Chicago Park District is planning to host a revised day camp beginning July 6; online registration opens June 11. Guidepost and other private schools and child care companies are already offering emergency care for the children of essential workers.
What's Still Closed or Canceled in Chicagoland?
All public events scheduled through the end of May are canceled, including the Chicago Memorial Day Parade and Wreath Laying Ceremony, the 4th Annual Chicago House Music Conference & Festival (scheduled for May 21–24), and the 35th Chicago Gospel Music Festival (scheduled for May 27–30). The Annual Chicago Blues Festival (scheduled for June 5–7), is also canceled. Be sure to check the DCASE website for the most up-to-date information.
As mentioned above, the Lakefront Trail, as well as parks and beaches east of Lake Shore Drive, are likely to remain closed during Phase 3. Sorry, Chicago, there will be no June beach days. But hang in there—we waited 108 years for a Cubs championship. We can do this.
Where Can I Find More Information on the Reopening Plans?
The Restore Illinois plan and Protecting Chicago framework are both available online. The Illinois Department of Public Health is tracking COVID-19 cases and has a helpful FAQ page if you want to know more about the trajectory of the disease and its impact on the Illinois reopening plan.
Find more ways to keep kids happy and busy in challenging times on our new site for at-home classes, concerts, and other programs: Poppins@Home!