Father's Day Breakfast With Dad: Breakfast Nooks for Families in and Around Boston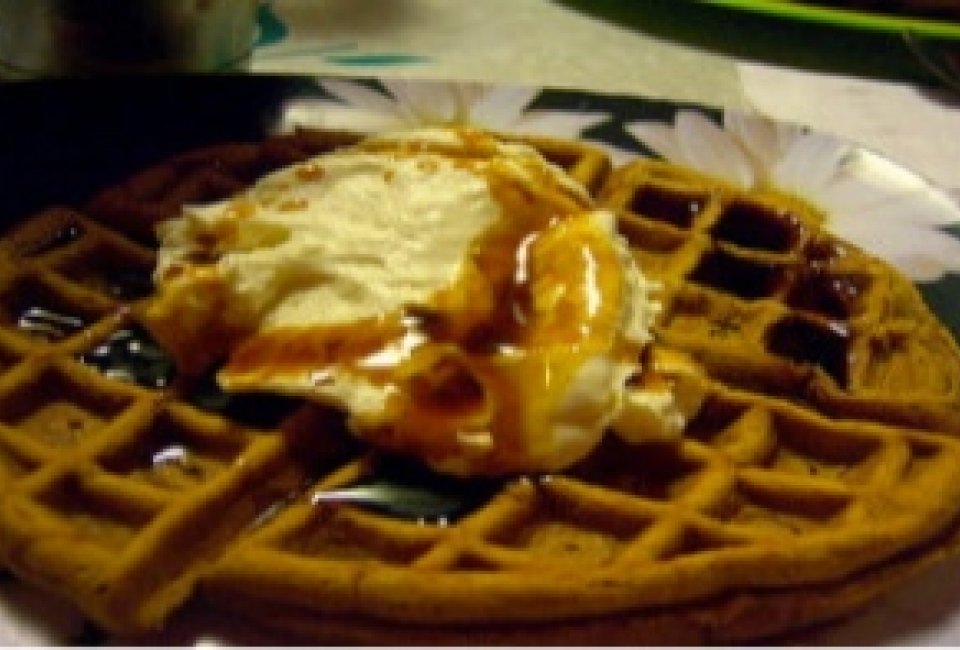 6/12/13
- By
Tara D
If you're like Audrey, you'll gather the kids in the kitchen and whip up a fabulous Father's Day meal of quiche, smoothies and hot bananas for Dad. But if you're like me, you're looking for a restaurant where the chef is whipping up something good, because Dad is usually the one who makes the delish dishes.
For those of you who are like me, I've rounded up some breakfast nooks where dads can be king and kids can be themselves. And after breakfast, you'll still have the whole day ahead of you - no clean up!
---
Rox Diner, West Roxbury and Newtonville
For the dad who is environmentally conscious and a foodie too, Rox Diner in West Roxbury or Newtonville is the perfect choice. They serve heavenly delights like Banana and Cream Cheese Stuffed Brioche French Toast and Al's Forklift, a protein-lovers feast, with 3 eggs, 4 pieces of bacon, 3 sausages and ham.
And they do it with such earthly goodness: they donate their spent cooking oil for biodiesel and give the profits to local schools, use only cage free eggs and free range chicken, recycle all paper and plastic, offer take out containers that are made from compostable sugar cane and bamboo, and are working on a composting program!
Locations: 1881 Centre Street, West Roxbury and 335 Walnut Street, Newton
Contact: West Roxbury 617-327-1909, Newtonville 617-916-1795
Hours: West Roxbury, Mon - Fri: 6am - 9pm, Sat: 7am - 9pm, Sun: 7am-8pm. Newtonville, Mon - Sat: 7am– 10pm, Sun: 7am-8pm.
---
Darryl's Corner Bar & Kitchen, South End
If Dad's day is a splurge-worthy occasion for your family, take dear ol' dad to Darryl's Corner Bar & Kitchen for some Southern comfort (no, not that Southern Comfort, although there is a bar). He'll enjoy fried chicken, grits, waffles, mac and cheese, and all his other favorites from the South as the jazz carries him off to a dreamier place at Darryl's Jazz Buffet Brunch.
Location: 604 Columbus Ave, Boston, MA 02119
Contact: info@darrylscornerbarboston.com or (617) 536-1100. Make reservations on Open Table.
Hours: 
Monday: Reserved for private events and fundraisers, 
Tuesday & Wednesday: 5pm-12m; 
Thursday & Friday: 5pm-2am; 
Saturday: 12 noon - 2am; 
Sunday: Brunch 10am-2pm.; Dinner 2pm-midnight
---
Deluxe Town Diner, Watertown
The dad in our family always gets the Deluxe Colossal Hungry Person Special at Deluxe Town Diner, a 100% genuine diner. You're not allowed to make substitutions or share, but that never seems to be a problem – somehow he manages to pack away the gargantuan breakfast. (It's a talent, really.)
They also have single pancakes with blueberries or chocolate chips for the kids, and a full menu of non-breakfast foods. If you want to take Dad out to breakfast for dinner, this is your place. If you go at the right time, you might even be able to avoid the line out the door.
Location: 627 Mount Auburn Street, Watertown, MA (on the 71 bus line)
Contact: info@deluxetowndiner.com or (617) 926-8400
Hours: Friday and Saturday 7am-10pm, Sunday - Thursday 7am-9pm
---
The Friendly Toast, Cambridge
At The Friendly Toast, the décor is eclectic, the service is good, and the food is divine. As far as I'm concerned, it doesn't get any better than the Elvis, a stack of pancakes topped with bananas and chocolate and peanut butter sauces, surrounded by strips of bacon. A word to the wise: cut the whole stack in half as soon as you get it, and no matter how good it is, don't even attempt to eat the second half until a few hours after you get home. Bonus: They can make most of their pancakes gluten free.
Location: 1 Hampshire Street, Cambridge, MA
Contact: (603) 430-2154 or pixietoast@comcast.net
Hours: Sunday – Tuesday 8am-10pm, Wednesday &Thursday 8am-11pm, Friday & Saturday 8am-1am
---
Uncommon Grounds, Watertown
Lemon Ricotta Pancakes. Smoked North Atlantic Salmon Bagel Platter. Gluten-free Stuffed French Toast. Banana Split Waffle Sunday! Hungry yet? There's something for every taste at Uncommon Grounds, and it really is uncommonly good.
The place is small and gets crowded on the weekends, but if you go early or ask for a seat outside (where you get to watch the poor souls who are waiting for a table inside), the wait shouldn't be unpleasantly long. You can keep the kids occupied by counting cars or playing punch-buggy, and we've seen the Uncommon folks bring coffee out to the people who are waiting to be seated.
Location: 575 Mount Auburn St, Watertown MA
Contact: (617)924-9625
Hours: Monday - Friday: 7am - 2pm, Saturday 7am - 3pm, Sunday 8am - 2pm
---
Originally published June 2012
Click Here to Sign Up!