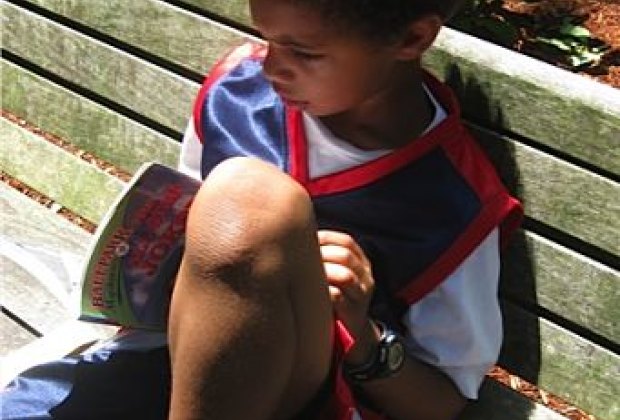 Summer Reading Programs for Kids in Boston and Beyond
From local to national, there are many programs that provide guidance, inspiration, incentives and rewards for your kids to keep reading all summer long. The "Dig Into Reading" summer reading program at Massachusetts libraries is a great place to start. If you're looking for more ways to encourage your child to continue reading this summer and some fabulous freebies, read on for reading programs in Boston and beyond. Check back soon for our updated roundup of free summer storytimes in and around the city.
---
Boston Public Library Read Your Way to Fenway
The Boston Public Library and its branches are hosting a summer reading essay contest. Kids (ages 5-17) read three books, write a short essay about their favorite, and return completed entry form to the library by Friday, July 26, at 5:00 pm. Contest winners get three tickets to the Boston Red Sox game on August 17 against the New York Yankees. Download a contest application (or pick one up at a BPL) and have your kids read some essay writing tips from David A. Kelly, author of the Ballpark Mysteries series for young readers.
When: through Friday, July 26, 2013 at 5:00 pm
Ages: 5-17
Where: Boston Public Libraries
---
Tenacity Summer Tennis and Reading Program (STRP)
Reading and tennis: what a great combination! On weekdays, From July 8 to August 16, Boston city kids (ages 6-10 and 11-16) meet at public parks throughout Boston for tennis instruction, reading, and interactive word games. The program is free, and registration is online. See the Tenacity website for all locations. Morning Sessions are from 9am-12pm for ages 6 - 10 only, and Afternoon Sessions are from 1pm-4pm for ages 11 - 16 only. Note: Some morning sessions are already full. If your child can't participate this summer, be sure to look for information about registration early next April.
When: July 9 - August 17, 2013
Ages: 6-10 and 11-16
Contact: Zack Smith at summer@tenacity.org or call 617 562 0900 x 27
---
Barnes & Noble Imagination's Destination Summer Reading
We like this program for its simplicity and guaranteed reward at the end. Kids in grades 1 through 6 read eight books – any books, from anywhere – and complete a Reading Journal. Then they take it to a Barnes & Noble store to choose a free book. Free book choices are listed on the reading journal, and include Spanish-language titles. The website offers support for kids and parents, including a Summer Reading Kit you can download. Easy peasy.
When: May 21 - September 3, 2013
Ages: Grades 1-6
Where: To find a local Barnes & Noble store, use their Store Locator.
---
Pizza Hut Summer Break with Book It!
In addition to interactive online features like games, reading activity calendars, recipes, and printables for parents and teachers, Book It! offers a Summer Break Reading Challenge Sweepstakes. Details of this year's contest aren't ready yet, but you can enter your email on the Book It! summer reading site to be alerted when the info is up.
When: mid-June – August
Ages: Kids in grades K-6 during the 2012-2013 school year
Contact: Call the BOOK IT! Hotline at 1-800-426-6548
---
Showcase Cinemas Bookworm Wednesdays
Every Wednesday morning at 10am, from July 10 - August 7, kids bring a completed book report with them to the select Bookworm Wednesdays movie to get in free. If your child is participating, you don't have to pay for admission to the movie, nor does a younger (under age 6) sibling. Movies showing this summer are: Yogi Bear, Ice Age: Continental Drift, Madagascar 3, The Lorax, and Hotel Transylvania.
When: Wednesday mornings at 10am, July 10 – August 7, 2013
Where: Revere, Dedham, Woburn, Chestnut Hill, Foxboro. Click here to find a theater near you.
Ages: Ages 6 and up, able to write a simple book report
---
Pottery Barn Kids Summer Reading Challenge
The Pottery Barn Kids Summer Reading Challenge gives you a book list to follow. There's one for kids who read independently, and an Early Reader list of books, meant for adults and children to read together. You can download the list (which is also a bookmark) or pick one up at a Pottery Barn store. Your child marks off each book and brings the bookmark to the store to get a free book once all the list is complete. You can download a fun Progress Tracker Poster for children to color in each time they read a book, and there is also a Certificate of Completion you can print out and give to your child when s/he has completed the book list.
When: 5/15/2013 - 8/26/2013
Ages: 10 and under
Where: Pottery Barn Kids, locations in Natick and Burlington. Use their store locator to find the one closest to you.
Contact: (508) 653-4675 for Natick store, (781) 221-5833 for Burlington store
---
TD Bank Summer Reading Program
Kids get 10 bucks for 10 books! Here's how: Print out the Summer Reading Form, have your child write down the titles of 10 books read, and take the form to a TD Bank. The bank will deposit $10 into a new or existing Young Saver account. Awesome.
When: May 6 - September 30, 2013
Ages: 18 and under
Where: TD Bank, find a location here
---
Sylvan Book Adventure
The Sylvan Book Adventure is actually a year-round incentive program. Kids read books, take quizzes to earn points, and win prizes. You can even start a family team and compete against other families! You will need to register on the Sylvan site before participating in the program.
When: Year round
Ages: Grades K-8
---
Chuck E. Cheese's Reading Rewards Calendar
To get 10 free tokens at Chuck E. Cheese's, you just download the Reading Rewards Calendar, print it out, set a reading goal, and mark the days off as the goals are met. Take the calendar with you to Chuck E. Cheese's and exchange it for tokens. You can do this year round, and they have several other fun calendars, like "Done with Thumb" and "No Nose Picking Calendar". Boston-area Chuck E. Cheese's locations are listed here.
---
When your kids are done with their books this summer, consider donating to More Than Words in Waltham. More Than Words is a nonprofit social enterprise that empowers youth who are in the foster care system, court involved, homeless, or out of school to take charge of their lives by taking charge of a business.