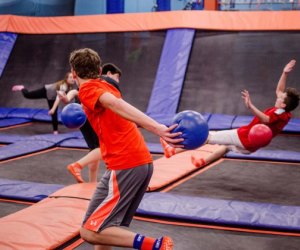 6 Indoor Birthday Party Places for Active Kids in Boston
Jump, climb, run, skate - some kids just have to keep on moving. Lucky for these kids, there are plenty of indoor spaces to host a birthday party in Boston that allow kids to harness some of that energy. Since the party places are all indoors, no need to worry about rain, snow, heat or cold. And what may be the best thing about hosting at an indoor birthday party place? No mess, minimal fuss, and great fun for parents, too!
Read on for details about indoor birthday party places in Boston where you can host a party and not worry about kids breaking anything or having to use "inside voices, please." Find even more birthday ideas in our Party Guide: Birthday Party Places for Kids in MA.
---
Sky Zone
91-B Sprague Street, Boston
857-345-9693
Best for Ages: 6 and up (over 40")
Average Party Size: 10 (max 30)
Sky Zone is an indoor trampoline park, where kids bounce across its all-trampoline, walled playing courts. There are several party packages to choose from, and they include trampoline time, use of the party room, plates and napkins, pizza and a party host. Reserve online at least a month in advance for best availability.
---
Rock Spot Climbing
67 Sprague Street, Boston
617-333-4433
Best for Ages: 6-16
Average Party Size: 4+
Parties include two hours of roped climbing, bouldering and teambuilding games. They include the gear (harness and climbing shoes) and an experienced staff to do all the rope-holding (belaying). Following the climbing, you have the use of a spacious mezzanine for an hour of eating and opening presents. Parties begin at $100 for up to 4 climbers, $25 each additional climber. Extras are available: goodie bags, t-shirts, water bottles, and paper goods. Deposit is due at time of booking; book at least 2 weeks in advance.
---
BasketBall City Boston
35 Lomasney Way, Roof Level, Boston
617-742-6700; rich@basketballcity.com
Best for Ages: 9+
Average Party Size: 15
The party packages feature court time with experienced basketball staff that keep the party going. Kids can learn some basketball skills, too! The Birthday Package is for 15 children.
---
Sports Club/LA - Boston
4 Avery Street, Boston
617-375-8500, ext 8984; lfine@mp-sportsclub.com
Best for Ages: 1 and up
Average Party Size: 15-30
Birthday parties can be held on either the basketball court or in the For Kids Only room. Sports Club/LA can arrange for bounce houses, face painters, bubble artists - you name it. The Special Event Coordinator works with you to create your child's ideal party. Advance notice required: 3-4 weeks.
---
Super Soccer Stars
Multiple locations
781-777-7171
Ages: 2-9
Average Party Size: 10
Super Soccer Stars offers two party packages for kids ages 2 to 9. Parties are available in the North End, Back Bay, Charlestown and other locations in Boston, and they can also be arranged at a local park, gym, or your own back yard. During the 90-minute party, trained coaches teach your child and his/her friends soccer skills in a creative, non-competitive environment. Coaches help with set up and clean up, too.
The Kick Off Party Package costs $195 for up to 10 kids; $15 each additional child. The Super Soccer Stars Party includes a soccer ball party favor for each child and costs $295 for up to 10 kids; $25 each additional child. Parties can be customized with a variety of options, from a soccer ball cake, invitations, and a "Soccer is Cool" t-shirt to personalized photo e-vites, balloons, and Super Soccer Star baseball caps. Best to reserve 6 weeks in advance.
---
Porrazzo Skating Rink
199 Coleridge Street, East Boston
Rink: 617-567-9571; To reserve your party: 888-74-SKATE
Ages: 5+
Average Party Size: 15+
An ice skating party includes ice time and use of a party room. Fees include the standard facility ice rental rate ($225 for 50 minutes). Skates can be rented for $5 per pair payable at the arena on the day of the event or $75 for unlimited pairs payable at the time of reservation. There is a special gift for the guest of honor. Porrazzo has a party room for gifts and cakes, available for rental at $25/45 minutes. Bring your own decorations and food (no candles or pinatas, please). Book at least 2 weeks in advance and be aware that winter weekends book up pretty fast due to youth hockey and high school hockey organizations. Call 888-74-SKATE to reserve.
---
Boston University Fitness and Rec Center
915 Commonwealth Avenue, Boston
617.358.3740; Online request forms
Ages: 5+
Party size: 15
BU Fitness and Rec Center offers pool parties, climbing wall parties, and gym parties - perfect for active kids! Each party includes an hour of supervised activity in the pool, gym or climbing area, and 45 minutes in the party room. Parties start at $299 for 15 children. Please reserve at least 6 weeks in advance.
---
Photo courtesy of Sky Zone.