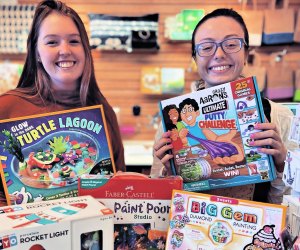 Boston Toy Stores and Bookstores with Delivery or Curbside Pickup
Great toys and new books are a godsend for busy parents looking to keep kids busy. Luckily, many Boston toy stores and bookstores that are closed for in-person shopping now allow online and phone orders for delivery and curbside pickup. Here's our round-up of local stores families can support while stocking up on birthday gifts, grabbing a few great school or bedtime reads, or just keeping children entertained while you work from home.
Give a boost to more Boston businesses by ordering from these local grocers and farmers who deliver, and check out our favorite board games and virtual entertainers for more gift and fun ideas.