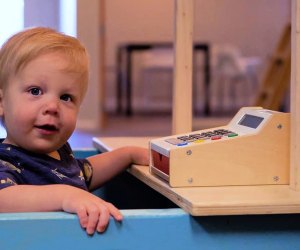 27 Things To Do with Kids North of Boston in Winter
The cold temperatures and snow have arrived, but that doesn't mean we have to hibernate. There's still plenty to do—inside and out—even when the mercury plummets. And the area North of Boston is no exception. From museums and indoor play centers to parks and skating rinks, these winter-savvy towns flanking routes 95 and 495 northbound have you covered. Cross one or all of these 27 super activities off your Winter Fun list and show Jack Frost who's boss.
1. Make a visit to Lowell's Boat Shop (Amesbury)
Open year round, this working museum and historic landmark located on the banks of the Merrimack River showcases over 200 years of wooden boat-making history. See how the fishing dories were once made and are still made here.
2. Show off your figure eights at The M ST. Rink (Lynnfield)
Rent skates or bring your own to this outdoor rink located at MarketStreet Lynnfield, an open-air shopping destination. After, order up a warm drink or tasty treat at one of the many eateries nearby. Call ahead for skating times.
3. Get your speed fix at New England Sports Park (Amesbury)
New England Sports Park (formerly Amesbury Sports Park) boasts the fastest, steepest snow tubing hill in New England. Get in as many runs as you can during your three-hour block and then warm up in the Corner Kick Pub.
4. Visit the tropics at Coco Key Water Park (Danvers)
Splash down giant water slides in this tropical themed retreat located at the DoubleTree by Hilton Hotel, where it's always 84 degrees. With cozy cabanas and thatched roofed huts, you'll forget all about those frigid temps. You can purchase a day pass or make a weekend of it and book an overnight package.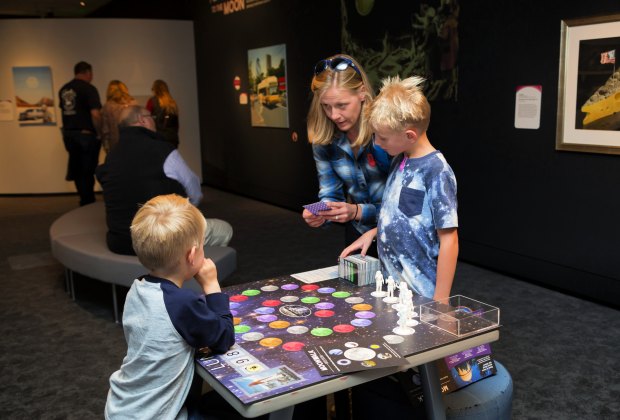 There are plenty of kid-friendly exhibits at the Peabody Essex Museum. Photo by Kathy Tarantola
5. Connect with nature and art at the Peabody Essex Museum (Salem)
The PEM makes it easy for families to connect with art and culture with tons of kids' programs, family-friendly exhibits, weekend festivals and hands-on activities at the Art & Nature Center.
6. Step into local history at the Wenham Museum (Wenham)
Dolls, toys and trains - what else could a kid want? - are all on exhibit at this North Shore museum that aims to protect, preserve and interpret the artifacts of childhood, domestic life and the history of the North Shore.
7. Take in the view at one of the area's beautiful beaches (Salisbury, Ipswich, Manchester-by-the-Sea, Rye, NH, etc. etc.)
Who says you can't go to the beach in winter? Just trade in your flip flops for snow boots and you can take in nature's awesome beauty while avoiding summer crowds. Collect shells, listen to the ocean, and marvel at the vastness of the world.
8. Grab a cup of quarters and hit Joe's Playland for some old school arcade games (Salisbury)
Open weekend during the winter months, this two story arcarde has old favs like Pac Man and skee-ball as well as new games. They still use quarters to play and kids actually win real tickets for prizes. And all of this with ocean views!
9. Take a winter walk at Ravenswood Park (Gloucester)
Take a walk among snow-covered hemlocks at this 600-acre park offering the kid-friendly Ledge Hill Trail, a two-mile round trip walk among huge, fern-covered boulders. Start you jaunt at the park's Cape Ann Discovery Center, where you can borrow a Discovery Detective Pack for your adventure.
10. While you're in Gloucester, visit the Cape Ann Museum
Admission is free for kids at this art museum exhibiting paintings, photographs and sculpture. Check out their calendar full of youth and family programs.
11. Befriend the animals at Stone Zoo (Stoneham)
Not all animals hibernate in winter. Visit with black bears, North American river otters, the snow leopard, Mexican gray wolves and many more. Also check out the winter playgroups for kids ages 18 months to four years.
12. Everything is awesome at the North Shore Mall (Peabody)
Kids love the mall, especially if you let them stop by the Lego Store to get creative and build in the "Living Room". Play a round of indoor mini golf at Aloha Mini Glow Golf, make a pit-stop for a treat at the Food Court, and take a break in the Kids Play Area. Bonus points if you can make it past Build-A-Bear without the kids noticing.
13. Visit an indoor skating rink (Various towns)
In my neck of the woods, nearly every other house is equipped with a backyard rink. But when it's just too cold to skate outside, visit one of the many indoor rinks on Boston's North Shore. Call ahead for skating times. And if you've got a budding hockey player, consider hanging around to catch the action of the next town league or high school game.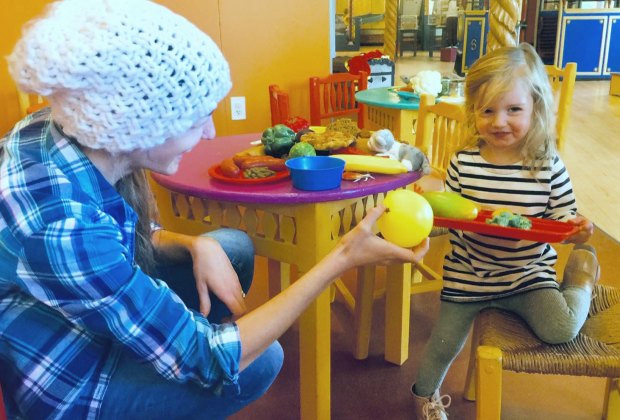 "Dine" together at the World Cafe. Photo courtesy of Children's Museum of New Hampshire
14. Spend the afternoon at the Children's Museum of New Hampshire (Dover, NH)
Hands-on and interactive exhibits, programming and educational value make CMNH a popular place for North Shore families to spend the day. Nearby Portsmouth is a great place to stop for good eats and more family fun.
15. Ski the slopes at Bradford Ski Area (Bradford)
Whether you've got a family of expert skiers or a team of first-time Alpiners, enjoy swishing down the slopes together at Bradford Ski Area. Take a lesson, show off in the terrain park or take the lift to the top of one of the 15 groomed trails.
16. Track winter wanderers at Ipswich River Wildlife Sanctuary (Topsfield)
Strap on your snowshoes and look for signs of wildlife at this 1,954-acre sanctuary offering 12 miles of trails. Go on your own or join in a fun family program offered by Mass Audubon.
17. Bounce off the walls at an indoor trampoline park (Billerica, Danvers)
Yes, your kids can bounce off the walls and cure their winter stir crazies while jumping across thousands of square feet of interconnected trampolines and attractions. Altitude Trampoline Park in Billerica offers a Rock Climbing Wall for additional fun. SkyZone in Danvers offers Sensory Sunday, a jump program designed for jumpers of all ages with special needs and Toddler Time for little jumpers most weekday mornings.
18. Get crafty at Board & Brush (Amesbury)
While this popular sign making studio is an awesome BYO wine and craft project for adults, they also offer up great kids group classes. Little artists get to pick from huge selection of fun paint colors and create wooden signs with their names, initials, or favorite quotes. It's the perfect decoration for any bedroom!
19. Learn about some seacoast species at the Seacoast Science Center (Rye, NH)
Get your marine fix at this educational stop located on the seacoast of New Hampshire, not too far over the Massachusetts border. Get up close and personal with marine animals, view marine mammal skeletons, and drop into a visitors' program.
20. Play, connect, and create at The Children's Piazza (Beverly & Peabody)
An indoor play space for children through age 6, the Children's Piazza offers a place for kids to climb, swing and slide in any weather, plus an art room and a cafe serving parents fair trade organic coffee.
21. Curl up with a good book (Andover, Newburyport)
Browse the stacks and then curl up by the fireplace with a good read in the 200-year-old Andover Book Store. Or, head to coastal Newburyport to explore the children's section upstairs at the Jabberwocky Bookshop (pictured) and find a cool new toy next door at Henry Bear's Park toy shop.
22. Go for a whirl at Skateland (Bradford)
Trade your blades for wheels (inlines or quads) and skate to your favorite music, including Disney tunes on Saturday mornings for the littlest skaters.
23. Enjoy dinner and a movie - at the same time! - at Chunky's (Haverhill)
Take the whole family on a date night and let the kids order The Buzz Burger, Andy's Gooey Grilled Cheese, or Jessie's Mac & Cheese from the kids' menu while you watch a new family-friendly flick. Chunky's offers unique birthday parties for young cinema fans, too.

Candlepin lanes are great for little kids. Photo courtesy of Leo's Super Bowl
24. Let's go bowling at Leo's (Amesbury)
Leo's has 25 candlepin lanes, perfect for little hands. Bowl with or without bumpers and check out family-friendly events like Cosmic Bowling. After you count up your strikes and spares, hit the arcade for even more old-fashioned fun.
25. Explore life's mysteries at America's Stonehenge (Salem, NH)
Who built this 4,000-year-old maze of manmade chambers, walls and ceremonial meeting places? No one really knows. But when the snow falls, strap on those snowshoes and take a look for yourself on a self-guided tour of America's Stonehenge. Then, visit with the site's cute and cuddly Alpacas, on site year-round.
26. Spend an afternoon sledding (Andover, North Andover, Ipswich, Essex)
The North Shore is home to lots of sledding spots and the Trustees of Reservations lists some of its properties as favorite downhill delights. Try the Crane Estate in Ipswich, Ward Reservation in Andover and North Andover and Stavros Reservation in Essex.
27. Whip up some tasty treats at Taste Buds Kitchen (North Andover & Beverly)
From camps when school is out to weekend classes, your little chefs can whip up everything from creative cupcakes to homemade pastas.
Post first published in 2015; updated by Caitlin Dowling in 2019