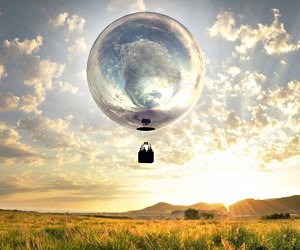 Look Up, Kids! Giant, Mirrored Hot Air Balloon Coming to Massachusetts
Come mid-July, you're going to want to keep your eyes on the sky around Boston, because you just might spot a giant, mirror-surfaced hot air balloon floating above reflecting the landscape below. Created by artist Doug Aitken and presented by the Trustees of Reservations, this 100-foot flying balloon sculpture titled New Horizon will be soaring above Massachusetts from July 12th through the 28th, 2019. Traveling from Martha's Vineyard to the Berkshires, this reflective piece of art will touch down for special events along the way. Boston, and Massachusetts as a whole, are well known for showcasing kid-friendly art, so it's no surprise that this exhibit will be no exception, featuring family-friendly dates that even the youngest of art critics can participate in.
"We are thrilled to present New Horizon as a program for all ages," says Barbara Erickson, Trustees President and CEO. "There will be so many opportunities for families to experience the balloon along its journey, whether it's enjoying a free family day with activities and food trucks, or enjoying the balloon illuminated under the stars at night set to music and conversations by groundbreaking artists and speakers."
To ensure a viewing of the balloon, you'll have to register for a ticketed event: The New Horizon will land for scheduled, ticketed special events (ranging from free to $250, though children under 6 are always admitted at no cost) at seven Trustees' locations in Martha's Vineyard, Plymouth, Lincoln, Ipswich. Ipswich, Stockbridge, and Williamstown. Events will feature guest speakers, live music, and a chance to get up close and see the mirrored balloon, which will be tethered at each location. During day events the New Horizon will reflect beautiful landscapes, while at night events the balloon will be illuminated as a light sculpture radiating patterns of color and light in sync with the live music.
Many of the events are welcoming to families with older kids, but two locations will have actual family days designed for younger art lovers. The deCordova Museum of and Sculpture Park in Lincoln, MA will host the balloon on Saturday, July 20th with two ticket timed entries at 11am and 1pm. Along with getting to view the mirrored balloon as it reflects the wonders of this sculpture park, there will also be activities to keep the kids engaged, including a Sculpture Discovery Quest and a workshop to learn about reflections with colors and mirrored materials.
If you want to make an adventure out of your visit, head to the Berkshires where Field Farm in Williamstown, MA will also host a free family day (tickets are still required) on Thursday, July 25th with two ticket timed entries at 11am and 1pm. It goes without saying that the mirrored reflections at this location will be breathtaking, but there will also be lots of kid activities, including a "Family Road Trip" through nature. Kids are encouraged to walk along Pond Trail with their family on a "road trip", stopping at different nature-inspired craft activities along the way.
If you really want to splurge, like $250 a person splurge, purchase a ticket to climb onboard the gondola and actually go up in the balloon. These special sunrise viewings are limited, with only three opportunities happening in Martha's Vineyard and Williamstown. There is not a minimum age requirement, but these experiences are recommended for ages ten and up and all participants must be able to climb into the gondola without help.
If you don't have a ticket, there's still hope to see the balloon: It will be traveling between stops whenever possible, and the balloon's weather-dependent trajectory means that you could catch an appearance in the sky on the North Shore, Metrowest 'burbs, or central Massachusetts. Also, there will be surprise appearances planned on short notice. Be sure to follow the journey on Facebook and Instagram to stay up to date on the balloon's whereabouts. And don't be surprised if you catch a glimpse of a shiny ball in the clouds this summer!