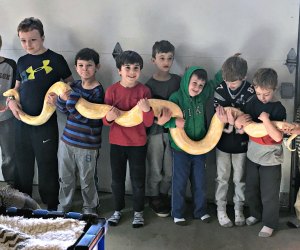 Reptiles, Glow-in-the-Dark, Mermaids, and More: Unique At-Home Birthday Parties for Boston Kids
Boston is packed with great indoor party places that cater to kids. But there are still plenty of parents—myself included—who really enjoy hosting a good, old-fashioned, at-home birthday party. The one catch: Coming up with ways to keep kids engaged that don't involve trashing the house. Recently, we rounded up some of our favorite musicians, magicians, clowns, and character actors who travel to homes to perform for Boston-area kids. But in the event you have a child who yearns for something a little different, we've scouted around for party entertainment that's a little outside the gift box, so to speak. Whether you have a kid who's into exotic creatures, cooking, or just romping around, you can count on one of these companies to create a one-of-a-kind party for your unique birthday boy or girl. Rates fluctuate by group size and sometimes seasonally, so be sure to ask details when you reach out for more information.
Pythons, Gila Monsters, Oh My!
Cute farm animals are a draw for many birthday revelers, but last year, my soon-to-be 6-year-old was more into lizards, snakes, and other slithery, spooky creatures. Luckily, I found a great company, New England Reptile Shows, that specializes in the care and keeping of the cold blooded, and brings their eek-inducing menagerie to your home. Owner Eric Erickson and his daughter brought loads of interesting animal trivia, some funny jokes, and more than 15 non-venmous, docile reptiles and a few other critters (like a giant tarantula) to our home (or, more specifically, our garage). Shows typically last two hours, but with our crew of kindergarteners, the one-hour performance worked best, with lots of interaction—i.e., holding and handling for the brave—mixed in. I still can hardly believe we had a 10-foot-long Burmese python on our property (and in the arms of my children), but there's photographic evidence, above, to prove it.
Best for ages: 5 and up
Contact: 978-730-8370; info@nershows.com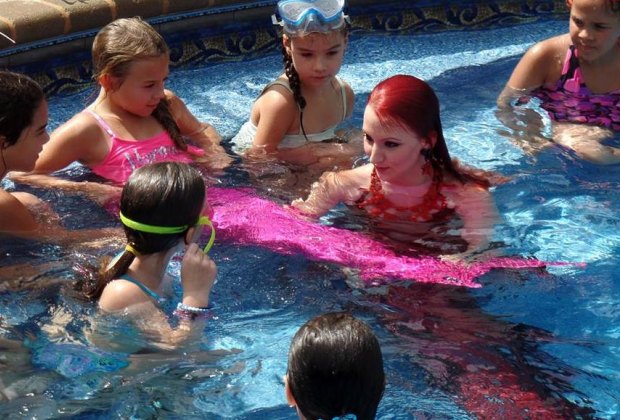 Mermaids have cool tails, and stories to tell. Photo courtesy of New England Mermaids
Mermaid Love
Not since Ariel surfaced in 1989 have mermaids been so popular, and local performer Sasha Gaulin (aka the Fire Gypsy) has paid attention. Her newest act, New England Mermaids, brings "real, live" mermaids (and/or mermen) to your pool party, indoors or out. Kids love to swim with the mermaids, feel their realistic tails (they bring some along for the kids to try, too), and ask questions and listen to stories about the sea.
Best for ages: 6 and up
Contact: 617-697-7480; or Sasha@NewEnglandMermaids.com
Get Your Glow On
Long known for its colorful character and face-painting parties, Kaleidoscope has recently introduced Art & Entertainment Glow Parties. Entertainers bring non-toxic UV face and craft paint as well as LED balloons to create glow-and-the-dark fun at your kids' birthday bash...perfect for dancing parties or sleep-unders or -overs.
Best for ages: 6 and up
Contact: 860-985-2214; info@kscopeart.com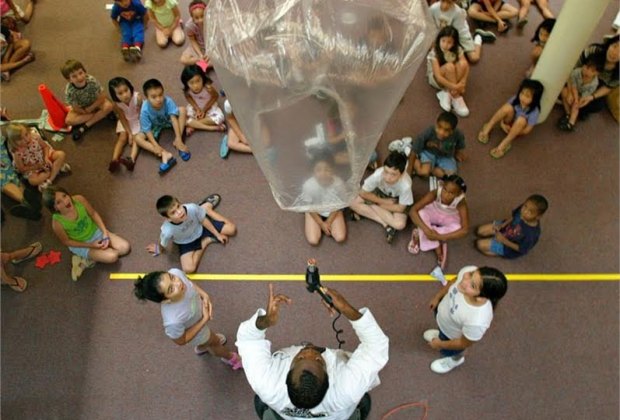 Kids watch....and learn. Photo courtesy of Mad Science
Kooky Experiments with a Mad Scientist
Shhh...don't tell kids they're learning something at a party hosted by Mad Science, a Canada-based franchise (with two Boston branches) that has perfected the art of edutainment with their science-based birthday bashes. Mad Science's goofy, highly entertaining scientists will come to your house and set up all sorts of eye-popping, mostly interactive experiments. Party guests then get to make their own take-home science project, from slime to putty to a high-bouncing polymer ball.
Best for ages: 5-12
Contact: 781-886-6133 or info@madsciencesouthboston.com; 781-899-6006 or info@madsciencenorthboston.com
Crustaceans and Costumes
When visiting the New England Aquarium, my kids usually gravitate to the touch tanks, and can easily spend a half-hour or more exploring the amazing skin and shells of the crabs, clams, and other sea creatures that dwell in them. But it's not always easy to schlep to the waterfront and muscle through crowds. Amazingly, the New England Aquarium Mobile Touch Tank will bring some of their critters to your home for an Under the Sea-themed party that, as a 5-year-old, my son truly loved. Two Aquarium staffers arrived with plenty of bins and critters to set up, and the kids loved not having to elbow each other out to fully explore the spiny and slippery crustaceans, including spider crabs and lobsters. Parties also include a terrific touch at the end: A sea-themed story and a variety of beautiful, satiny costumes of crabs, sea urchins and more that the kids were allowed to put on and play pretend in.
Best for ages: 3-12
Contact: 617-226-2123; kids.ed@neaq.org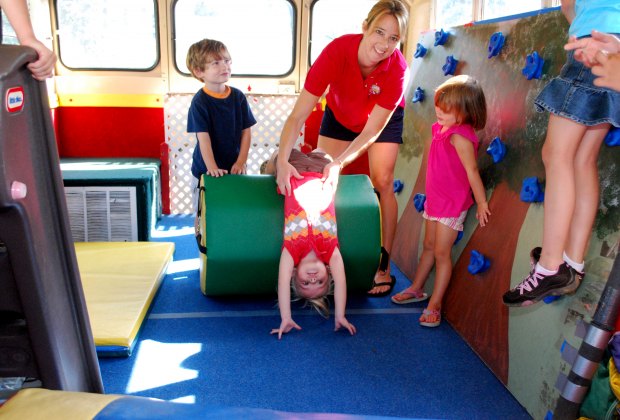 This bus packs a lot of play equipment! Photo courtesy of Tumblebus
The Gym that Comes to You
Want to combine the popular gym party with a classic home birthday? Enter the Tumblebus, a fully padded, tricked-out school bus that's heated and air-conditioned for year-round birthday parties. The Tumblebus crew will park outside your home, and certified instructors will guide kids through a circuit of monkey bars, balance beams, a zip line, climbing wall, a trampoline, and more. Revelers will be good and tired when it's pizza and cake time back inside.
Best for ages: 2-6
Contact: 508-393-5287; info@tumblebus-mass.com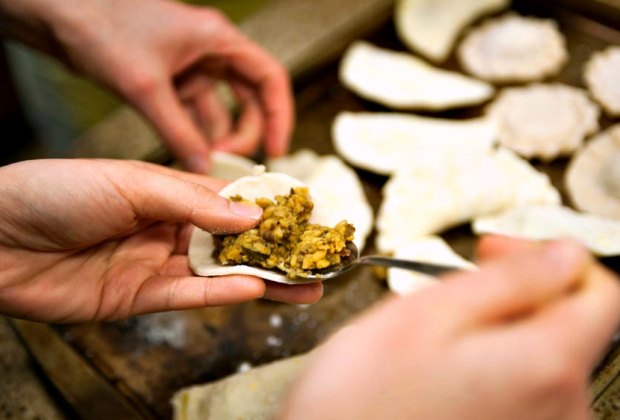 Learn (and sample) the tricks of the trade with Dumpling School! Photo courtesy of the Dumpling Room
Tasty Dumplings (for Your Little Dumpling)
Pizza and treat-making birthdays often come to mind when thinking of fetes for kids who love cooking, but if you really want to kick the party up a notch, turn to Patty Chen's Traveling Dumpling School. Chen will bring mouthwatering ingredients to teach kids how to craft perfect Taiwanese-American dumplings, right in your kitchen. Just add chopsticks, festive decorations, and fortune cookies for a memorable big-kids party.
Best for ages: 8 and up
Contact: 617-491-6616; dumplingroom@gmail.com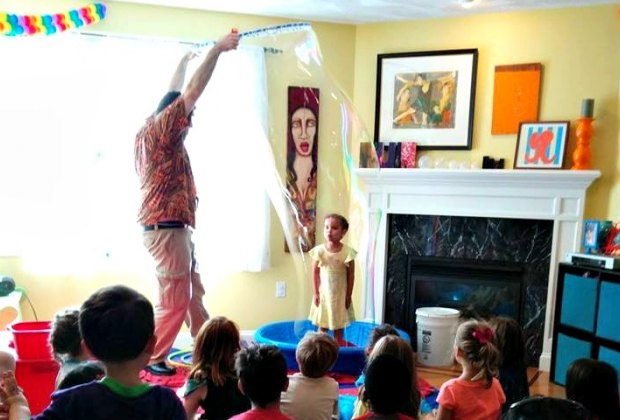 All kids are wowed by bubbles. Photo courtesy of Mike the Bubble Man
Bubbles Galore
What do little kids like more than bubbles? Yes, cake, of course, but that can happen, too, at a party hosted in your home by Mike the Bubble Man. A fixture at many citywide celebrations, Mike also puts on bubbly at-home birthday parties that kids go crazy for. His interactive 45-minute shows make the birthday boy or girl the star, and involve plenty of cool tricks and even some science about bubbles.
Best for ages: 3 and up
Contact: 617-453-8384; mikethebubbleman@gmail.com
For even more party ideas, including delectable birthday cakes, check out our complete Boston Birthday Party Guide.