14 Entertainers That Make Boston Kids' Birthday Parties Extra Special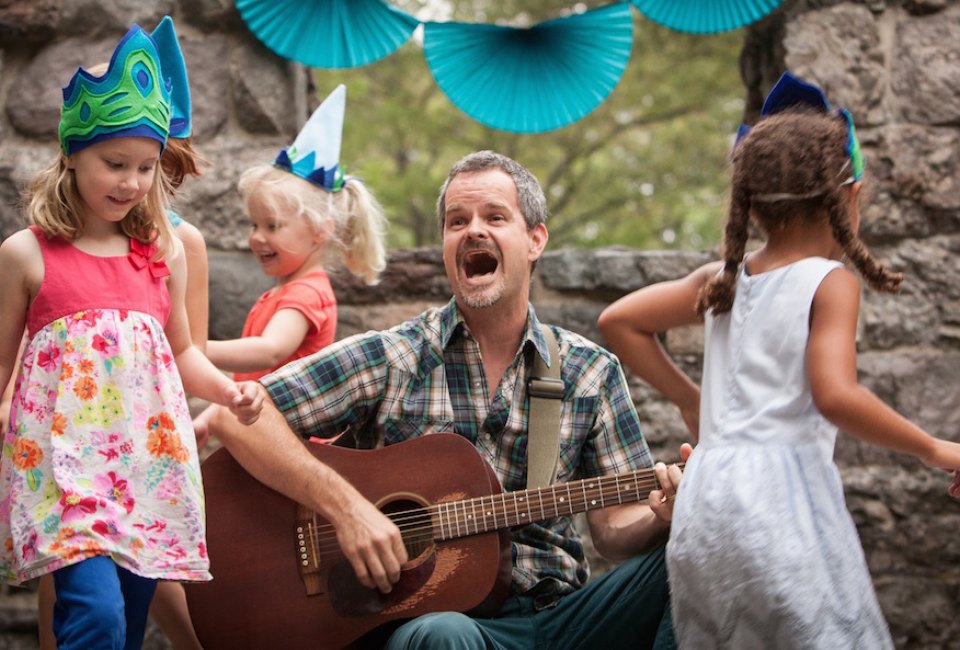 6/21/16
- By
Elyse Andrews
Every parent wants their child to have an extra special birthday, but it's not always easy to figure out how to make that happen. The thought of entertaining and corralling your child's friends and classmates for hours can be intimidating. Luckily, there are many professional birthday party entertainers in the Boston area that can help make the day magical and memorable.
Magicians
Amazing Kids Magic
Amazing Kids Magic can perform a magic show for kids of any age, but knowing how tough planning a first birthday can be, magician Franc Karpo has designed a special program just for the littlest ones. Amazing Kids Magic has performed 5,000 magic shows over the years, each of which include a real live bunny.
The Magic of Bonaparté
Bonaparté tailors his magic show to specifically fit each age group, whether your child is having a first birthday, is elementary age, is in middle school, or is having a Sweet Sixteen or Quinceanera celebration. Bonaparté combines comedy with magic to produce a show that's entertaining for everyone (even adults).
The Magic of David Hall
Magician David Hall's birthday party performances put kids at center stage, encouraging a lot of audience participation throughout the show. Hall makes the birthday child his assistant, teaches the children a trick of their own and ends the show with a fun dance party.
Professor Dan the Magic Man
Professor Dan has been performing magic shows for kids ages four and up in the Boston area for more than 25 years. In his show, Professor Dan makes the birthday kid the star of the show, even gifting them a wand and magic hat at the end of the performance.
Musicians
Jeff Jam
Children's musician Jeff Jam regularly performs and hosts classes in the Boston area for kids. In addition to these public shows, you can also hire the enthusiastic and exuberant Jeff Jam for your child's next birthday party. It might even be fun to get excited for the party by learning some of the songs from Jeff Jam's five CDs.
GroovyBabyMusic
In addition to the classes in music, dance and yoga that GoovyBabyMusic offers to Boston-area children, the group can also help make your child's birthday party extra fun. The teachers perform a variety of songs while the children get to play shaker eggs and tambourines, dance with scarves and meet the GoovyBabyMusic puppets. You can request a favorite teacher from one of the GroovyBabyMusic programs and rent one of its spaces if you'd prefer to host the party outside of your home.
Wayne Potash
Popular local performer Wayne Potash not only puts on public shows, but he's also available to play at your child's birthday party. He's known for having a knack for being able to get even the shyest kids ages one to nine into the music. Wayne brings his ukulele, banjo, guitar, rhythm instruments and other props to parties to get everyone involved in the fun.
Alissa Coates
Alissa Coates plays lots of public concerts for Boston kids, but she can also bring her energetic, engaging and educational show to your home or other party venue for birthday celebrations. Alissa's 45- to 60-minute birthday party entertainment can be tailored for kids as young as one and up to age seven, and include upbeat songs for dancing, instrumental play and either a "free jam" or marching band.
Clowns
Boston Clown
With more than 10 years of birthday party experience, Boston Clown can bring a variety of special tricks and treats to your child's celebration. The shows can be customized to include things like balloon sculptures, magic, face/hand painting, story telling, puppet friends, sing-a-longs and more.
Clowns of Boston
Clowns of Boston and Ronnie the Clown have a decade of experience performing at both large and small events, including birthday parties, in the Boston area. The shows, which can include magic, musical games, balloon art and animals, comedy, sing-a-longs and a real live bunny, make sure the kids are the stars of the day.
Davey the Clown
Davey the Clown brings a unique blend of skills and talents to his shows, which he has been honing for decades. Davey brings his physical comedy to birthday parties through juggling, magic, rousing accordion music and even a unicycle (space permitting).
Silly Willy the Clown
A Boston-area performer for more than a decade, Silly Willy the Clown continues to charm children with his funny and festive routine. Silly Willy's shows are age-appropriate to keep kids engaged during the entire show, which includes magic, dancing, face painting and balloon sculptures.
Entertainers/Themed Parties
Happy Kids Entertainment
Happy Kids Entertainment specializes in putting on character and themed birthday parties for Boston-area kids. You can choose your special guest from among a selection of comic book characters as well as favorites from popular kids movies and TV shows. The party can be customized to include fun activities like magic, balloon twisting, dancing and face painting.
Jungle Jim Boston
Jungle Jim has been entertaining kids ages three to 10 at birthday parties in Boston since 2004. He offers three unique packages that turn a regular party into a themed adventure: the Star Wars Jedi Knight Training Birthday Party, the Wild About Balloons Magic Show, and the Harry Potter Hogwarts Academy.
Kaleidoscope Art & Entertainment
Make your child's next birthday party extra special with a visit from a princess, superhero, pirate, mermaid or other character courtesy of Kaleidoscope Art & Entertainment. In addition to the character, parties by Kaleidoscope can include things like story time, face painting, balloon twisting and caricatures.
Princess Sharon
Sharon Chase is a Boston-area mom, signer and event designer that can bring a magical touch to your child's birthday party. Choose from one of her party packages like Musical Princess, Shabby Chic Minnie Mouse, or Let's GLO for a complete day of fun including games, costumes, music and more.
---
Top image of Jeff Jam courtesy of Marie Zemler Wu.