6 Summer Birthday Party Spots for Boston Kids
Summer is nearly upon us and that means it's time to plan birthday parties for kids born when school is out. I have a summer baby, so I've thought a lot about where to have a party when the weather is nice and everyone's on vacation. We've shared ideas for outdoor options where you can plan a free, spontaneous celebration, but we discovered several more venues—some indoors, some out—that specialize in summery kids' parties. Here are six of our favorite warm-weather birthday bash spots around Boston.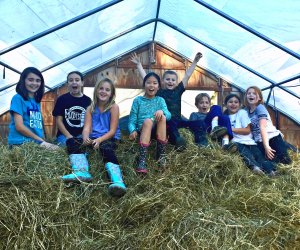 The haypile makes for a great photo op at Chip-In Farm.
1. Chip-In Farm—Bedford
Chip-In Farm has one of the best petting zoos in the area, which is one reason it's a great place to host a birthday party. The farm is most known for its super fresh eggs that come from free range chickens. It also hosts classes for kids and yoga with goats (yes, you read that right)!
What's included: Chip-In's basic party package includes tables with tablecloths and benches, games like pin the tail on the pig and sack races, and candy bags for all of the party goers. Extras like experiencing farm chores, a wagon ride, a campfire and a goat for some extra special yoga can be added for additional fees.
When: Saturdays and Sundays from mid-March through mid-November
Party length: 2 hours
Food: Bring your own (the farm provides a refrigerator for your use)
Number of guests: 15-20 attendees
Cost: $-$$$
Parking: Free
Contact: Fill out the online form
2. Chunky's Cinema—Haverhill
Chunky's made our list of the best movie theaters in the area for kids and that's because it's not your typical theater. It features extra comfortable seats that recline and has a full restaurant serving lots of kid-friendly food that parents will love, too. And it's perfect for summer birthdays when it's just too hot to go outside.
What's included: Meals for everyone plus popcorn and soda and a personalized birthday cake, reserved tables with paper goods, invitations, and of course, a movie!
When: Seven days a week in the summer in the early or late afternoon. Weekday parties are less expensive, making summer a great time to host one at Chunky's.
Party length: 2.5-3 hours
Food: All you can eat pizza (chicken nuggets or tenders are available as an upgrade)
Number of guests: Minimum of eight people
Cost: $-$$
Parking: Free
Contact: Fill out the online party request form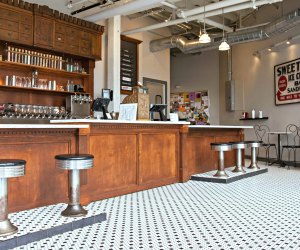 Kids can sidle up to the ice cream bar at The Forge.
3. Forge Ice Cream Bar—Somerville
This old-fashioned style ice cream parlor is the perfect setting for a summer birthday party when it's just too hot to go outside. Only open a few years, Forge looks like it's been serving scoops of ice cream for decades. It has a charming feel that provides a great backdrop to a birthday party.
What's included: Rental of the ice cream bar before or after it's open to the public, including tables and chairs and staff members to facilitate. Party hosts can bring balloons, decorations, games and crafts.
When: Seven days a week
Party length: 2-hour minimum
Food: Forge can host a self-serve sundae bar with ice cream and toppings or provide a house made ice cream cake. Savory and coffee catering can be added for additional fees.
Number of guests: The ice cream bar can accommodate 30-plus people.
Cost: $$-$$$
Parking: There's a free parking lot in front of the ice cream shop and additional parking on Somerville Avenue (some may be metered).
Contact: Email info@forgebakingco.com
4. Houghton's Pond at Blue Hills Reservation—Milton
I recently wrote about how the Blue Hills, and specifically Houghton's Pond, is a great place to hike with kids. And if your child loves the great outdoors, it's also a terrific place to host a birthday party. Houghton's Pond has beautiful picnic areas perfect for hosting a party and the pond is open for swimming in the summer, so the kids can cool down.
What's included: A birthday party at Houghton's Pond is definitely the D.I.Y. variety, but that also means it's totally customizable! There are five large picnic areas onsite (three can be reserved in advance) with charcoal grills, a clear water pond for swimming, a playground, bathrooms and an easy hiking trail.
When: The pond has lifeguards in July-August, but the facilities are open in the spring, too.
Party length: No limit
Food: Bring your own, any type of picnic would work well, including using the charcoal grills for hot dogs and hamburgers.
Number of guests: 25 or less in the smaller picnic areas, 25 or more in the large ones that can be reserved
Cost: $
Parking: Free
Contact: Use Reserve America to secure one of the larger picnic areas. If you really want to go big, apply for a special use permit and bring a bounce house.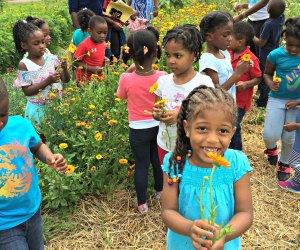 Flowers make the best party favors at Land's Sake Farm.
5. Land's Sake Farm—Weston
Land's Sake Farm has a lot ot draw you in: you can pick your own flowers, attend an after-school program or camp, visit the farm stand or join a CSA. The farm also hosts really unique birthday parties in the spring, summer and fall. Led by experienced educators, they offer a special experience you won't find anywhere else.
What's included: Pick four activities from this list: rabbit encounters, chicken encounters, a planting project, an art project, a scavenger hunt, a harvesting project or story time to build a super fun event for your birthday boy or girl. You provide everything else (decorations, supplies, refreshments, child supervision and clean-up) for a combo D.I.Y. and done for you party.
When: Spring, summer or fall
Party length: 2 hours with 45 minutes to set up and 45 minutes to clean up
Food: Bring your own
Number of guests: a standard party is for 15 kids, while a large part is for 20 kids (no limit on adults)
Cost: $$-$$$
Parking: Free
Contact: Email education@landssake.org or call 781-893-1162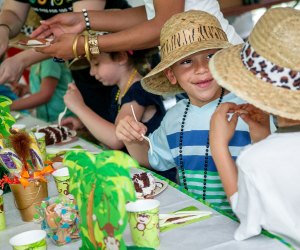 Animal-themed party goods are part of the fun at the zoo.
6. Zoo New England—Boston and Stoneham
If your child loves animals, there are few better places to celebrate their birthday than Zoo New England. And there's no better time to throw a party amid the animals than in the spring or summer. Both the Franklin Park Zoo and Stone Zoo offer several birthday party packages for all ages that cover a range of activities and costs.
What's included: The zoo's party packages range from D.I.Y. to all done for you. Franklin Park offers dinosaur-themed parties in the summer, while Stone Zoo focuses on a safari theme. Both zoos offer packages that include party supplies, ride tickets and meals, so you can just show up with the birthday boy or girl and have fun!
When: Year-round at Franklin Park; April 1-September 30 at Stone Zoo
Party length: Two hours
Food: Only included in the Super Safari and Dino-riffic packages
Number of guests: Varies depending on package
Cost: From $$-$$$$
Parking: Free at both zoos
Contact: Use online rental request form
Photos courtesy of each party venue