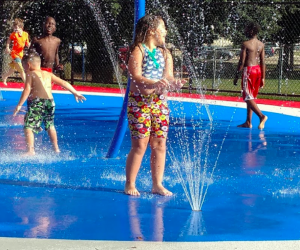 5 Free New Spraygrounds and Splash Pads to Visit with Boston Kids this Summer
During our short, humid summers, Boston kids are always on the hunt for ways to cool off in the summertime. While free swimming pools are a great affordable option, spraygrounds are sublime for toddlers, preschoolers, or big kids looking for a quick way to cool off. Even if you've scouted out the these popular splash parks and splash pads, you might not know about these new spots in the Boston area. So throw on your suits, slather on the sunscreen, and head to one of these five fun (and free!) spraygrounds.
1. Water Garden at Martin's Park—Boston
In the hotter months, this new all-inclusive playground turns on the water in the special Water Garden area. The garden is an interactive landscape with field boulders to climb on. The best part? A cooling mist pumps through the entire area. In keeping with the creative design of Martin's Park, the water fountains are controlled by accessible buttons so kids can turn the waterworks on and off, manipulating their environment.
2. Latta Brothers Spray Deck—Somerville
Located right next to the Latta Brothers Memorial Swimming Pool, the spray deck is a brand new addition this year. Filled with spray fountains and smaller water features for the little kids, the spray deck is a great way to run around and cool off before or after hitting the pool!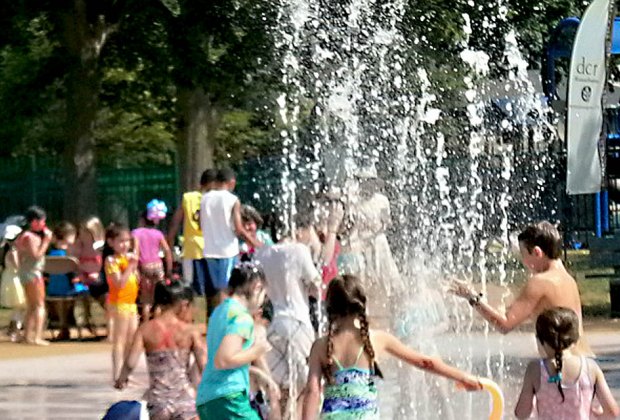 A museum, a green space and the North Point Park Spray Deck all in one area makes for a great summer day outing. Photo courtesy of Mass.gov
3. North Point Park and Splash Pad—Boston
With views of the Zakim Bridge and Duck Tour boats diving in and out of the water, this splash pad offers a great atmosphere for kids while they splash around. Tucked in the green space across from the Museum of Science, North Point Park also has a great shaded area with picnic tables to take a break for lunch, and a playground to run around on after you dry off.
4. Nelson Park Splash Pad—Plymouth
At this brand new splash pad in historic Plymouth, kids can have fun controlling the water with buttons that activate various fountains and jets. Along with the splash pad, the park also has a playground, bathroom facilities, and a concession stand. Food trucks can also often be found parked at this seaside park.
5. Livingston Street Splash Pad—Tewksbury
This splash pad opened for its first season this June with water spray features and fountains. All of the water can be activated by a button, both a fun element and water-saving strategy. The splash pad opened in conjunction with the outdoor fitness court located next to the splash area in case you feel like working up a sweat before getting wet!