10 Picks to Start 2022 Off Right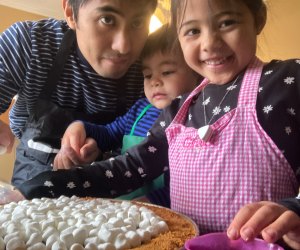 Down with Omicron; we've picked ten fun and inspiring things to get excited about as we head into 2022.
Just as my kids were finishing up their last days of school before the holiday, the Omicron spike hit. Each day, I watched their spirits dip further as our Nutcracker tickets became useless, our family's traditional Christmas Eve restaurant closed, and family and friends decided it was safest to postpone getting together. When I sat down to write about the things I'm loving for January, I was stumped. Then, as I began to pile through my inbox, our Facebook pages, and the event calendars, I realized there's actually a lot to look forward to in 2022.
Because this is what Mommy Poppins is about: treasuring the time we have with our kids and inspiring families to have amazing and enriching experiences together. Sometimes that might just be watching a great movie, snuggled up on the couch. And it turns out there are a couple of new ones this month—read on. Or it might be baking with kids; at the top of my list is a dessert that Maureen, our Chicago Events Editor, passed around to our team. My daughter also shared a couple of tips she's picked up in her school's yoga class, for how we can all head into 2022 with grace, peace, and joy. I hope you find inspiration in our picks below, and that we all head into the New Year safe, healthy, happy, and together.
EDITOR'S NOTE: Who is giving you these recommendations? Let me introduce myself! I'm our new-ish Managing Editor, Meghan Rose. I started at Mommy Poppins as our Los Angeles Editor, which means I'm based in LA with my 14-year-old twins, husband, and two cats. I'm a writer, editor, amateur baker, and enthusiastic-but-slow runner. And I love to explore the city I live in, not to mention our whole country and world, with my family.
The last two years have certainly put a different spin on how we explore, but it's also forced us to look for new things to do, and new ways to enjoy family time. I'm looking forward to sharing my favorites and perspective with you here, and I hope you'll do the same.
Meet me on Facebook or shoot me an email at meghan@mommypoppins.com and let me know what else we should cover, what events we should be looking for, and especially if you have any new favorites that might become one of next month's Editor's Picks.

Tournament of Roses Parade floats are covered with flowers, seeds, and rice. Photo courtesy of visitpasadena.com
NYC has the Macy's Thanksgiving Day Parade. LA has the Tournament of Roses Parade. Not to get all Biggie/Tupac here, but each coast has its own holiday parade, and typically people have a favorite. I have to admit that I was always a Macy's fan, until this year. For the first time ever, I took my kids to work on decorating the floats, and it's such a cool, behind-the-scenes experience. Thousands of volunteers help decorate these floats, which must be covered in 100% organic material. So when you watch the parade this year, look to see the beans, rice, bark, and flowers that adorn these floats. I'll let you in on a secret: all that sparkling white is actually sushi rice that's been ground in giant coffee grinders. I know, because my kids and I spent a morning grinding it! Here's another tip—keep an eye out for the Louisiana Tourism Board float. I think it's my favorite this year.
Introducing the new Doll of the Year: Corrine Tan. Photo courtesy of American Girl
Corrine Tan is the new AG Doll of the Year for 2022, and she encompasses and represents a lot of things we love this year: her story explores Corinne's Chinese heritage, tackles anti-Asian racism, and offers lessons in empathy and anti-racism. Corrine also comes with the first ever little sister doll, and she and her sister deal with a change in the family, which is happening for a lot of kids this year, as her mom remarries after divorce. All that, plus really cute ski clothes, an adorable dog, and the fact that AG is partnering with AAPI Youth Rising, and I'm pretty excited about this new doll and what she might mean to a whole lot of little kids.

Start a seed garden this winter. Photograph courtesy of Planter's Choice
Spring will be here before we know it! This year my two favorite Christmas gifts were things that bring life—a new birdfeeder and a window sill seed garden. This is the seed garden I got, and it will be ready to transplant in our garden in about 8 weeks. But there are other ones that stay in the window, if you don't happen to have an outdoor space the plants can move to.

This recipe came from our Chicago events editor and has impressed us all. Photo courtesy of Maureen Wilkey
This recipe came from our Chicago events editor after she made it for Thanksgiving—her family ate it before the big day and she had to make another. It has since made fans throughout Mommy Poppins, and we thought we needed to share it as a great way to give 2022 a deliciously decadent start. Try it. You'll love it. (Maureen notes that she finds the recipe a little heavy on the graham cracker crumbs and recommends starting with 1.5 cups, mixing it with the butter, and if it seems too wet or buttery, add in another tablespoon at a time.)

Comfy and supportive underwear for new moms. Photo courtesy of Brooklyn Decker x Bodily
Not only do we have to take care of ourselves, but we also need to be more conscious of taking care of others. So if you know an expectant mom, get them a gift they'll never think of: underwear and bras that are comfortable and supportive through mastitis, a c-section, or other complications. Not only are these products great for the new mom you know, the company has partnered with 4Kira4Moms, which is a company that was founded to "sound the alarm as a voice for the voiceless on a mission to eradicate (childbirth) mortality in our nation," so your purchase will also support moms you don't know.

Remember what you're grateful for with your gratitude jar. Photo courtesy of Mud Pie Home Decor
My daughter is taking Yoga and Meditation instead of PE this year. (Yes, we live in LA.) One of the things she's been bringing home is suggestions for ways to practice gratitude. This is one of the ideas our family has adopted because it's very easy—so much easier than daily journaling—and everyone in the family can share one jar, so you all work together. Here's how it works: once a week (or whenever you think of something), each member of the family writes something on a slip of paper that they're grateful for. Then, if you're ever feeling sad, you pull something out and read it. Instant smiles. We ask anyone who stops by our house to also add something to the jar.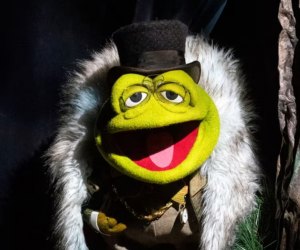 Jim Henson's Emmet Otter's Jug-Band Christmas. Photo courtesy of Richard Emmets
This one isn't new in January, in fact, it's closing on January 2. But as the world is hitting pause again, this is a fantastic show for the whole family, a great way to support live theater and the arts, and something you can all watch together while staying safely at home. And streaming means that not only New Yorkers can see this cool show, with music by Paul Williams and muppets by Jim Henson. We're keeping an eye on what the New Victory, and other great children's theaters, do this year and hope that the streaming of these shows is a pandemic trend that sticks around. We're putting streaming shows like this on our calendar of events in every city, so you can find great "live" theater for kids, no matter where you live.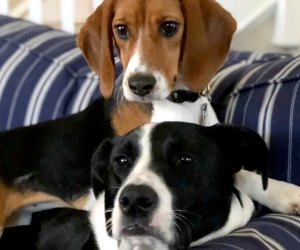 Watch and interact with a sweet doggie via this pet therapy app. Photo courtesy of Murphy Cares
It seems like kids (and adults) are suffering from anxiety and stress more than ever. While studies show pets can reduce anxiety and depression, if you're not ready to add a fur friend to your home, this new app allows you to interact with real, live puppies. The app starts by asking you how you feel, and then letting you give commands and watch a sweet doggie comply. My kids and I both spent way more time than we thought we would on it; it's addictive and you can actually feel your pulse slow down. You start with Lola, your free puppy, and then if you buy a relatively inexpensive subscription, you can choose from other dogs. All the pups—none of the poop!
Living in Los Angeles, our family spends as much time sand sledding as we do snow sledding. Since we don't need to worry about the "sled" getting wet when we use it in the sand, we've been using cardboard discs for the last few winters. Well. This year we didn't travel (again) for the holidays, so we decided to splurge on things that made staying in town more fun, and we got a real steel saucer sled. And boy, did it make sand sledding more fun! We also took it to the mountains, and it makes snow sledding more fun, too. What I'm saying is, wherever you live, invest in a good sled. It'll give your family years of fun.

The story of Buck the wily weasel appeals to kids who love the Ice Age movies. Photo courtesy of Disney+
When a movie comes out that kids and parents can enjoy together, we get excited. This spin-off story of Buck the wily weasel appeals to kids who love the Ice Age movies as well as parents who love Simon Pegg. That, plus the fact that this is streaming on Disney+, so we can watch it while staying safe and cozy at home, makes this must-see TV at our house.
By the way, none of these items are sponsored—these are just things we're excited about this month. However, this article does contain a few affiliate links, which means we might earn a small commission if you make a purchase. We only recommend items we've personally used and loved or researched thoroughly.