The Best Kids Clothing Labels and Name Stickers for Back-to-School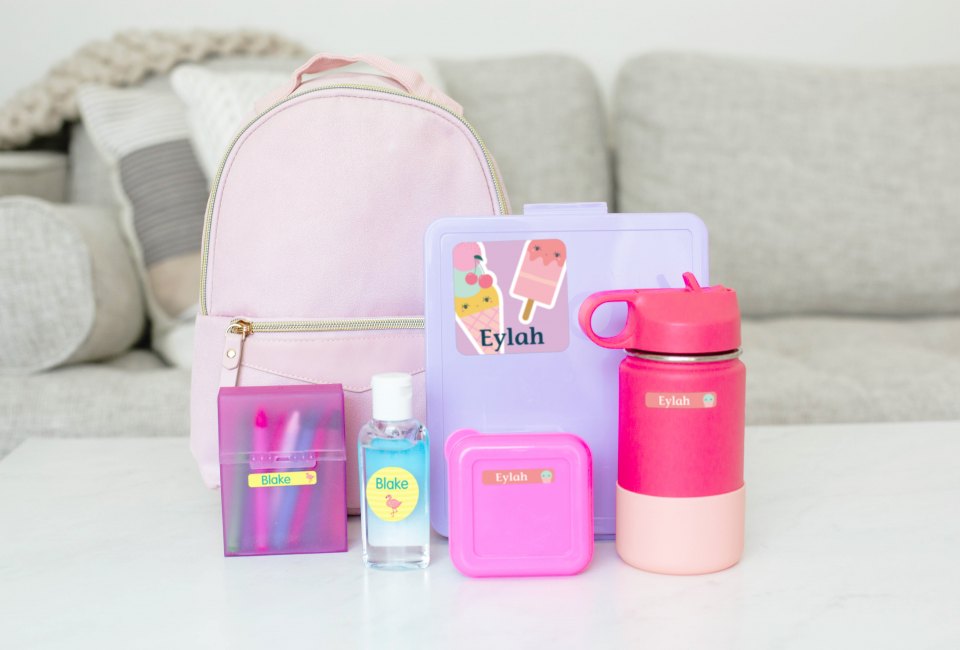 7/27/21
- By
Jessica Laird
Yes, I was a masking tape mom, too. But when an order of quality, convenient personalized name stickers and kids clothing labels from Mabel's Labels appeared in my mailbox for my two young daughters—covered in unicorns and rainbows, no less—I was a very quick convert.
Created by four mothers who were tired of digging through the lost and found bin, Mabel's Labels are durable, waterproof, laundry-safe, microwave-safe, and adorably customizable with dozens of designs. Specially made to fit kids' most-used (and most-lost) school items, you'll find labels for backpacks, lunch bags, shoes, sports gear, and water bottles—plus options for the daycare and preschool crowd, like pacifier and baby bottle stickers. You can even shop by occasion to find the best labels to fit your needs, or snag combo label packs like "Little Kid School Combo" and "School Uniform Label Pack." Yeah, they get it.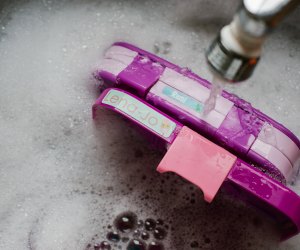 And it doesn't stop with kids labels. The moms behind Mabel's Labels have truly thought of everything, creating clothing stamps, bag tags, bottle bands, and even custom medical alerts to help ensure kids' safety as they head back to the classroom. Best of all, there's no minimum and shipping is always free. (Hot tip: Keep an eye out for those back-to-school sales too.)
This year, labeling is especially important to keep belongings in the right hands and help prevent germy mix-ups. Now that I've put a number of Mabel's Labels products to the test during a long hot summer of outdoor day camp, here are my top picks for back-to-school shopping lists:
Tag Mates™ Stick On Clothing Labels
Forget the iron! (Although, yes, they have an iron-on option too.) These laundry-safe, peel-and-stick name labels are specially designed to adhere to the care tags on clothing, blankets, and more. I used them on my daughter's rain jacket and a couple of hats, and they didn't budge. Plus, I was thrilled there was no need to put my sewing skills to the test.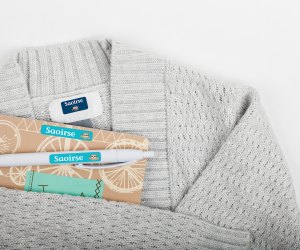 This best-selling combo comes with a whopping 126 labels, fit for backpacks, lunch containers, pencil cases, and more. The set includes 40 small rectangle labels, 70 Tag Mates™,16 shoe labels, and is the perfect name label set for elementary school kids.
Specially designed for first-time school goers, these labels are extra-durable! This bundle comes with 122 labels, including 40 small rectangle labels, 70 Tag Mates™, and 12 preschool shoe labels. I am a big fan of the preschool shoe labels, which have an ingenious split design that also helps kids determine which shoe goes on which foot (and has been saving us some precious getting-ready time in the mornings).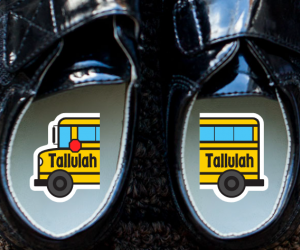 When a label isn't gonna cut it, this small but mighty stamp is a great option. Preloaded with ink and conveniently-sized, it's awesome for quick at-home or on-the-go labeling. Oh, and if you've got more than one kid, consider a stamp with just your last name so it can be used for the whole family.
Blank white iron-on labels for dark clothing are available as an add-on, and replacement ink cartridges can be ordered too (the ink will last on clothing for about 40 washes).
If you've got siblings or twins at home, this bundle has your names all over it! The pack includes 48 labels per name for a total of 96 stickers, and additional names can be added for just a couple of dollars. I love that the small size of these labels makes them super versatile, and perfect for a wide variety of school (and home) items.
Now that I've stocked up on labeling essentials, these sweet stickers are at the top of my wishlist for the fall! With both of my kids still pretty new to the whole full-time school scene, I'm all about tucking little notes away in their lunch bags. I can't wait to try these stick-on notes that actually dissolve in water at night whether you wash by hand or dishwasher.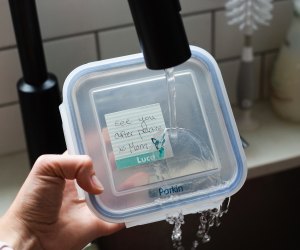 Ready to put down the Sharpie? Take a look at Mabel's Labels and browse all back-to-school items here.
All photos courtesy of Mabel's Labels

Sign up for our free
newsletters.
Mommy Poppins is a family activity website that helps people find things to do with kids.
©
2023
MommyPoppins. All Rights Reserved.
mp-prod4-v4.32.99
We use cookies and other data collection technologies to provide the best experience for our customers.
Learn More