ZooLights at Stone Zoo: A Festive Outing with Boston Kids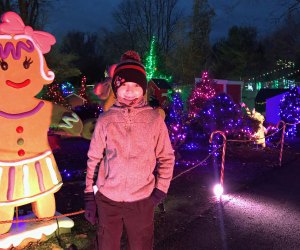 12/4/20
- By
Kelley Heyworth
Boston is home to some beloved zoos as well as some spectacular holiday light displays, but a local tradition combines the two: ZooLights! This 26-acre winter wonderland at the Stone Zoo in Stoneham features tens of thousands of sparkling lights and lantern-lit sculptures, but what makes it unique from some other Christmas light experiences are the (real) animals roaming among the sparkling exhibits: black bears, Canada lynx, arctic foxes, reindeer, and more. My nine-year-old son and I explored ZooLights on an early December Wednesday evening, and were totally enchanted by the glowing colors and exotic animals.
Take a detour to check out these home Christmas light displays before or after your visit, and as always, keep tabs on our Boston Holiday Fun Guide for more ideas for socially distant festivites all season long.


What to See at ZooLights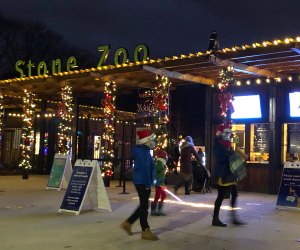 My son was excited the moment we pulled into the parking lot of the Stone Zoo, as the lights cast a glow that can be seen from down the road. (A fried dough and Oreo truck, truth be told, generated some excitement as well.) We grabbed a 4pm timed entry slot, the first of a typical evening (the last entrance is 8:30pm). ZooLights is taking extra precautions this year, with one-way walking paths and capacity restrictions. That makes tickets much trickier to get in 2020 than in a normal year, but at press time, there were still tickets left for the end of December and through January 17th, when the lights get packed up for next year.

We set off on the one-way walking path past the flamingo exhibit (which had a "Margaritaville" tropical vibe under Christmas lights), and then into the heart of the zoo. A cool feature that's new to ZooLights this year is lantern-lit sculpture animals, many of which were on display at the Franklin Park Zoo in the fall. Brightly, life-sized lit pandas, zebras, and more add a cheery element to the display that we hope returns in future years.
We glimpsed macaws, otters, sloths, and more before reaching the offramp that takes visitors to the rocky hillside that's home to the snow leopard. We were lucky to catch a close-up glimpse of the magnificent cat—a Stone Zoo first for us! Another notable first: not having to jockey for space in front of more popular animal exhibits, thanks to the capacity restrictions. Having a winding, illuminated path set for us also made it easy to enjoy the sights without debating what to see next, a typical zoo conundrum.

After cruising through the barnyard animal area (with lantern-lit chickens and pigs), we hit the area of the zoo that's dense with trees. Every tree trunk was wrapped densely with lights, creating a brighly colored "enchanted forest" effect. It was there where we saw the bald eagle, a porcupine, two playful black bears, and reindeer from a distance. (ZooLights usual reindeer encounters are not happening in 2020, since—interesting fact—these animals are particularly suceptible to COVID). Also tucked away in the enchanted forest was the little antique cabin that Stone Zoo workers recovered long ago. Staff fill the cabin with a tiny fir tree, presents, and a woodstove that make you feel like you are peeking into someone's cozy house on Christmas Eve.
Beyond the trees, we came to Santa's Village, the "finale" of the ZooLights experience. Santa is forgoing a visit to stick with his own reindeer in the North Pole this year, but there was still plenty to see, including two model train tracks, merry gingerbread men and women, a princess doll display, and, even a life-sized giraffe sculpture that had been outfitted with red and green leg warmers for the winter—which for some reason had my son and I cracking up on our way out of the exhibit and all the way back to our car.
Taking Kids to ZooLights
The whole visit to ZooLights took about an hour. The wide, paved walkways are easy to navigate with strollers or toddlers. There are restrooms with changing stations about halfway through the walk that were clearly regularly cleaned and, because of limited visitors, free of lines.
At the end of the ZooLights path, just before Santa's Village, a kiosk offers pizza, hot dogs, popcorn, and more for hungry visitors. Or, you can do what my son and I did, and save your appetite for a nostalgic treat: fried dough or fried Oreos, complete with whipped cream-topped hot cocoa, from the parking lot food truck. Hey, it's a COVID Christmas—don't we all deserve a few extra treats to top off a very special outing?