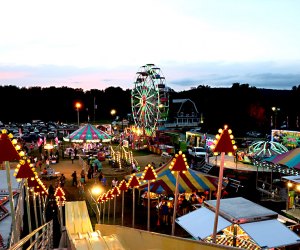 Weekend Fun: Country Fair, Beacon Corn Festival, Movie on the Beach
Here's hoping you're staying in town this weekend, 'cause there's plenty for families to do in Westchester and the Hudson Valley!
The South Salem Fire Department's Carnival is in town, featuring rides, games, and food, as is the Otisville Country Fair, which offers distinctive twists like a chainsaw competition and a cast-iron frying-pan toss. Join a citizen-scientist project at the Great Hudson Estuary Fish Count, or join Hudson River–​philes at the Beacon Corn Festival. Ready to abandon yourself to summer? Take in a nighttime movie on the beach and don't worry about the sand in your shoes.
Read on for more details on our top weekend picks—many of which are FREE. Planning the rest of the summer? Check out our August GoList for our top picks for the month. And remember to check out the extensive weekday and weekend events listed in our Event Calendar!