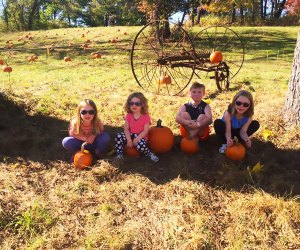 Things To Do in Westchester this Weekend: Fall Fests, Halloween Train Show, Hastings Spooktacular
Halloween fun is on the rise in Westchester and the Hudson Valley this weekend with the addition of the Hastings Spooktacular Weekend, plus the continuation of all the other big Halloween events throughout the month. Adding to the holiday hullaballoo is the return of the annual Lasdon Park Halloween Train Show, featuring added Halloween attractions including a pumpkin maze.
Numerous alternatives to the Halloween craze are also on tap. Among the fall festivals taking place this weekend, the standout is the two-day New York Sheep and Wool Festival, which features exciting workshops and live entertainment specifically for kids, as well as such eccentricities as llama acts. Or experience the cultural arts with a performance by the Krasnoyarsk National Dance Company of Siberia. A couple of STEM programs take place on Sunday, including Westchester Children's Museum's Chem-Palooza.
Read on for our top weekend picks, but know that there are many more options to choose from on our Event Calendar (it was hard to pick only a handful to showcase!). Our October GoList is another great resource to plan the rest of the month.