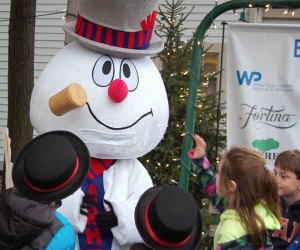 Things To Do in Westchester on Thanksgiving Weekend: Frosty Day, Skydiving Santa, Turkey Trots
Thanksgiving is upon us, as is the official kickoff of the holiday season in Westchester. With a four-day Thanksgiving weekend ahead, there are plenty of great events happening in our area to keep families together and entertained.
Several holiday events launch this weekend, including the return of the annual (and enhanced) Winter Wonderland and Frosty Fest, to name but two. Also this weekend is the return of Frosty Day, featuring a town-wide celebration of the pride that comes from claiming Frosty as a native son. A similar affair, Rye's Mistletoe Magic, also offering small-town holiday spirit.
Read on for our top weekend picks and click through for full details. Looking for more holiday options? Browse our Holiday Guide, full of events, activities, and ideas for every day of the holiday season. Also be sure to check our Event Calendar for more fun happening this weekend and beyond.
We wish you a wonderful holiday weekend filled with family, friends, great food—and lots of fun activities!