The Nutcracker Ballet and Other Holiday Shows for Kids in Westchester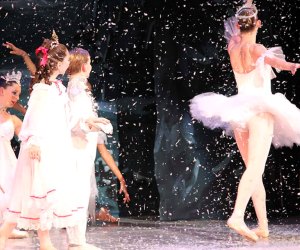 Tchaikovsky's classic Nutcracker ballet returns after a Covid hiatus to several local venues in 2022, renewing a beloved holiday tradition.
Performances of The Nutcracker this year range from a special show by the Moscow Ballet to others performed entirely by dancers from Westchester and the Hudson Valley, with some venues even offering a shortened version for young children. Alternatively, if your children want to get up and dance with a Sugar Plum Fairy, Scarsdale Ballet is offering an interactive performance of the Nutcracker ballet at its Nutcracker Wonderland Party. Other classic holiday shows on our list include Dickens' A Christmas Carol, performed in its classic stage adaptation and also as a dramatic telling of the story by the author himself. Westchester's own Jessica Lynn also returns for her annual holiday spectacular A Very Merry Country Christmas, which benefits Toys for Tots.
We have so many ways to lift your family's spirits as the year draws to a close: From must-do holiday attractions to craft fairs and more, our Holiday Fun Guide includes festive destinations and at-home activities. Be sure to visit our activity calendar, where you'll find an ever-growing number of other holiday events we're curating continuously.