Nature Preschools in and around Westchester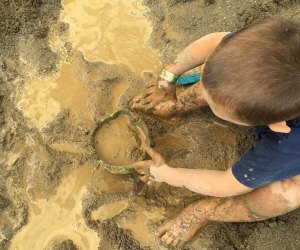 Most preschools incorporate some aspect of nature exploration in its curriculum, but the schools in this list bring it right to the forefront. Hoping to encourage the natural scientists in its students, these schools teach how to be good eco-citizens by learning and caring for our environments. They also encourage plenty of hands-on outdoor fun and different types of STEAM-based activities.

Looking for other preschools in our area? Check out the Preschool Directory and our Preschool Guide, both of which are chock full of information. Those in our border towns may also be interested in our list of nature-based preschools in Connecticut.
Little Leaf at Andrus-on-Hudson – Hastings-on-Hudson
185 N. Broadway
Held within a senior residential center and on 26 acres, Little Leaf's curriculum is inspired by the Waldorf and Reggio Emilio teachings. Children ages 2 years and nine months to 5 years will have the opportunity for tons of free play outdoors, and the school boasts an outdoor children's kitchen, tree stump labyrinth and climbing wall, among other exploration-ripe features. In addition to pre-K stalwarts like circle time and nature walks, students at Little Leaf will also develop their own garden and get the ins and outs of composting. The school also holds a summer camp program.
Rye Nature Center – Rye
873 Boston Post Road
Preschoolers ages 3.5 to 5 can enroll in the Preschool Ecology program. This program gives children the chance explore and learn about nature in with a hands-on program that includes crafts, nature walks and other STEAM-based activities. Bonus: The Rye Nature Center also offers an optional pick-up or drop-off program with several local preschools if you're looking to supplement the program. Although Friends of Rye Nature Center has the disclaimer that it is not a preschool nor licensed as a New York State childcare provider, it does use New York's Common Core pre-K foundation as one source for its curriculum.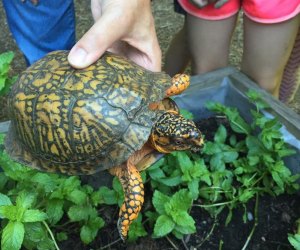 The Rye Nature Center features plenty of hands-on activities. Image credit: FRNC

Weinberg Nature Center – Scarsdale
455 Mamaroneck Road
Weekly classes for preschoolers are held year-round at this nature conservation in Scarsdale. Classes include crafts, games, stories and "playdates" with the resident animals. Looking for older siblings? There are also programs for kindergartners.

Hudson Highlands Nature Museum – Cornwall
120 Muser Drive
The Young Naturalist Preschool Program in Orange County aims to "create responsible caretakers of our environment" with its program for 3- and 4-year-olds. Curriculum is broken up by the month, with each block focusing on such topics as ecology, insects, simple machines and forestry. Each day features a "Science Circle" and a trip outdoors for exploration. Students will also get to spend a lot of time in Grasshopper Grove.

Tinkergarten – Various Locations
Looking to supplement a different type of preschool program with some added emphasis on nature and exploration? Tinkergarten hosts weekly classes across Westchester that are extremely interactive and completely hands-on.
Top image credit: Hudson Highlands Nature Museum