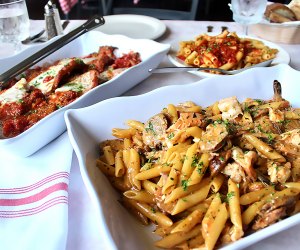 Easter Brunch and Passover Seder Takeout and Delivery Options in Westchester
On top of all the coronavirus challenges we've faced recently, there's a new consideration this week: Where can you turn for Easter and Passover meals in Westchester? Fortunately, we've researched tasty options for you, rounding up 15 spots to fill your holiday table, whether you're dining in for Passover Seder, Easter brunch, or Easter dinner.
Beyond merely sparing you from the kitchen, these eateries offer festive dishes to make your feast look like all is right in the world. From Italian pizza rustica to Passover matzo crack, plus hot-cross buns, and an exploding bunny cake, our compilation hits all the holiday high notes. As a bonus, you'll be supporting local businesses. Up the ante on your celebration by enjoying one of these family-friendly Easter crafts or creative egg-dying ideas.
Read on for our list of restaurants and bakeries offering Easter brunch, Easter dinner, and Passover takeout and delivery. Keep in mind, many establishments are experiencing challenges in procuring ingredients and may require some menu flexibility as they struggle through the circumstances along with the rest of us.
From all of us at Mommy Poppins, we wish you and your family a happy holiday weekend, no matter how you're celebrating.
1. Apropos – Peekskill
The prix fixe Easter menu at Apropos costs $20 per person and features a mixed-green salad with champagne vinaigrette, rustic dinner rolls, baked ham with rum raisin sauce, and vegetable sides. Dessert is carrot cupcakes with cream cheese frosting. Orders must be phoned in by April 8 and picked up on April 11 (12-8pm) or April 12 (10am-2pm).
2. Augie's – Larchmont
A mainstay known for its family-style Italian dining, Augie's is making its regular and catering menus available for Passover and Easter meals. The extensive list of options includes traditional Italian fare like chicken parmigiana, spaghetti and meatballs, and rice balls, as well as kid favorites like mozzarella sticks, pizza, and chicken fingers. Note: Even regular menu items are portioned sizably, each serving 2-4 people. Orders must be placed by April 8. Numerous options for pickup and delivery are available from 12-9pm daily.
This bakery requires at least 24 hours notice for orders, but options are available for both Passover and Easter. In addition to cupcakes and assorted fruit pies, selections include flourless chocolate cake, matzo apple fruit crisp, and caramel matzo crunch.
RELATED: Best Virtual Events: Concerts, Storytimes, and Classes to Stream

Just in time for Easter, La Panetiere has mastered the art of French takeout and has a fantastic holiday menu.
Kids get a three-course meal for only $18. For appetizers, choose either mozzarella sticks or fruit salad; main-course options are chicken fingers (served with potato puffs and baby carrots), rib-eye steak au jus (with french fries and haricots verts), and macaroni and cheese. For a fancy dessert, choose either a chocolate fondant or an apple-filled crepe with vanilla sauce. At $60 per person, the adult Easter menu is also three courses, featuring options like spring pea soup, orzo risotto with seafood and mushrooms, medallions of spring lamb, petit fours, opera cake, and a fanciful Easter nest. Order by April 10.
Festively designed Easter options include the robin's nest cake, carrot cake, lemon-poppyseed cake, Easter cupcakes, raspberry tart, and more. All items are gluten- and dairy-free, and the bakery is certified kosher. Easter orders must be placed by April 7.
This kosher deli has an extensive Passover menu allowing for prix fixe dinner options or a la carte ordering. Traditional selections include brisket, kugel, knish, matzo ball soup, latkes, tsimmis, whitefish salad, stuffed cabbage, and much more. Passover orders must be picked up.
Although its website lists an earlier deadline, Ladle of Love offered to extend its Easter dinner deadline to April 8 for our readers. The menu is extensive, including pea soup, leg of lamb, glazed ham, truffled deviled eggs, potatoes au gratin, and an intriguing carrot cake cheesecake mousse. Both pickup and delivery services are available.
This highly profiled establishment is offering both Passover and Easter dining options. The Passover menu, available April 8-11, features traditional selections like matzo ball soup, braised brisket, cake, and more. The Easter menu features leg of lamb, butternut squash soup, assorted veggies, desserts, and more. For both holidays, orders are prix fixe.
RELATED: Easter Crafts for Kids and How to Dye Easter Eggs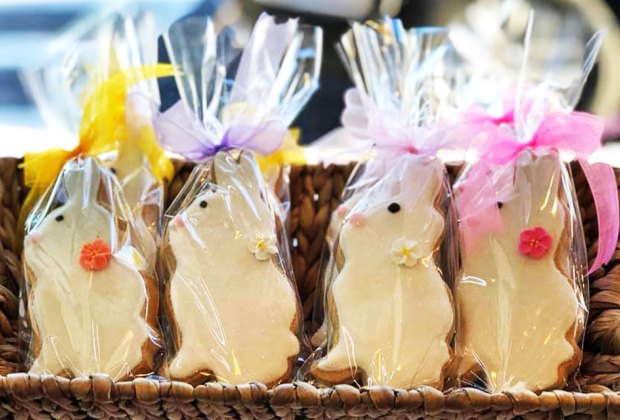 Having Martine's delivery is as magical as the Easter Bunny's!
There's no need to leave home for your Easter baked goods: Martine's delivers all orders to its customers' doors. In addition to an assortment of sweet treats, Martine's is offering savory Italian dishes like pizza rustica and Easter bread. Traditional Italian cheesecake and pastries are also available, as are funfetti cake, strawberry shortcake, cookie trays, tarts, gluten-free cakes, and more.
The Passover dinner menu, available on April 8 and April 9 only, features matzo with Sephardic apple date haroset, chicken schmaltz matzo ball soup, gefilte fish, truffle deviled eggs, grilled salmon, brisket, a variety of sides, and more. The Easter menu, available on April 12, features lobster bisque and leg of lamb with assorted sides. In addition to the holiday menus, customers can order from the à la carte menu, which includes pizza, burgers, pasta, and many other options. Call between 2:30 and 4:30pm daily to preorder.
Easter brunch selections include spiral-sliced ham with honey-mustard glaze, quiche Lorraine, assorted vegetable dishes and appetizers, and hot-cross buns. Dessert highlights include a floral Victorian Easter cake and a chocolate ganache cake with chocolate Easter eggs, as well as pies and a crème brulé​e cheesecake. Order by April 8, and pick up on April 11.
For a holiday with French flair, Estelle Gourmet is offering a sophisticated menu with glazed ham and roasted leg of lamb, scalloped potato gratin, asparagus soup, mini-quiches, creamy chicken in puff pastry, and more. Fancy French dessert selections include chocolate mousse, canele, macarons, panna cotta, and St. Honore, a cream-puff cake. Order deadline: 2pm on April 7.
RELATED: Coronavirus Guide for Parents: 100s of Activities and Resources

These specialty cakes from Sugar Hi explode with flavor...and surprises.
The Passover menu lists matzo crack (matzoh topped with toffee, chocolate, and sprinkles) and assorted Belgian chocolates sold by the pound. A la carte options include chocolate-chip macaroons, chocolate-chip meringues, vanilla cake, and flourless chocolate brownies. Pickup or delivery is scheduled for April 8. The Easter menu showcases three centerpiece cakes: The explosion cake—vanilla cake with vanilla filling and a surprise "explosion" of candy when it's cut open—in the shape of a bunny or chick. The signature sprinkle cake is a yellow cake with a cookies-and-cream filling, coated in sprinkles. And, last, the cookie dough Peeps option is a funfetti cake with a cookie-dough filling, topped with a pastel ganache drip, cookie-dough balls, and Peeps. À la carte options include cake pops, banana pudding, chocolate by the pound, and a tantalizing assortment of cookies and bars. Pickup or delivery is scheduled for April 11.
Both a four-course menu and a young-adult menu are available for Easter orders, which can be picked up or delivered on April 12 between noon and 7pm.
Offering Easter takeout, The 808 Bistro lists 18 items on its holiday menu—two soups, seven sides/appetizers, two pasta dishes, and six entrees. Menu highlights include rigatoni, lamb, and the vegan vegetable quinoa paella. Order either individual servings or trays, or choose the alternative option of the family meals that have become a daily offering. Easter orders must be placed by April 10.
Photos courtesy of the restaurants/bakeries