Best Cooking Classes in Westchester and the Hudson Valley for Kids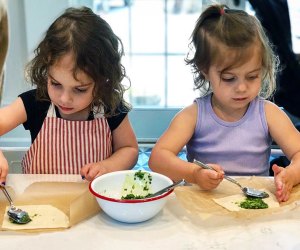 Cooking classes are a fun way for kids to explore and develop their culinary talents while also learning about where food comes from and developing healthy eating habits. The abundance of local farms in Westchester and the Hudson Valley makes it a great place for young chefs to learn and cultivate their skills. Whether your child has an interest in cooking as a profession or just likes to have fun in the kitchen and make their own snacks, there is something for everyone.
We have rounded up several businesses in the area that offer kids cooking classes, many of which focus on using farm-to-table, locally sourced ingredients. Some have their own teaching gardens where kids can learn to grow, harvest, and cook with fresh ingredients, and one is held on a working organic farm.
You can find more cooking classes for kids–and even book a class online–in our directory of classes and listings. And be sure to check our Westchester Classes for Kids Guide for more kids' activities and classes for kids of all ages and interests.