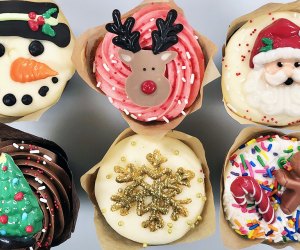 Where to Get Spectacular Christmas Desserts in Westchester
Keep the holiday spirits high this season by knocking your kids' socks off with a showstopping Christmas dessert. To top off your at-home Christmas dinner, we've combed through Westchester bakeries in search of the most festive, mouth-watering holiday sweets to end your holiday on a high note.
Whether you crave cake or cookies, are traditional or experimental, we've got Christmas dessert options galore. What's more, these special holiday offerings even include hot cocoa bombs, the trendy new treat for sipping in holiday flavors and styles.
Read on for the skinny on Christmas desserts, plus be sure to check out our ideas for new holiday traditions you can start with your family this year.
Subscribe to our FREE newsletters to get stories like this delivered to your inbox.

Hot chocolate bombs from Flowerbake by Angela are filled with Ghirardelli hot chocolate mix and tons of mini-marshmallows!
Where to Get Christmas Desserts in Lower Westchester
Holiday offerings include pre-assembled gingerbread house kits, hot chocolate bombs, DIY cookie kits, and decorated cakesicles—iced cake on a popsicle stick. For a dessert centerpiece, order the show-stopping poinsettia cupcake bouquet.
In addition to holiday cookies and buche de Noël, this whimsical bakeshop's standout items are its stylized cakes designed to look like Rudolph, Santa, or Candy Land. Tack on a completed gingerbread house, an adorable gingerbread-house ornament, or a gingerbread-house kit for decorating at home (while supplies last). The deadline for ordering is Sunday, December 20, at 4pm. Orders over $100 are eligible for home delivery.
Besides offering bake-at-home kits, gingerbread-decorating kits, and assorted baked goods, this shop is famous for its elegant buche de Noël. But a sweet choice that we haven't seen elsewhere is intended for Santa: Instead of the usual cookies and milk, order fancy cookie shot glasses and bottled vanilla-flavored milk. Santa's sure to put you on his nice list! Order online by Saturday, December 19, for pickup on Christmas Eve between 10am and 1pm.
All baked goods at this shop are gluten- and dairy-free. Holiday offerings include buche de Noël, a sprinkle cake in red, green, and white nonpareils, gingerbread people, red velvet cake adorned with a sprig of holly, and more. The final day for Christmas orders is Saturday, December 19.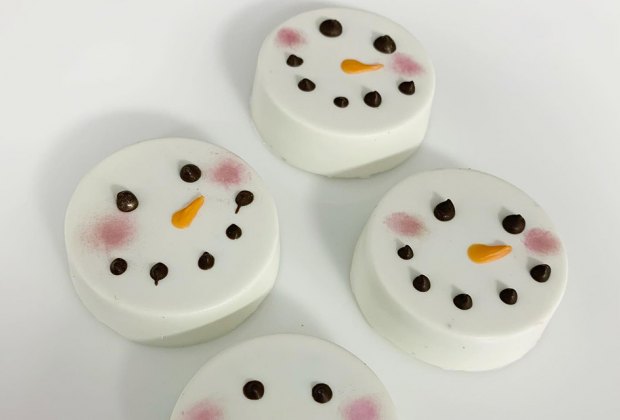 Order super cute snowmen Oreo treats from Patty Pops.
Perk up the Christmas dessert table with kid-approved holiday cake pops and chocolate-covered Oreos, both of which come in cute snowman designs (among others) and assorted flavors. A half-dozen cake pops cost $24, and six Oreos run $18. If allergies are a concern, be warned the chocolate cake pops contain Nutella. The last day to order is Sunday, December 20, at midnight. Pops can be picked up curbside on Wednesday, December 23, between 9am-7pm, or Thursday, December 24, from 9am-3pm.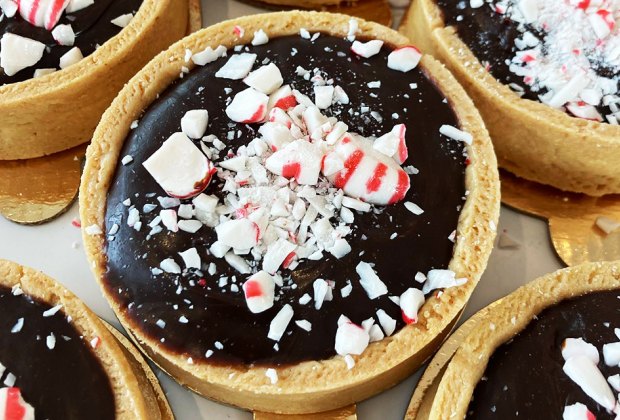 Try Baked By Susan's mini-chocolate ganache tart with crushed peppermint in an all-butter crust for a holiday dessert.
Where to Get Christmas Desserts in Northern Westchester
Christmas treats to order from Baked by Susan include gingerbread men, holiday cookie platters, gingerbread-house kits, and a festive buche de Noël. This reliable bakery can equally outfit your holiday feast with bread, pies, quiche, and bake-at-home cinnamon rolls for Christmas brunch. Schedule your pickup for Tuesday, December 22-Thursday, December 24.
Fans of rainbow cookies may delight in the cube-shaped rainbow cookie cake, which is marzipan- and nut-free. Red and green cake layers are filled with raspberry jelly, adorned with a chocolate ganache drip, and ornamented with sprinkle-covered trees made of frosting swirls. The cake feeds 10-15. The shop also offers a Christmas version of its famous explosion cake—towering layers with red and green accouterments, its core filled with Christmas-colored candy that comes pouring out when the cake is cut open. Cakes can be shipped to your door.
Seasonal selections include holiday macarons decorated as snowmen and other creative forms, as well as gingerbread-house kits (sales of which benefit a local charity), yule logs, hot cocoa bombs, and a festive snowman layer cake made with swirls of vanilla buttercream and snowflake sprinkles.
This elegant boulangerie offers buche de Noël, chocolate truffle boxes, and other sophisticated treats, but children especially enjoy the fanciful marzipan characters, styled to look like Santa, reindeer, and other figures. A buche de Noël comes in assorted varieties—chocolate, praline, red velvet, chestnut, and gluten-free vanilla with white chocolate and raspberry filling. Other offerings include decorated sugar cookies, gingerbread houses, and charming holiday-edition French macarons. Orders must be placed by Saturday, December 19. Orders can be picked up in the tent behind the store Wednesday, December 23, or Thursday, December 24.
You've heard about grazing boards being all the rage in catering, right? For Christmas, The Poppery is offering a Grinch Graze Box, featuring an assortment of cake pops, Oreos, pretzels, cakesicles, Nutella hearts, and fudge chunks for $50. There are also Grinch macarons and Grinch hot cocoa bombs to augment your order. Not feeling so grouchy? Packs of fancifully frosted cookies or DIY snowman kits might be a better fit. Christmas orders are accepted until Saturday, December 19, or items are sold out. Pickup is scheduled for Wednesday, December 23.
Photos courtesy of the bakeries