Restaurants Open on Christmas in Westchester and the Hudson Valley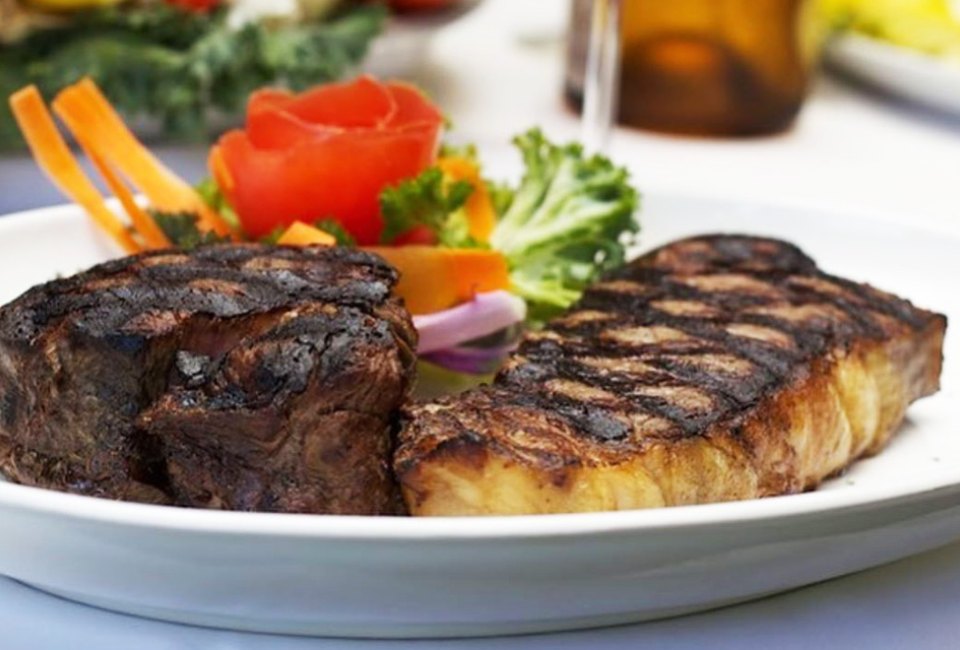 12/11/22
- By
Tom Stefanchik
Looking for restaurants open on Christmas in Westchester and the Hudson Valley? Read on for our top picks.
Celebrating Christmas Eve or Christmas Day at a fine restaurant is a longstanding tradition. And there are many Westchester and Hudson Valley restaurants ready to help you and your family celebrate the holidays this year. But a word of caution: if you're planning to eat out this holiday season, book reservations as soon as possible. After all, people are eager to go out and celebrate, and restaurants are booking up fast.
Here then are some of the best restaurants in Westchester and the Hudson Valley that are ready to celebrate with you this Christmas season.
For more Christmas fun, see our guide to holiday activities in Westchester, where you will the latest on holiday light displays and other seasonal experiences, including FREE things to do in the area in December.
1. BanZai — Hartsdale
If you're looking for something different this holiday season, and you enjoy a little entertainment with your dinner, then check out BanZai Hibachi. The restaurant is open on Christmas Eve and Christmas Day. Food is prepared fresh at your table by chefs with more than a little showmanship. Expect the usual volcanic onions, flying broccoli, and streams of sake. As for the food, try the mouth-watering hibachi lobster (my family's favorite).
2. Encore Bistro Francais — Larchmont
Enjoy Christmas in a warm and cozy bistro offering a new take on some classic French favorites. Open on Christmas Eve but not on Christmas Day, Encore Bistro Francais features such mouth-watering menu items as country-style pâté, French onion soup, Kobe beef burger with brie, and Long Island duck à l'orange. For dessert, you must try the crème Brulee. There is even a children's menu, which is rare for a French bistro.
3. Goosefeather — Tarrytown
If you're looking for a spectacular setting for Christmas dinner, and you enjoy the tradition of eating Chinese food on Christmas Day, head to Goosefeather. The restaurant is located in the King Mansion of the historic and elegant Tarrytown House Estate, which dates back to the early 1800s. Goosefeather, which features four separate dining rooms, offers a modern take on classic Chinese dishes. The menu includes dry-aged beef pot stickers, walnut scallops and shrimp, and a half or whole Cantonese roast duck.
RELATED: Kid-Friendly Nutcracker Shows and Other Holiday Performances in Westchester
4. Benjamin Steakhouse — White Plains
This venerable Westchester restaurant features a stunning outdoor patio, an oversized fireplace in the center of the main dining room, perfect for holiday gatherings, and complimentary valet parking. Its prix fixe Christmas Day menu features delectable dishes such as lobster bisque, bone-in ribeye steak, grilled Norwegian salmon, creamless creamed spinach, and New York cheesecake.
5. Mima Vinoteca — Irvington
This Italian restaurant and wine bar offers authentic cuisine with an extensive wine list served by a friendly staff. The attractive interior is decorated with old wine bottles, dark wood, and romantic lighting. In addition to delicious dishes like breaded risotto balls, butternut squash gnocchi, and eight-hour braised short ribs, the holiday menu will have a seafood focus. Mima Vinotecca will be open for dining, pick-up, and catered events on Christmas Eve.
6. Mulino's — White Plains
Breathtaking Christmas décor, animated holiday figurines, life-sized toy soldiers, roasting chestnuts, and carolers in seasonal outfits are just the start of the delightful holiday experience at this beloved Westchester restaurant. And you can enjoy this unique experience throughout the holiday season, including on Christmas Eve. The menu features northern Italian cuisine, including such classic dishes as veal scaloppine, gnocchi, spaghetti carbonara, risotto with mushrooms, and clams oreganata.
7. Rory Dolan's — Yonkers
Whether you are looking for a romantic Christmas dinner or a large family reunion (its catering facilities accommodate up to 500 guests), Rory's will serve its classic Irish-American fare on Christmas Eve and Christmas Day. This time-honored steakhouse, located just north of the Bronx border on McLean Avenue, has been serving guests old-fashioned hospitality and mouth-watering steaks since 1994. You can also feast on such traditional Irish dishes as shepherd's pie and Dublin-style fish and chips.
RELATED: Where to Cut Your Own Christmas Tree in Westchester and the Hudson Valley
8. Sam's Italian Restaurant — Dobbs Ferry
A fixture in Westchester County since 1952, this beloved neighborhood restaurant is perfect for family dining. The atmosphere is warm and relaxed, and the menu features authentic, old-fashioned Italian dishes, including hot and cold antipasto, pizza, pasta, veal, seafood, steak, and more. Sam's Italian Restaurant is open on Christmas Eve for dine-in, delivery (in the afternoon), takeout, and catered events, but not on Christmas Day.
9. Savannah & Company — Cortlandt Manor
This friendly neighborhood eatery is offering a prix fixe Christmas Eve Dinner from 4 to 7pm. The menu includes your choice of appetizer (fried calamari, bacon-wrapped scallops, and more), entrée (prime rib, eggplant parmesan, seafood mac & cheese, and more), and dessert. Savannah & Company is also offering brunch with Santa on Saturday, December 9th & Sunday, December 10th.
10. Tasty House — Yonkers
Another option for Chinese cuisine on Christmas Eve or Christmas Day is Tasty House. Located on Central Avenue in Yonkers, just north of Tuckahoe Road, this restaurant has all of the classic Chinese dishes (spare ribs, fried rice, dumplings), and a whole lot more. It offers a full sushi menu, Japanese tempura and teriyaki, and even several Southeast Asian entrees.
RELATED: Best Things to Do in Westchester in December With Kids
11. The Inn at Pound Ridge — Pound Ridge
This charming and elegant restaurant offers seasonal, farm-to-table cuisine with many ingredients sourced from the Hudson Valley and New England. Constructed in 1833, the building has been renovated to preserve many of the original materials, including four working fireplaces, providing a lovely setting for the holidays. On Christmas Day, the restaurant features a three-course prix fixe menu from noon to 8pm, offering such delicious items as crispy salmon sushi, roasted Maine lobster, and pepper-crusted beef tenderloin.
12. Zuppa — Yonkers
Zuppa is the rarest of commodities—a restaurant that offers sophisticated, exciting cuisine and first-class service in a casual, friendly atmosphere. Located on Main Street, Zuppa is just two blocks from the Yonkers Metro-North Station and offers complimentary valet parking. Their holiday menu will feature numerous seafood options, along with such favorites as eggplant meatballs, veal bolognese (a signature dish), and black Angus ribeye. A children's menu is also available. Zuppa also offers take-out service and has ample facilities for private events. The restaurant is open on Christmas Eve but not Christmas Day.
Rockland and Orange Counties
13. Aquaterra Grille - Pearl River
This casual family restaurant will be offering a special Christmas Eve menu with a bounty of delicious favorites, such as stuffed shrimp royale, seared scallops and grilled ribeye steak. The restaurant's regular menu, as well as a children's menu, are also available. Seatings are for two hours.
14. Blu Pointe – Newburgh
Enjoy a Christmas Eve brunch combined with a spectacular view of the Hudson River at Blu Pointe. Start with a shellfish platter appetizer, then feast on such delicious items as Colorado lamb chops, charbroiled steaks and pan-roasted red snapper. The restaurant's regular menu will also be available. Call to make reservations for this feast, which runs from 11:00AM to 2:00PM
15. Dolce Vita – Nyack
A delicious Christmas day meal prepared with fresh, healthy ingredients awaits you at Dolce Vita. The restaurant features seafood and Italian food influenced by the freshness of the Mediterranean area. Try baked clams oreganata, char grilled octopus, penne alla vodka or a half rack of lamb.
16. La Terrazza – New City
Enjoy both Italian and American favorites at this elegant yet casual restaurant. On Christmas Eve, La Terazza will be offering a full dinner menu with such delicious offerings as eggplant rollantini, lobster raviolis, chicken francese, blackjack broiled sirloin and seafood risotto.
17. MacArthur's Riverview Restaurant – West Point
Ring in the holidays with a Christmas Eve Brunch with Santa at this renowned restaurant brimming with old-world charm. Located in The Thayer Hotel at West Point, MacArthur's offers a breathtaking view of the Hudson River. Brunch seatings (10:30am, 11:00am and 1:30pm) are limited, so call for reservations.
18. The 76 House – Tappan
The 76 House, a 300-year old structure listed as a National Landmark, is the oldest restaurant in America. The restaurant will be offering two options for Christmas Eve: brunch from 11:30AM to 3:00PM, and a seasonal four-course dinner from 3:00PM to 8:00PM. You and your family can also enjoy Breakfast with Santa on Sunday, December 10th and Saturday, December 16th, with seatings at 11:30AM and 1:30PM.
Originally published in 2020. Photos courtesy of the restaurants
Sign up for the Mommy Poppins Newsletter today!