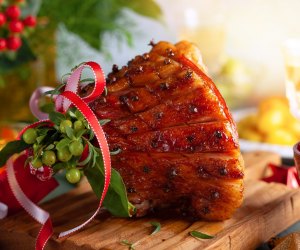 Restaurants Serving Christmas Dinner and Holiday Takeout in Westchester
One holiday tradition that's right on track in an otherwise odd year is an elaborate holiday feast. Although 2020 isn't the best time to dine indoors, many Westchester restaurants are planning elaborate Christmas dinner, Christmas Eve, and Hanukkah menus for takeout or delivery this holiday season.
Whether your idea of a holiday meal includes a feast of the seven fishes, a Buche de Noel, or a Dickensian Victorian Christmas dinner menu complete with stuffed goose, we've got you covered with this roundup of area restaurants offering festive Christmas dinner and holiday takeout. A bonus: By placing an order, you're supporting local restaurants in a time of urgent need. As a courtesy to the workers, be sure to tip generously.
Looking for more to do on Christmas Eve and Christmas Day? Take a driving tour of holiday lights, cozy up for a holiday film, or get silly with some holiday jokes and riddles. Our Holiday Fun Guide is loaded with ways to make the most of the holiday season—even in 2020.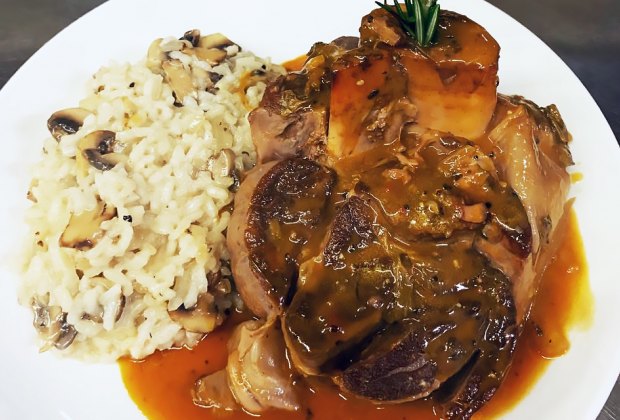 Order a special holiday feast or from the regular menu at Divino Cucina Italiana.
This Italian eatery offers Christmas and Hanukkah catering. Choose half- or full-trays from its regular or catering menu with only two hours' notice. A special Christmas Eve dinner feeding 4-6 people for $175 includes prime rib roast, potatoes with garlic and white wine, string beans, house salad, and tiramisu; order by Monday, December 21 at 2pm.
There's no shortage of options for your Feast of the Seven Fishes or any other theme for Christmas catering—from crab cakes to shrimp cocktail and seafood quesadillas to lobster tails. Orders must be placed by Saturday, December 19.
This elegant service is framed as a Victorian Christmas, with options like stuffed goose, country ham, and beef tenderloin and featuring added touches like fresh eggnog and a red gift box cake with white ribbons. Order by Monday, December 21 at 4pm for pickup on Christmas Eve. For Hanukkah catering, options include noodle kugel, pot roast, macaroons, and dreidl butter cookies, to name a few. Hanukkah orders must be placed by Tuesday, December 8, at 4pm and picked up on Saturday, December 12.
RELATED: Where to Cut Your Own Christmas Tree in Westchester and the Hudson Valley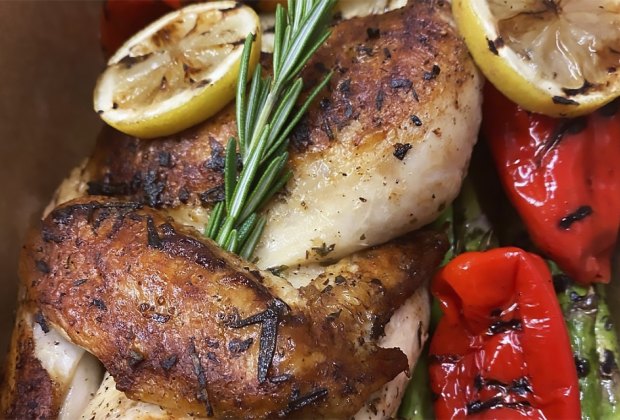 Hanukkah and Christmas catering menus are available at Apiary.
4. Apiary – Larchmont
Both Hanukkah and Christmas catering menus are available, with items available by the quart, pound, or per person. Traditional Hanukkah selections include challah, matzo-ball soup, latkes, brisket, and babka. Additional sides, appetizers, entrees, and desserts are also available. Orders should be placed by Saturday, December 5. The Christmas catering menu includes filet mignon, rack of lamb, garlic mashed potatoes, Buche de Noel, and gingerbread Bundt cake, to name a few. Orders must be placed by Sunday, December 20, to be picked up on Wednesday, December 24, from 8am-2pm.
One of the few restaurants offering pickup on Christmas Day in addition to Christmas Eve, the Rare Bit's options please everyone's palate. The kiddos may be happy with macaroni and cheese, rigatoni and meatballs, or chicken strips. Other fare includes beef Wellington, prime rib, honey-glazed ham, eggplant lasagna, and assorted appetizers and sides. Order a whole pumpkin cheesecake for dessert, or opt for a tray of chocolate-covered cannoli or cookies. Cocktails for the adults are also available to-go. Order by Sunday, December 20.
L'inizio is offering Seven Fishes Seafood Pappardelle for Christmas Eve and a Christmas Day menu of filet mignon; gratin of potato, caramelized onion, and gouda; haricot verts almondine; and a choice of either cheesecake or chocolate fudge cake. Orders are due by Thursday, December 17, at 5pm and must be picked up on Tuesday, December 23, after noon.
RELATED: Best Things To Do in Westchester in December With Kids: Christmas Events, Holiday Lights, and More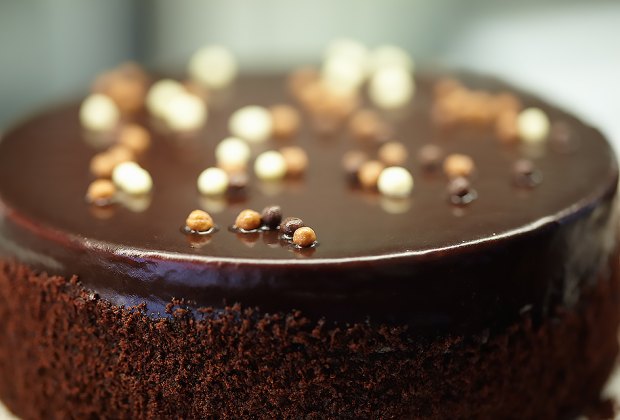 You can't go wrong with a Valrhona chocolate mousse torte from City Limits Diner.
Holiday meal packages allow a choice of prosciutto-wrapped roast rack of pork or garlic-crusted roast filet mignon, each of which is accompanied by five side dishes, two types of bread, and Valrhona chocolate-mousse torte for dessert. Packaged serving sizes are either 4-6 people or 8-10 people. Additional quantities may be added a la carte, or choose additional desserts like banana cream pie or vanilla bean cheesecake. Place your order early to avoid the risk of a sellout, no later than Sunday, December 20. Pickup times on Christmas Eve are between 4pm and 6pm and must be reserved.
While the holiday menu is being finalized, Traditions 118 is accepting reservations for in-person dining on Christmas Eve. It will also offer curbside pickup of either a la carte choices or trays from the full catering menu. Orders are due by Tuesday, December 23.
This holiday menu is available for both Hanukkah and Christmas catering. The diverse selections include favorites like fried calamari, eggplant rollatini, lasagna, penne a la vodka, crabmeat-stuffed shrimp, Dijon-grilled salmon, and much more. Gluten-free pasta is available. Order by Wednesday, December 16 for Hanukkah or by Saturday, December 18 for Christmas.
Photos courtesy of the restaurants