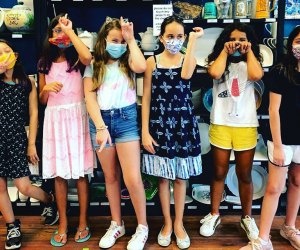 Where to Host Birthday Parties For Westchester Kids in 2021
Just because birthday parties might not look exactly like the big blowouts of years past doesn't mean there aren't lots of other ways to celebrate—from hiring a virtual performer to finding birthday party venues that can cater to our new normal.
And thankfully, there are lots of birthday party options in Westchester, whether your artsy kid wants to try their hand at making slime or pottery or you want to go the route of setting up a ninja course in your backyard with the help of some professionals. Here are nine local venues and vendors helping make sure kids' birthday party dreams (still) come true.
Looking for more kid-friendly party ideas? Check out Party Guide for plenty of options.
Editor's note: All these venues require guests to wear masks and have implemented COVID health and safety regulations. Make sure to check their websites for the most up-to-date information about pricing, availability, and protocols when you're planning.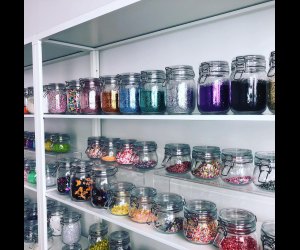 Choose from a wall of slime add-ons when you host your party at D.I.Y. Slime.
This slime-making studio offers both in-person and virtual party options. The "in-shop mini parties" include up to five kids (and two adults) and allow kids to make their own slime—there are lots of themed options, too, like dessert pizza slime and buried treasure slime—with the help of a staff member. If your invite list is longer, consider a virtual party, which runs for an hour and can include as many kids as you want. All the birthday party supplies are sent ahead of time. Once the weather warms, backyard parties will also be a possibility.
2. MADE – Mamaroneck
Depending on your child's age, this art spot, across from Harbor Island in Mamaroneck, offers lots of different types of art parties to consider—from paint your own pottery to canvas painting to slime or mixed media. You can also choose the type of party you feel most comfortable with, whether it's in the studio, in your backyard, or via Zoom.
RELATED: 30+ Free Ways to Celebrate Your Kid's Birthday at Home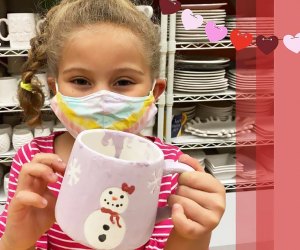 A Maze In Pottery offers in-studio birthday parties or celebrations via Zoom, complete with all supplies.
Kids starting at age 5 can have a fun pottery painting party at this Briarcliff studio, which offers lots of different options, like the great-for-kindergarteners "Story-N-Paint," where the project theme comes from a story they're read. Parents have the choice of going with an in-studio party or the option of a virtual get-together, with all supplies provided.
If you're looking to host a slightly bigger party, Life: The Place to Be has re-opened for private parties of up to 50 people. Its venue is huge—close to 30,000-square-feet—so there's plenty of space, and there are several different themes to choose from.
RELATED: Virtual and Social Distancing Birthday Party Ideas for Kids

Make-your-own-sundaes and sprinkle showers at Bona Bona are the stuff of birthday dreams.
What kid doesn't love ice cream? They'll definitely have a blast at this Port Chester ice cream shop, whose parties include crafts, make your own sundaes, and its "sprinkle showers" where goggle-wearing kids are showered in, well, sprinkles! Parties are capped at 15 kids, lunch is served, and the rest of the shop is closed during your event.
RELATED: What's Open Now in Westchester For Kids

TeePeeDreamzNY knows how to set up a dreamy party scene.
At-Home Birthday Parties That Come to You
Whether you want to host a sleep-under with your pod or make a sleepover between siblings extra-special, this company, which creates gorgeous teepee party set-ups, can come to your home (or backyard!) and make it happen. Check out the wide variety of options—you'll find dinosaurs, mermaids, and more—on its Facebook and Instagram pages.
Celebrating a movie lover? Consider the VW Picture Bus. Usually used as a photo booth for weddings and other events, last summer, the team added a big screen to the side of its 1972 VW bus—which it calls Skye—and it comes to your house for an outdoor movie night, complete with the sound set-up. As per its Instagram, its season might start as early as March this year. Also cool? It can bring along an old-school popcorn machine.

The Grit Ninja professionals turn your yard into a ninja's dream course.
Have a ninja warrior fan? Then this option is for them: This gym is running "Grit on the Go" parties—starting up again on Saturday, March 20—where it creates a whole obstacle course set-up in your backyard, complete with a rock wall, monkey bars, and more. It's all run by an expert, and the 75-minute party tops out at 20 kids. Another option: Head to the gym itself for a smaller party of up to 14. Just note that food is not allowed with the in-gym parties.
RELATED: Beyond the Goody Bag: 10 Great Birthday Party Favor Ideas For Kids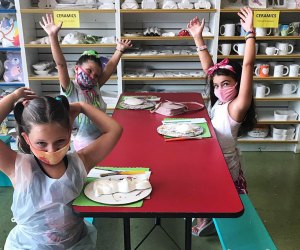 Fun Craft offers mobile parties and themes can be customized to your kid's interests.
Talk about reinvention: This Central Avenue art studio closed its door last year but has pivoted to offer mobile, at-home weekend parties for kids. Parties last for an hour and can range from "Glamorous Prince and Princess Party" to "Zoo Party," where they bring all the craft supplies you need, deal with set-up and cleaning, and have many add-ons, like a piñata. Though packages are based on 10 kids, if you're able to socially distance, you can have as many guests as you'd like.