21 Things To Do with DC Babies Before They Turn 1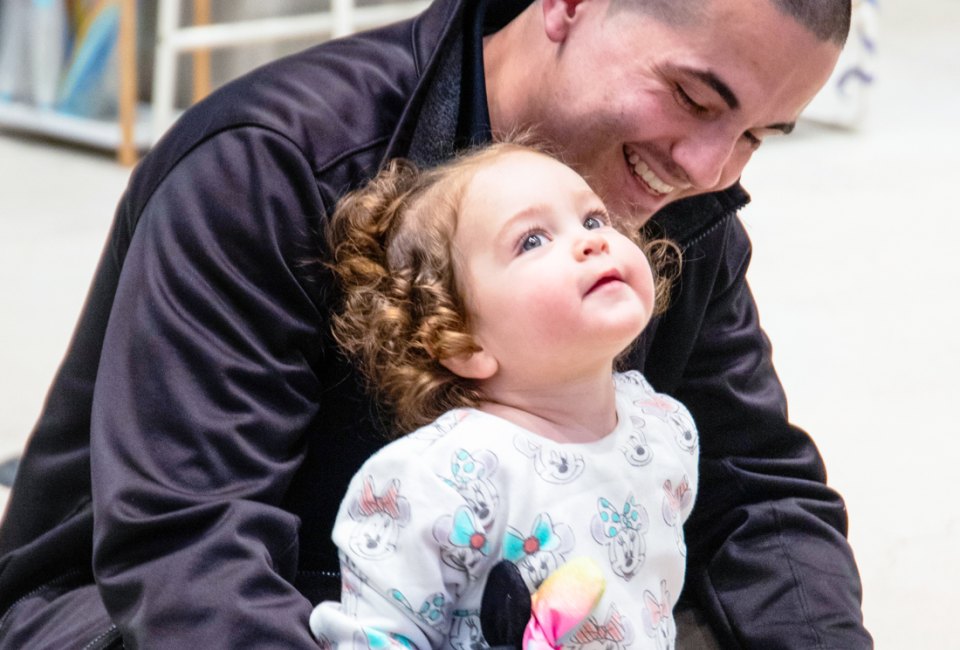 8/4/23
- By
Jennifer Marino Walters
Looking for the best things to do in DC with babies? Here are some great options for family fun with little ones under age 1.
There's nothing quite like seeing the world through your baby's eyes. After all, taking in new sights, sounds, scents, and textures creates a sense of wonder in infants and builds their knowledge of the world around them. And when baby is fussy, sometimes just getting out of the house is all they need.
Luckily, the DC area is full of interesting places to explore with babies, from outdoor playgrounds and gardens to indoor attractions like museums and libraries. And the best part? Almost all of these places are free for babies under 1 (and many for grown-ups, too).
So load up the diaper bag, pull out the stroller, and try these 21 things to do with DC babies before they turn 1. Then check out our Baby and Maternity Guide for more great baby advice, from how to get free baby stuff to the best first birthday gifts.

Babies will delight in seeing real farm animals.
Outdoor Things To Do with DC Babies
1. Fun on the Farm
Maryland and Northern Virginia's animal farms and petting zoos offer lots of fun activities to stimulate babies' senses. Little ones can pet animals, go on a hayride or wagon ride, explore play structures, and more. Clark's Elioak Farm in Ellicott City, Maryland is especially magical for young children, with an enchanted forest and train ride, a fairy garden, storytimes, and other fun activities. Plus, babies under 1 get in free.
2. Tot-Friendly Playgrounds
The DC area has no shortage of spectacular destination playgrounds featuring separate areas and activities for babies such as bucket swings and sandboxes. But if you're looking for a smaller playground just for little ones, try one of our favorite tot lots and toddler playgrounds near DC.
The DC area's abundant sprinkler parks, spraygrounds, and splash pads are the perfect way for babies to have fun in the water during the summer. Bring a few cups or pails for little ones to fill and dump out and they'll be thoroughly entertained.
4. Water Parks
Most of the area's indoor and outdoor water parks offer special spaces just for babies and toddlers where they can splash, play, and explore without being knocked over by the big kids. Older infants may even get to go down their very first teeny-tiny water slide!
There are some historic and truly gorgeous carousels throughout the DC area that will delight little ones. Babies can start out by riding on a parent's lap on a carousel bench, then graduate to a stationary horse or animal before moving on to an animal that goes up and down.
RELATED: Top Attractions in DC: The Best Things To See and Do with Kids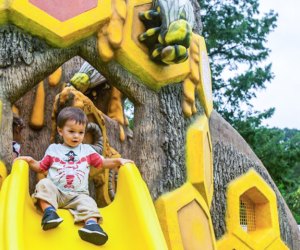 The Me and the Bee Playground is perfect for infants and toddlers. Photo courtesy of the National Zoo
Make some of your baby's earliest childhood memories at Smithsonian's National Zoo. In addition to seeing all of the animals, little ones can take a spin on the Speedwell Conservation Carousel, play on the Me and the Bee Playground, and cool off in the Squirt Zone during the summer.
7. Pretty Hikes
The DC area is brimming with gorgeous hiking trails through parks, gardens, and neighborhoods. Pushing your baby in a stroller—or holding them in a baby carrier—while walking the trails is a great way for you to get some exercise and for your little one to take in the wonders of nature. Try one of our favorite fall hikes near DC, which look pretty in any season—but even prettier through the eyes of a baby seeing them for the first time.
Visiting a pumpkin patch to pick out that perfect pumpkin will likely be an annual fall tradition for your family until your kids are grown. But there will never be a better pumpkin-patch photo than the one of your baby surrounded by orange gourds that are practically the same size as them—especially if baby is dressed in a little pumpkin costume!
9. Sandy Beaches
Your baby's mind will be utterly blown the first time they feel sand between their fingers and toes. Why settle for a backyard sandbox when you can head to one of several parks with beaches near DC? Just bring a sand pail and shovel and let your little one explore. For a more authentic beach day or weekend, check out our list of the best family-friendly beaches near DC.
10. Gorgeous Gardens
The dazzling colors of the plants and flowers in DC's beautiful gardens are mesmerizing for babies, and stroller-friendly trails make it easy for families with young kids to get around. Try visiting Brookside Gardens in Wheaton, Maryland; the US National Arboretum in DC; or Meadowlark Botanical Gardens in Vienna, Virginia. At the United States Botanic Garden's Children's Garden, your baby can even touch the plants!
RELATED: Best Swimming Lessons for Kids Near DC

Swimming lessons are a great bonding experience and help keep little ones safe in the water. Photo courtesy of Aqua Tot Swim School
Indoor Things To Do with DC Babies
Many swim schools in DC, Maryland, and Northern Virginia offer baby swimming classes for infants and a caregiver. These classes focus mainly on getting babies used to the water and having fun with their grown-up. Some of the classes start as young as 3 months old, but most begin at 6 months.
Your little one will make a great shopping buddy as you stroll through some of the great baby stores and boutiques throughout the DC area. Baby will love all the sights and sounds, and you'll enjoy picking up some unique and adorable finds.
While almost all public libraries have a children's section, this entire one-room library is filled with books, toys, puzzles, and activities just for babies, toddlers, and preschoolers. Founded in 1893, the adorable library also offers free storytimes and other events for little ones.
RELATED: Guide to Classes for Kids Near DC

The sounds your baby creates will be music to your ears! Photo courtesy of Music Together
Many of the Mommy & Me classes in the area (which, of course, are open to any adult) are offered to babies as young as newborns. Try Music Together in Arlington, Virginia; Gymboree Play & Music in DC; and Breathing Space in DC for baby yoga.
Located in Smithsonian's National Museum of American History—one of our favorite free museums near DC to visit with kids—Wegmans Wonderplace is the first exhibit on the National Mall designed for kids ages 0-6. The 1,700-square-foot exhibit features lots of interactive elements, including a construction area, a soft-play area for crawlers, a pretend farm and kitchen, and more. There's also a nursing bench and a reading area with a cozy beanbag chair.
16. Free Library Programs
Maryland, Northern Virginia, and DC Public Libraries offer a wide variety of free events for babies and their caregivers. Whether they're storytimes, sing-alongs, or music and movement classes, these events are a great way for parents and babies to bond, learn, have fun, and make new friends.
Though this wonderful museum has offerings for kids up to age 12, children only have a few years to enjoy two spaces just for ages 0-3. In Little Dreamers, little ones can play dress-up, pretend to fly a plane or hot air balloon, look at books, and enjoy soft textures and sounds. The Little Movers section features soft floors, blocks, mirrors, and small climbing structures. And every Friday, the museum hosts Baby Jam, a music class in which little ones ages 0-3 can grab instruments and make music. The best part is, babies under 1 get free museum admission.
RELATED: 17 Free Things To Do in DC on Cold and Rainy Days: Indoor Places to Play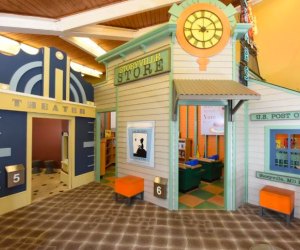 Infants and toddlers will love exploring Storyville. Photo courtesy of the Rosedale Public Library
Inside the Rosedale and Woodlawn branches of the Baltimore County Public Library you'll find Storyville, child-sized villages filled with books, toys, and activities for ages 0-5. Each village includes a pretend grocery store and mailroom, a puppet stage and theater, a home living area, a construction zone, a library, a baby garden, and a toddler area. It's like having a free mini children's museum right inside the public library.
19. Santa Photos
That very first photo of your sweet little cherub sitting on Santa's lap will be the one you frame and pull out every year during the holidays. Check out our list of where to take Santa photos near DC, then head on over to meet jolly Saint Nick.
Indoor playgrounds can be way too chaotic for babies, which is why most of them have small, separate areas for infants and toddlers. But the Wonder, formerly known as the Nook, is just for little ones ages 5 and under. It offers a modern, sensory-friendly, low-key play environment that's more about activating creativity than overstimulation. Children can explore sensory bins, create art, and more. Note: As of press time, The Wonder was in the process of moving to a new Arlington location. Stay tuned for reopening details.
This unique indoor playground for toddlers and younger kids is filled with fun playhouses that promote pretend play, including a fire station and fire engine, a grocery store, an animal hospital, and more. Babies 10 months and younger get in free with a younger sibling and will love exploring all the sights and sounds.
Sign up for the Mommy Poppins Newsletter today!
i