History Comes Alive for Kids at Fort Washington National Park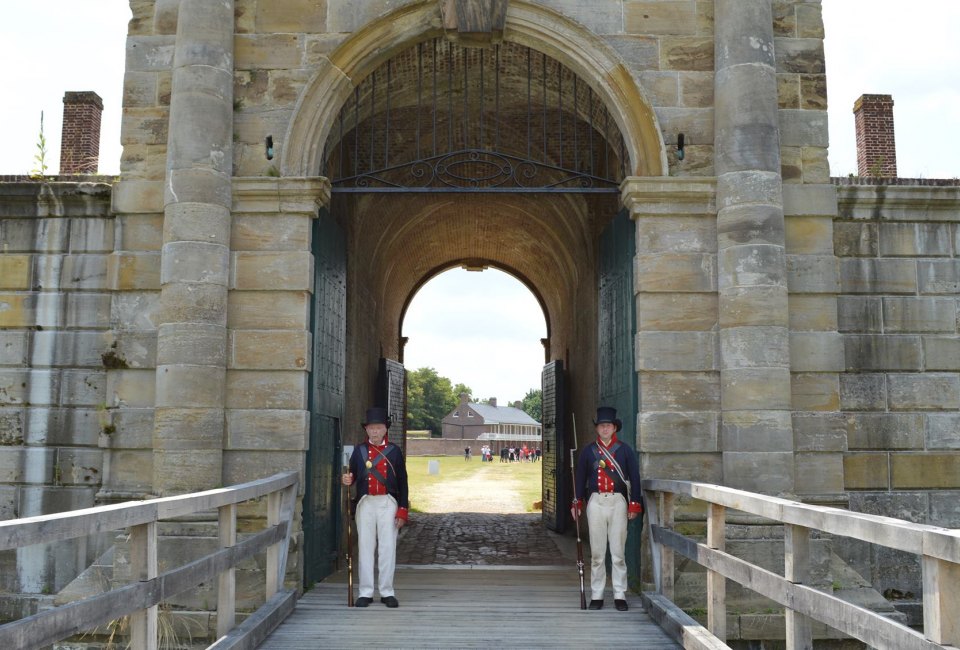 4/23/21
- By
Krystal Alston
When our family of five first arrived at Fort Washington National Park—a hidden gem in Prince Georges County, Maryland, just 13 miles from Alexandria, Virginia and 19 miles from Washington, DC—it felt like we found a hidden treasure.
This national park felt more like an outdoor museum, where visitors can tour a fort, visit a lighthouse, or hike and ride bikes on the park trail. My 2-year-old was immediately wowed by our proximity to the Potomac River, and my 11- and 12 year-old sons couldn't wait to tour the historic fort. We were excited and eager to step back into history.
A visit to Fort Washington National Park is a wonderful way to experience American history with kids and an ideal addition to our list of springtime activities in the DC area.
Visiting Fort Washington National Park with Kids
History of Fort Washington National Park
For many years, Fort Washington was the only defensive fort established to protect the Potomac River and Washington, DC. The original fort was developed in 1809 and guarded the nation's capital until it was destroyed in 1814. Whether you're like me and want to learn about its history or you simply want to enjoy being outdoors with your kids, there's much to do and learn at this park.

See how the fort protected the nation's capital. Photo by Danny Fowler/Wikimedia/CC-BY-SA 3.0
Things to Do with Kids at Fort Washington National Park
1. Take a tour of Fort Washington. Visitors can take a free tour of the historic fort daily from 9am to 4:30pm.
2. Snap pictures near the Fort Washington Light. Located below the historic fort, the lighthouse is another treasure. While visitors cannot enter the lighthouse, it is a great place to take family pictures and watch the sunset.
3. Plan a family activity. There are several areas of sprawling green lawns throughout the park. It's the perfect place to have a picnic, fly kites, kick around the soccer ball, play catch, or play tag with the kids.
RELATED: Enjoy Free Admission Days to National Parks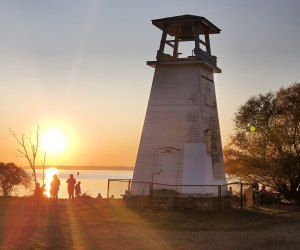 Enjoy a sunset over the Potomac at Fort Washington Lighthouse. Photo by the author
4. Ride bikes: Ride your bike along the River Trail. Our family has visited the park twice and both times we've witnessed visitors of all ages biking in the park.
5. Hike the River Trail: This trail covers about 3.1 miles round trip. Remember to wear your walking shoes. You might encounter a hill or two, so keep this mind when traveling with small children.
6. Bring your fishing gear: Did I mention this park sits alongside the Potomac River? If your kids like to fish, bring their gear and prepare to catch and release on the banks of the Potomac.
RELATED: Little Eyes Can Spy at the International Spy Museum

The officer's quarters offer a hint about life in the military in the early 19th century. Photo by the author
Know Before You Go
Park admission: The park is free. You will see a booth upon entering, but it is usually unstaffed. Familiarize yourself with park rules, drive through, and enjoy.
Parking: There are two areas we've discovered for parking. One is near the Potomac River and closer to Fort Washington Light. I recommend parking here if you want to avoid walking up a hill. The other parking area is larger and can accommodate more cars. This parking lot is closer to the historic fort.
Visitor center, public restrooms, and picnic areas: These areas are closed due to COVID-19. Temporary restrooms are available to visitors.
Trash your trash: Visitors are reminded to throw away whatever trash they bring into the park.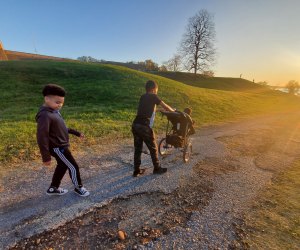 Most of trails in the park are stroller-friendly, handy if you have young children. Photo by the author
Strollers welcome: I have a two-year-old and the stroller really came in handy when my little guy got tired of running. At one point, we encountered some uneven gravel, but we were able to avoid the bumps in the road by riding the stroller in the grass.
Pets welcome: Fort Washington is a pet-friendly park. Please remember to keep pets on a leash.
Getting to Fort Washington National Park
From Washington, DC, take I-295 South to Exit 3, Maryland Route 210, Indian Head Highway South. Follow four miles to Fort Washington Road and turn right in to the park.
Places featured in this article:
---
Fort Washington National Park
Sign up for the Mommy Poppins Newsletter today!
i